Today we had the fantastic opportunity of visiting a Go Ape site. For those of you unsure what Go Ape is, its a tree trekking adventure which sees you go through a course of obstacles, rope ladders and zip wires high up in the trees. We are fortunate to have a Go Ape course 15 minutes from where we live, and my husband and 11 year old son had always wanted to do the course. As I am a total wuss, I was happy to watch them from the ground and occasionally laugh at them.
It's easy to book online, and you choose which time you would like to go. We chose 10am and we arrived at 9.45am which gave us time to fill in the forms. My husband and son then had a safety talk, and were given their harness. There was a practice wire which was ground level where they could get the hang of the various clips on the harness. They would always be clipped to the wire by 2 safety clips. They were then taken to the beginning of the course which is lower to begin with so you can get used to the height. We went to Delamere in Cheshire and there are five zones here, and each zone ends with a zip wire. The first zip wire was small just so you can get used to them. But I still had a sneaky laugh when my hubby landed on his bum !
The beginning of each zone is met with a ladder where you climb up, always clipped on. To get to the ladder there is a wooden gate where you have to put a code in which I thought was an excellent safety measure. The instructors were never far away, and my husband and son both had a whistle incase they got into trouble. I thought the safety overall was excellent, and I felt my son was safe and secure at all time. All under eighteens have to be supervised by an adult, and there are strict instructions that my son could only be one obstacle away from my husband.
I asked my 11 year old son what he had enjoyed about the day and this is what he said
I loved going to Go Ape with my Dad. I felt scared at first climbing up the ladder as it was high up in the trees. The best part of Go Ape was the zip wires especially the last one which was really long. I would love to go again.
I would like to thank Gareth at Delamere who looked after my son and husband today. He was polite and friendly, and really made sure my boys enjoyed their day. We will be back….. and you just never know one day I might even have the guts to do it too.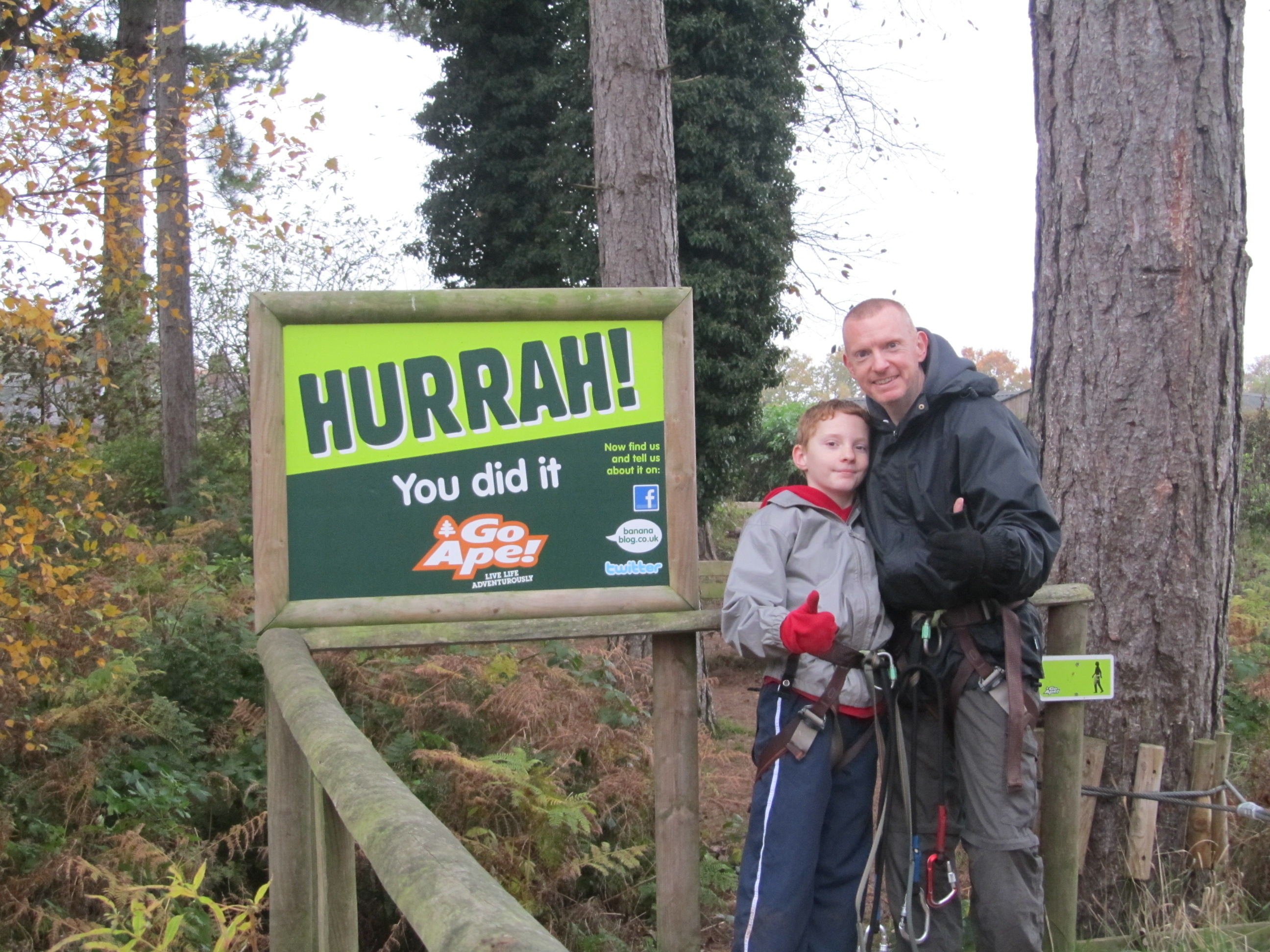 Disclosure – I was given 2 tickets for Go Ape for the purpose of this review.