Back in September I visited Birmingham for the very first time with girlfriends. I fell in love with the city so much, that I took the husband on a mini break last weekend. One thing about Birmingham is that you will never go hungry. The city has such a vast and diverse amount of restaurants, ranging from your high street chains to independent ones. Having eaten at the Handmade Burger Co back in September, I knew there was only one place to take my burger mad husband.
The Handmade Burger Co have 3 restaurants in the city, and we dined at Grand Central. Having opened in 2015, the theme is quirky and a throwback to industrial Birmingham. We were seated at the back of the restaurant in a large booth seat, where we could take in the relaxed atmosphere.
The menu is a thing of beauty, and the choice of burgers is immense. There were beef burgers, chicken burgers, pit range, veggie burgers and dirty burgers (whatever they might be). Our server suggested an American BBQ bacon stuffed burger from the Pit Range. Instead of the cheese being on top of the burger, it was stuffed inside the beef patty. The husband went with the server's suggestion, and I went for a peppered beef burger.
No burger is complete without a side, and we decided on a portion of Hipster chips. I am so glad we chose a portion between us as they were huge. A mammoth bowl of freshly cut chips, jalapeno slaw, spring onions and Sriracha mayo.
I really liked that you could order the side separately from your burger, and if you didn't fancy chips you could have handmade coleslaw, onion rings or even a healthy salad.
Everything about our meal was delicious. I thought my peppered beef burger was going to be served with a peppercorn sauce. But instead the beef was flavoured, which made for an incredibly tasty burger. My husband's Pit Range burger got a huge thumbs up, and with the cheese being inside the beef patty, a totally different burger experience.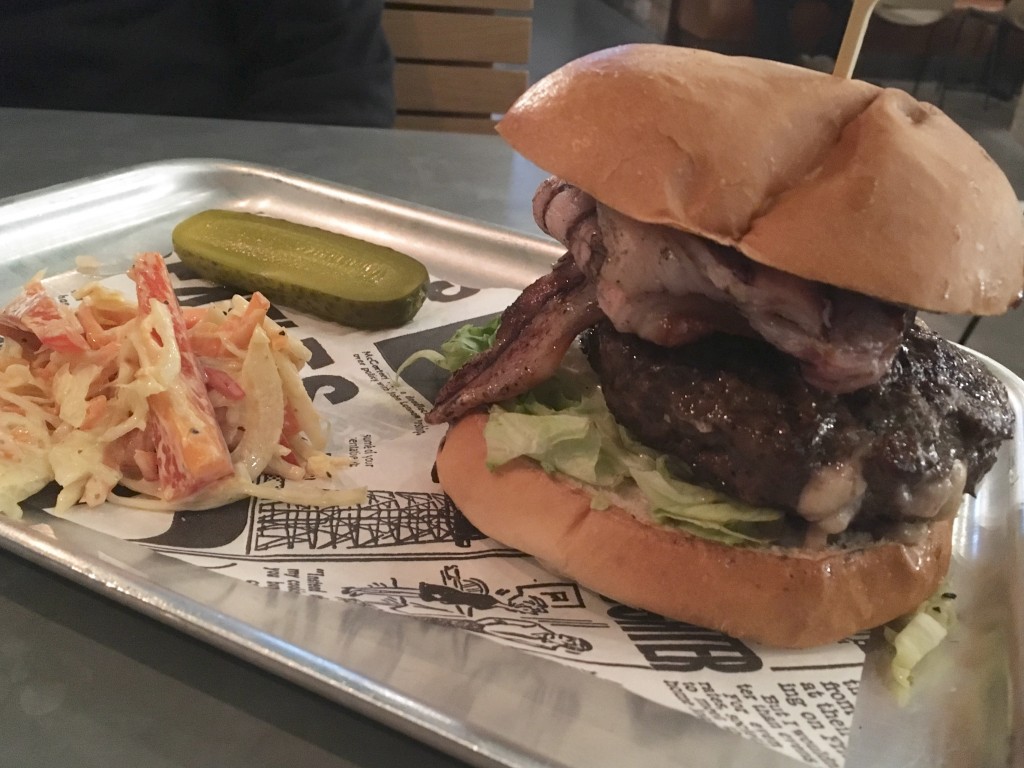 There is a good range of drinks on the menu, and we opted for soft drinks which are served from the drinks station and are refillable. And if you have room after your burgers, the sundaes looked amazing.
They also offer a Gluten Free menu, and when I visited with my girlfriends one of my friends is Vegan. She was well catered for, and the Vegan dishes are clearly marked on the menu.  All the burgers are made from scratch, and even the buns are delivered fresh every day.
We had a lovely meal at The Handmade Burger Co, which is in a great location above New Street Station. Infact we literally rolled from the restaurant and onto our train home, after a fantastic break away in Birmingham.
Thank you to Handmade Burger Co for inviting us to review the burgers. All words and opinions are my own. I am sure we will be back with the teen in tow, who is just as burger mad as his dad.