In mid July we took our very first trip to Disneyland Paris to celebrate the end of GCSEs for my daughter. We have been to Florida 3 times but never made it to Paris, and now that we've been, I'm wondering why it took us so long to get there.
We chose to go for 3 nights, and with our outgoing flight out of Manchester at 7am, and our flight coming home at 10.30pm, this meant that we really maximised our time at Disney.
Travel
Our easyJet flights were from Manchester to Charles De Gaulle, and unlike our Venice flights, they were never changed or cancelled. We paid £323 for our flights for 2 adults and a 16 year old, and we went hand luggage only. We also bought fast track tickets for security (£5pp), and I would highly recommend if you are on an early morning flight, as you go straight through to the security hall with no queue.
We used Western Tours for our transfers to our Disney Hotel and back to the airport, and they were fantastic. We were greeted at Charles De Gaulle, taken to an air conditioned car, and given a choice of Disney movies to watch. A perfect start to our holiday. We paid 130 euros return which is paid in cash to your driver. They do tend to book up quickly, so I would recommend booking as soon as you can.
Newport Bay Hotel – Compass Club
I always knew that I would want to stay at Newport Bay, and it was perfect for our first trip to Disneyland Paris. Located on the Disney lake, it's a huge hotel with over a 1000 rooms. The walk is around 15-20 minutes to the park entrance, and there is also a free shuttle bus from the front of the hotel.
We decided to stay in the Compass Club at Newport Bay. This meant that our breakfast was included, afternoon tea was served every day between 4pm and 5.45pm, complimentary soft and hot drinks from 12pm till 10pm, a seperate check in area, Compass Club lounge, and the bedrooms are on the 7th and 8th floor of the main part of the hotel.
We were on the 7th floor on the side of the hotel. We didn't have much of a view, but to be honest we kept the curtains closed pretty much the whole time due to the heat (the temperatures were between 28 and 39 degrees). Our room was just around the corner from the lifts, and incredibly quiet during our stay.
We paid an extra £300 for the Compass Club for the 4 days we were there, and considering breakfast would have cost us around £75 per day, the price we paid was fantastic value. A huge perk was the comlimentary soft drinks which we could take into the park, and we also returned to the hotel everyday for the afternoon tea which was amazing.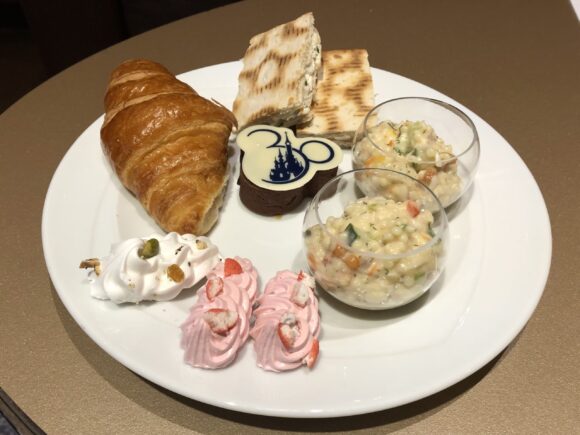 The Parks
Both of the parks really exceeded my expectations, and the main Disney Park really took me back to our Florida trips. I was prepared for it to be busy as we went over the weekend, and it was also the middle of July. My husband and daughter took advantage of the Extra Magic Hours in both parks, and they did lots of the big rides in the first hour.
My husband had made a plan before we went, and we pretty much stuck to it apart from the last day (due to the temperatures reaching 39 degrees). I was eligible for an Access Card at Disneyland Paris, which meant I didn't need to stand in the queues as you are given a time to come back to go straight onto the ride.
With the heat we definitely took our time, and as we were there for 4 days, I'm glad we could do that. You definitely need to plan in lots of rests in the shade, and drinks in air conditioned places, if you are visiting during Summer.
If you are looking to add on the Premier Access on your next visit to Disneyland Paris, then head over the the Spirited Puddle Jumper blog for all the information you need.
We also did the light show and fireworks on the Saturday evening, and we secured our place about a third of the way down Main Street. I have heard some horror stories about people pushing in front of you, and securing your spot 2 hours before. Thankfully we had none of this where we were stood, and it was a lovely atmosphere.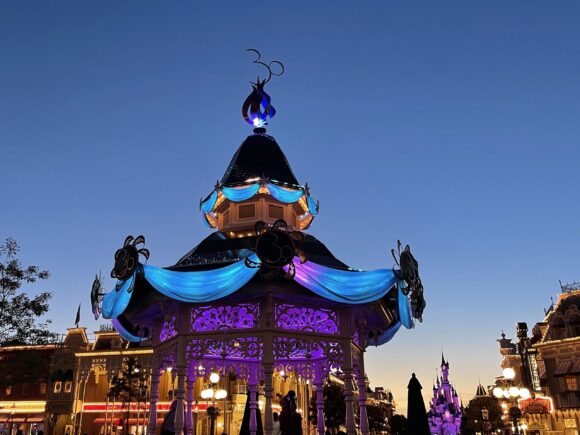 Where we ate
We only ended up eating at 2 places during our entire stay, as the breakfast and afternoon tea in the Compass Club filled us up. I was contemplating getting the half board plan before we went which was an additional £325, but having only spent £200 on food and drink, I'm glad I didn't add it on.
We ate at Downtown Restaurant in the Marvel Hotel which is a buffet. People seem to go wild for a reservation here, and whilst the service and food was very good, I thought the restaurant would be more themed. It was okay, but at a price tag of 146 euros for 3 of us, I just expected a little bit more (though the Marvel desserts were fantastic). Next time we will skip the meal, and just go for a few drinks in the Skyline bar.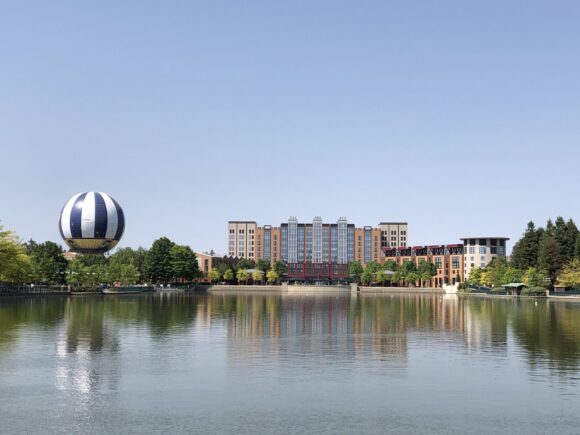 We also ate in the Sports Bar in the Disney Village one evening. We had hot dog and chips, which to be honest was just okay, however the service and atmosphere made up for it. We paid around 50 euros for the food and soft drinks.
What worked well for us on our first trip
Being prepared and planning worked well for us. We knew which parks we would be visiting each day, and also which rides my husband and daughter wanted to do during the extra magic hour.
Not having the dining plan actually worked out better for us. We made full use of the afternoon tea at the hotel which filled us up. Also the heat meant we weren't as hungry as we would normally be.
Be prepared for the heat if you are going in the Summer months. Cooling towels and a decent USB charged fan were a life saver for us.
Taking time out to enjoy our hotel pool was great in the heatwave, and it was really nice to spend a few hours lazing on a sun bed with regular dips in the pool.
The Compass Club worked really well for us as a family, and was such good value. We will definitely book it again on future visits.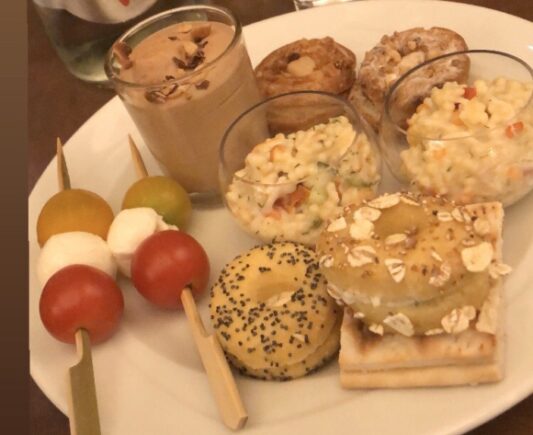 Except that plans could change. Due to the extreme heat on our final day, we did extra magic hours and then returned to the blissful air conditioning of the hotel. This meant that we didn't catch any shows whilst we were there, but hey there is always next time….
Staying on-site meant we could break up our park days with going back to the hotel and resting. There were a few occasions when we used the shuttle bus, when we just couldn't face the walk in the heat. It's great to have that as an option.
If you don't fancy going during the summer, and are wondering which time of the year is best for visiting Disneyland Paris, this post may help your decision.
And if you are looking to go to Disneyland Paris in the Winter, head over to We Made This Life blog for all the Winter visiting tips you need.
What our trip cost us
We booked this trip in March 2022 and we went for 3 nights (2 adults and a teen)  in mid July.
Flights with easyJet – £323
Newport Bay Hotel Compass Club – £1854
Transfers to and from the Charles De Gaulle – £118
Food and drink – £200
Merchandise – £150
Total cost – £2645
I must admit that Disneyland Paris totally exceeded my expectations, and we all loved being back in the Disney bubble, after a break of 9 years since we last went to Florida. Going to Disney with a teen was certainly a different experience, no character meets, no packing cute Princess dresses, just a 16 year old who loved going on the rides with her dad. We all had THE BEST time on our first trip to Disneyland Paris.