The husband and I are fairly lucky. We have always been on regular dates since meeting in 1999, and with the addition of the kids my mum has always been happy to babysit. However at home we are guilty of spending far too much time on our phones, or watching different programmes on Netflix. Add in blogging work during the evenings, and the only conversation we can sometimes have is 'do you fancy a cuppa'. So when I was offered the chance to review a Date Night box, I jumped at the opportunity.
Date Night is a subscription service that offers 'A surprise date in the post every month'. Whether you have been together for months, years or even decades, Date Night will get you spending time together. A chance to switch off those iPhones, put some romantic music on and reconnect with your loved one.
I was really excited when my Date Night box arrived, as I genuinely had no idea what would be included. My first thoughts on opening my parcel was WOW. There was a personalised card on the top of the box, together with the promise of 'Netflix and Chocolate'.  Yes we had received the Chocolate Heaven Date Night box, and all my dreams had come true. The only trouble was I had to share this box of heavenly chocolate with my husband……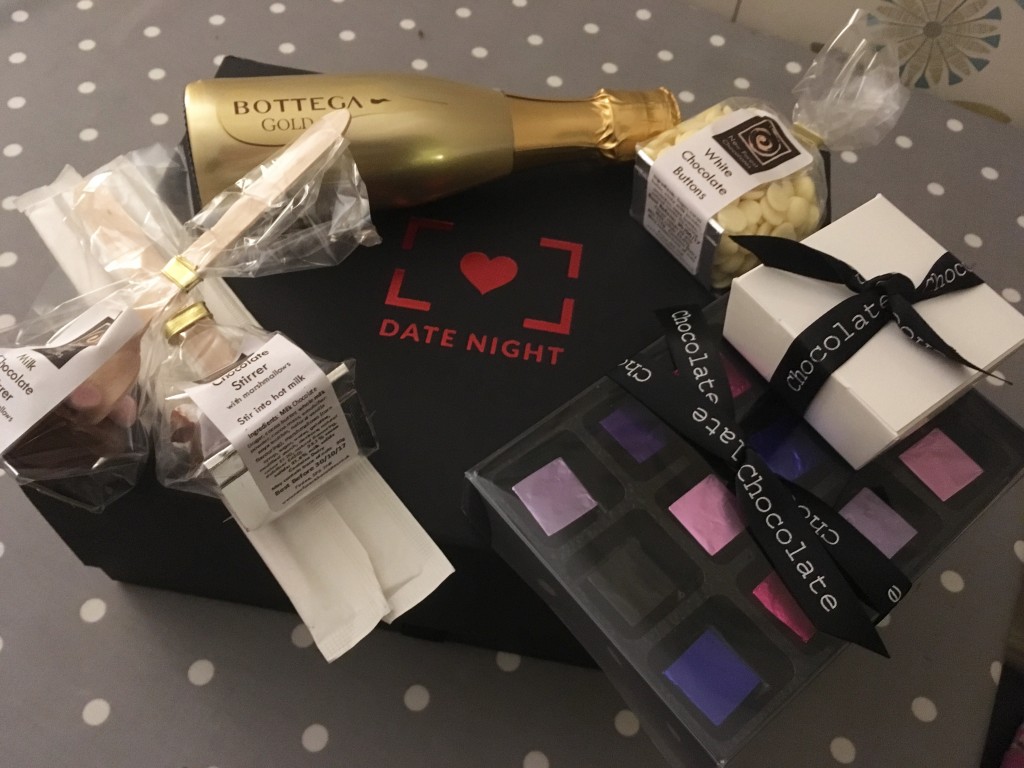 So a few nights ago we bribed the kids to stay in their rooms (that's the thing with older kids, they don't go to bed at 7pm anymore), and put the Get Date Night Spotify list on. The iPhones were turned off, apart from taking the obligatory blog photos, and we even made the effort and lit a candle.
Our evening started with a fun game which involved balancing a chocolate disc on your forehead. The aim was to get the disc into your mouth, by using facial movements only. It is actually harder than it looks, and the trick is to chill the chocolates beforehand, otherwise you will end up with a chocolate covered face.
Then it was time for Lick 'n Sip where we moved into the kitchen to melt some chocolate. The melted chocolate was then spread over the outside of a wine glass, and the Prosecco was opened and poured. The idea is you lick the chocolate from the glass, and then sip your bubbles for a delightful combination. We were enjoying it so much I totally forgot to take pictures of this activity.
Next up it was time to test our tastebuds, and to see how accurate our palate was.  We needed our tasting mats and scorecards for this, and of course our heavenly box of chocolates. I was absolutely rubbish at this, only getting 1 right out of 6. Husband did slightly better getting 2 out of 6.
The final end to our evening was using the hot chocolate stirrer. All you need is hot milk, pop the stirrer in and you have a delicious hot chocolate to end the evening.
We really enjoyed our evening together. We laughed, chatted and enjoyed doing something that we wouldn't normally do. I was really impressed with the overall quality of the Date Night box, and you can tell that alot of thought has gone into creating it. Everything had a luxurious feel to it, and priced at £39.95 I think it is good value for what is included. You can find more about Date Night box on their website.
Thank you to Date Night box who kindly sent us a box for the purpose of this review. All words and opinions are my own.