Ravensburger recently sent me one of their puzzles to review. It has been about 12 years since I last tackled a puzzle with more than 50 pieces and didn't have a Disney Princess on it. This puzzle was a huge 1000 pieces and was entitled 'Happy Days Tenby'.
The puzzle is part of the Happy Days series from Ravensburger, and the painting of Tenby's famous harbour is by artist Kevin Walsh. I love the picture as there is so much detail and colour to it. Which is a good thing when you are tackling a puzzle.
First thing we had to decide was where to actually do the puzzle. I didn't really want to do it on the dining room table, so we borrowed a large folding table from my mum. I must admit it was the perfect size, and meant we could tackle the puzzle from the comfort of the sofa.
On opening the box the actual pieces are contained in a sealed bag. There is also a leaflet giving some information on the artist, plus an additional picture of the scene. This is a must when 2 people are tackling the puzzle together. Upon realising the enormity of the challenge, I quickly set to work. Obviously I started with the outer pieces, and then worked on the different colour houses, boats and then the hardest bits which were the sky and the sea.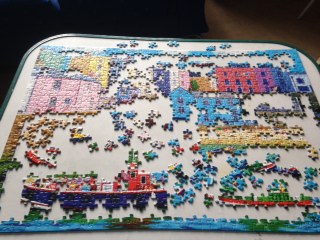 The puzzle was well crafted, and thankfully all 1000 pieces were there. I started on the Thursday evening and the final piece was put in on Monday morning. Husband actually thought it would take me weeks to finish it, but I proved him wrong and did it in a few days. Despite not touching a puzzle for all those years, I really enjoyed doing it. I found it relaxing, and kept my hands busy in the evenings. Which is a good thing because if your hands are busy they keep out of the biscuit tin ! And above all a sense of achievement. A sense of achievement that the whole family shared, as husband and the kids got involved too.
I will definitely not leave it another 12 years before tackling another puzzle. Thank you to Ravensburger for supplying the puzzle for the purpose of this review.