Well that's a wrap on our February half term, and the kids are back at school and 6th form tomorrow. It seems strange that the majority of the UK are just beginning their half term break, as we are going back. But the upside to a different half term is going away, and it being really quiet. If you follow me on social media, you will know that we were invited to spend 4 nights at Sandybrook Luxury Lodges in the Peak District. I have written a full review of our stay here, and below is a little a snapshot of what we got up to.
Relaxing in the hot tub
There is no mistaking that we love staying in lodges when we holiday in the UK, and if that lodge has a hot tub, well that's the icing on the cake. We used the hot tub on the decking every day, and there really is no better feeling than relaxing in the bubbles. On our final day we woke up to a beautiful frosty morning, and it would be rude not to have a final dip before we checked out.
Exploring Ashbourne
The market town of Ashbourne is around 5 minutes drive from Sandybrook Park, so we spent a few hours on the Wednesday wandering around. It's full of independent shops and little cafes, and of course we had to stop for refreshments. Katie indulged in a chocolate milkshake which looked amazing, and I'm pretty sure it had no calories in it !!! And can we talk about how amazing the charity shops were in Ashbourne. Just look at this pile of books I picked up, yes I know I DON'T need any more books, but you can't leave them there can you.
Trying Cherry Bakewell Gin
Sadly we didn't make it to nearby Bakewell so we could try out the world famous Bakewell Tarts. But I did get to try the next best thing….. Cherry Bakewell Gin. Oh my it was delicious, and I *may* have had a few when we went out on Valentine's night.
Blue skies and little glimpses of Spring
We were incredibly lucky with the weather, and we had a few days of beautiful blue skies. I even went without my coat for 2 days, and as we walked around the park, we saw little glimpses of Spring starting to appear.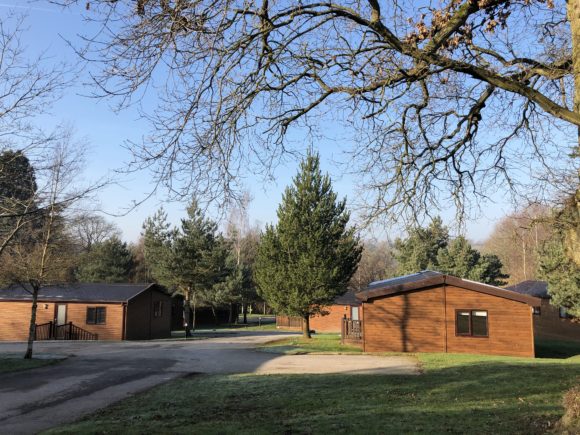 Cosy nights in the lodge
There is no better feeling than cosy nights in the lodge after a day out. We took full advantage of the hot tub, and then we would settle down for a film night. Does anyone else take their own pillow and cushion when they go away? It was lovely to spend the nights relaxing, putting phones down and spending time as a family.