You may wonder why we keep on returning to the same hotel. The World is vast, with an abundance of beautiful locations, stunning hotels, and cities to explore. And whilst we love to to visit new places, the pull of Ikos Olivia is too hard to ignore. We first visited this luxury 5* hotel back in 2016, and after going to Mexico last year, I was ready to return to my little slice of heaven.
Where is Ikos Olivia and how do you get there
Ikos Olivia is in the beautiful Halkidiki region on mainland Greece, and you fly from the UK into Thessaloniki airport. The airport is around a 45 minute drive from Ikos Olivia, and as we always book direct with the hotel, complimentary private transfers are included. We were really lucky on this trip, as from landing, to being sat in the air conditioned Mercedes car, was twenty minutes.
We tend to book with easyJet flying from Manchester, and typically pay around £100pp when we go in April. They fly to Thessaloniki a few times a week, and you will no doubt be on one of the first flights out of Manchester. We have got used to the 6am flight now, and the earlier the flight, the quicker you get your first holiday cocktail.
Relaxing at Ikos Olivia
I instantly feel relaxed the minute I walk into the marbled reception area, and it honestly felt like returning to our second home. We were once again welcomed back like family by Timos (the manager at Olivia), and this is one of the many reasons why we will keep returning. You are made to feel special from the minute you arrive, to the minute you leave. From the gardeners to the beach buddies, the bartenders to the management, everybody has a smile, and will make sure everything is to your satisfaction. That to me is 5* service.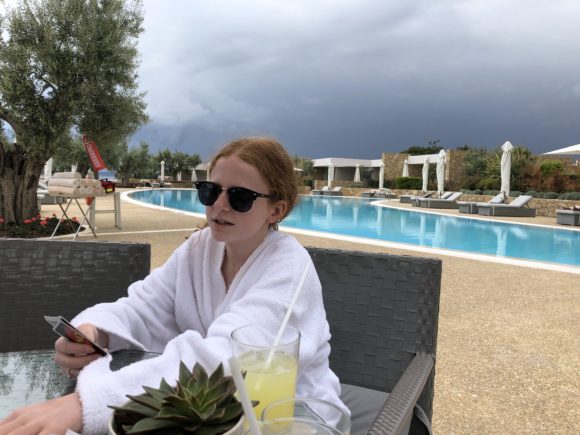 We had had a really busy and stressful few months leading up to our holiday, and we were looking forward to a week of relaxation. The only decisions we had to make were whether we would be going to the beach or pool first, and which restaurant we were going to dine in. It was a tough 7 days, especially with the addition of the new day beds, on the deluxe section of the beach. And who can't resist a Pina Colada delivered to your bed, a good book, and the sound of the waves in the background.
Ikos Olivia Activities and Entertainment
If relaxing is not for you, there is plenty to keep both adults, and kids entertained. On our previous visits to Ikos Olivia we have hired bikes, played table tennis, taken a pedalo out, played football, which are all included in your holiday. There is a full list of the complimentary activities on their website, and entertainment is on most evenings.
In addition to the activities, there is also the kid's club that is included in the price of your holiday. As both of mine are now teenagers, kid's clubs are no longer needed (how I wish I had discovered Ikos when they were little). I spoke to a few families whilst we were there, and they said the kid's clubs were very well organised, and that their children had enjoyed them.
Are the pools heated at Ikos Olivia
I get asked this question alot, especially over on instagram where I was sharing our holiday. The answer is YES, and as we always visit in April, you definitely need a heated pool at this time of year. The picture below was taken on the coldest day whilst we were there, and despite the pool being empty, these two declared it was like swimming in a bath. As we were staying in the Deluxe section, we spent our days around this pool which was right outside our bungalow suite.


The food and drink at Ikos Olivia
Menus created by Michelin starred chefs, four a la carte restaurants, the best buffet we have ever visited, 24 hour room service (there is nothing like a club sandwich at 1am), premium cocktails, a choice of 300 wines, snack menus, fully stocked mini bar which gets re-filled daily.
And if that's not enough, Ikos Olivia also offer a dine-out service. A chance to eat out at a local restaurant, all whilst using your all-inclusive benefits. We dined at Ithaki, a traditional Greek restaurant a few minutes walk from Ikos Olivia. We all agreed that the food was delicious and very good quality, and we had a lovely evening at this cosy and traditional restaurant.



The accommodation at Ikos Olivia
You can choose to stay in the main hotel at Ikos Olivia, or in one of the bungalow suites that have a garden, pool or sea view. What I personally love about the bungalow suites is the space you get. Plenty of room for Mum, Dad and a 13 year old girl who has packed her own bedroom!! Plus they even have USB and UK plugs in the bedroom, which certainly helps when you are charging devices whilst trying to get ready of an evening. And we even joked about having our very own 'instagram wall' in the garden.
As we had been upgraded into the deluxe section, our suite was overlooking the deluxe pool. This was a brilliant location, as only a few short steps and you were in the pool, and a few more and you found yourself at the deluxe bar. Ikos Olivia is a fairly small resort, and is mainly flat and easy to get around, so I would imagine there is no such thing as a bad location for your room or suite.

Hiring a Mini Cooper for the day
One thing that is new for this year are the Mini Coopers. These are complimentary, and are available for you to take out for the day and explore beautiful Halkidiki. You just need to pre-book and make sure you bring a valid driving licence. Whilst me and Hywel never drive when we go abroad, I do think it's a great idea from Ikos, plus you can arrange a packed lunch with the hotel for your day of exploring.
Why do we keep returning to Ikos Olivia
I could write a huge list of reasons why we visit, but the ONE thing above all else, is the staff. You could have the biggest and most luxurious hotel in the world, but if you don't have the staff delivering the service, then people won't return. The staff and management at Ikos Olivia go out of their way to make you feel special, and this is why we will keep returning to the hotel.
I booked our very first holiday to Ikos Olivia, after I read a blog post by Katie from Mummy Daddy Me. She had the opportunity to visit the hotel, a few weeks before it opened, and as soon as I read her blog post I KNEW I had to visit. Fast forward a few years, and Ikos has opened another hotel, Dassia in Corfu, and they are just about to open Aria in Kos any day now. And with the opening of the first Ikos in Spain next year, it's lovely to see the Ikos family getting bigger and bigger.
We paid for our holiday which cost £300 for the flights with easyJet, and £1700 for our bungalow suite for the week (we were kindly upgraded into the deluxe section) for the 3 of us in April. We also spent a grand total of 55 euros over the 7 days. We are never asked to share anything on my blog or social media, but if you know me, you know I could talk about Ikos Olivia all day. If you have any questions, please ask away.
You can find more of my blog posts about Ikos Olivia below
10 reasons to stay at Ikos Olivia
Finding luxury cuisine at Ikos Olivia