The 15th May is when we celebrated being together for 20 years, and the day we went on our crazy adventure. Rewind to a month before, and I was racking my brains as to how we could celebrate. The husband had booked the day off work, and it was my job to think of something that would encapsulate our 20 years together. And of course travel has always been at the forefront of our relationship, so how about going to Amsterdam FOR THE DAY.
Flying to Amsterdam with easyJet
If you are going to do a European city in a day, you need to factor in a few things before you start planning your trip.
Flights that leave early and return as late as possible
Our easyJet flight out of Manchester was 7.05am, and we returned at 9.55pm, giving us as much time as possible for a day trip. We paid £155 for the two of us return, and I booked it 3 weeks before.
A short flight time
When I booked, the flight time was showing as 1 hour and 20 minutes, but it only took an hour getting over to Amsterdam. The great thing is that you won't have any hold luggage, so once you are through passport control, it's time to make your way into the city.
Good transport links
Good links into the city are a must, as time is precious when you only have the day there. The train station is underneath Schipol airport, and we paid 11 euros return each to get us into the city. Trains are frequent, and in just 20 minutes you will be in the centre of Amsterdam.
It also helps that you live near your local airport. We are lucky that we live really close to Liverpool and Manchester, and on this occasion we flew from Manchester. It was only 50 minutes from leaving our house, parking the car in the Meet and Greet, going through security, to enjoying that 5.30am alcoholic beverage… well we were celebrating.

Amsterdam for the day – What we did
We arrived into Amsterdam at 10.45am, and we had a plan of all the things we wanted to see and do. I would highly recommend you do this. It worked out really well for us, and we weren't wasting valuable minutes discussing what we would do next.
Taking a canal cruise
We thought it would be a good idea to start our day in Amsterdam with a canal cruise, and as it was our first visit to the city, a good way of getting our bearings. We took the 100 highlights cruise which departed opposite the station, and was 18 euros each for an hour of cruising. With the abundance of canals in Amsterdam, cruising is big business, and you can take a pizza cruise, cocktail cruise, and even a smoke boat cruise (I will leave that up to your imagination what goes on during that cruise, only in Amsterdam lol).
Wandering the streets and canals
One thing we wanted to do was take in the atmosphere of Amsterdam, and WOW this city totally exceeded my expectations. What a beautiful city it is, with stunning buildings, beautiful canals, and let's not forget the bikes that are everywhere you turn. There were parts of the city that were so peaceful, with just the sounds of the birds for company, as we strolled the pavements of Amsterdam.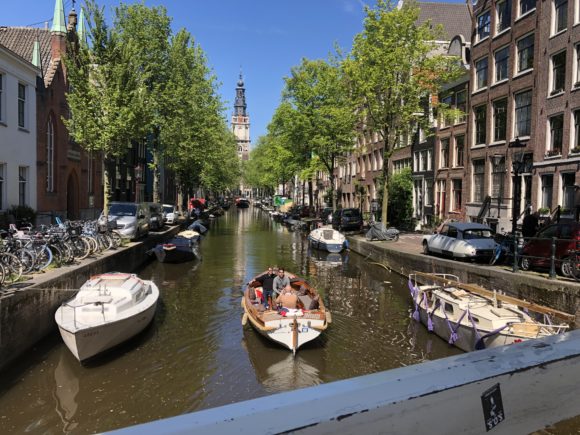 Stopping for a beer in Amsterdam
One of the things that I wanted to do in Amsterdam, was have lunch in a cafe, alongside the canal. Well we did one better, as our cafe had tables that were on one of the bridges overlooking the canal. We stopped for toasties, and that all important glass of Dutch lager.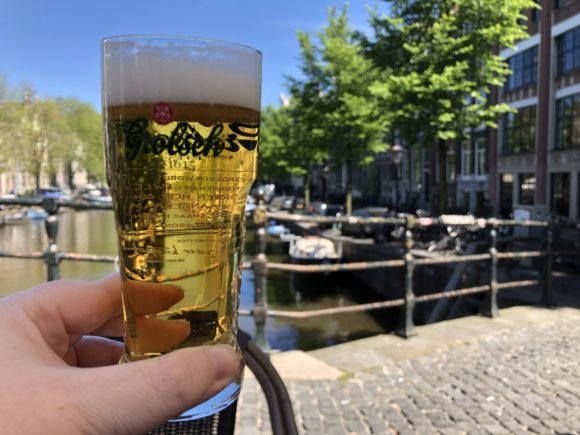 Later in the day we stumbled upon a gorgeous seating area, again overlooking the canal, and stopped to refuel again. Little did we know that the seating area belonged to a really fancy hotel, the De 'Leurope which was stunning inside, and I think we unknowingly visited Amsterdam's poshest toilets.
Visiting Dam Square
This is a bustling town square which is surrounded by amazing buildings, and is also where you can find tourist attractions such as Ripleys and Madame Tuassards.  We spent about half an hour taking in the atmosphere of the square.
Walking through the Red Light District
No trip to Amsterdam is complete without a walk through this famous district, and we wandered through it around 5pm. It was fairly quiet, and I saw 2 girls stood in the famous windows, though I can imagine it's a different atmosphere at night. And even in this famous district you still find a beautiful canal.
Putting our love lock in Amsterdam
After the success of putting our love lock in Liverpool for our 15 year wedding anniversary, I wanted to get another one to celebrate our 20 years together. Well it nearly never happened, as the council have removed the love locks from the bridge where they were meant to be. I honestly thought we would be going back home with our lock, but then Hywel spotted a railing, which had about 20 locks on. So now we are keeping Mike and Nicola company, on a railing in the red light district.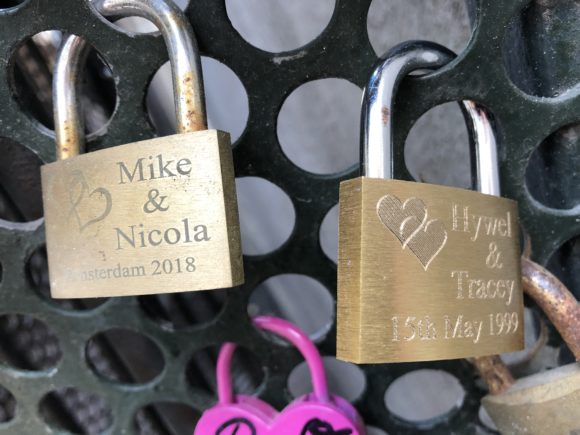 Dutch Pancakes and Primark
You can't come to Amsterdam without having pancakes, so we found a lovely pancake house and indulged, and even managed a quick look around Primark before it was time to head back to the airport. Little tip… there are some pretty impressive views from the top floor of Primark.
We arrived back at the airport around 8pm for our 9.55pm flight back to Manchester, and just about had the energy to eat our McDonald's. We had been out of the house from 4.15am till 11.15pm, we walked 24k steps, we laughed, ate, drank, fell in love with the city, and we definitely achieved our crazy day out to celebrate 20 years together.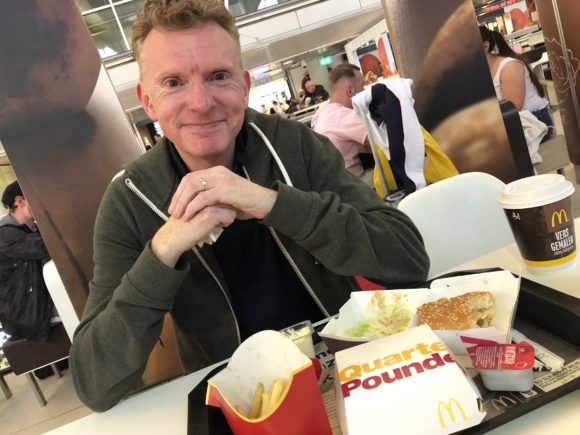 Would we return to Amsterdam ? You bet we will, and we are already counting down the days till we go back. Next time will be slightly different as we are going for 3 days, and we are taking the kids this time. Roll on the summer.
What we spent in Amsterdam for the day
Flights – £155
Spends – £150
One day travel insurance – £5
Meet and Greet parking at Manchester – £45
Total – £355
We could have got the flights cheaper if we had booked more in advance, and also kept our spends down. But this was our celebration day out, and we weren't budgeting. Our crazy day in Amsterdam was definitely worth every penny.
If you are going for longer you might want to purchase the I Amsterdam card. You can read my blog post all about the I Amsterdam card and using it as a family.