In complete contrast to our trip to Center Parcs last year where we had 4 days of basking in a heatwave, this year our visit to Woburn was rain, rain and more rain. This was our second year of visiting Center Parcs Woburn, and taking advantage of the shorter mid-week breaks they seem to offer in June.
We paid £199 for a 3 bedroom lodge for 2 nights, from Monday to Wednesday. At that price I was just happy to be returning to Center Parcs for our 16th visit, and over those visits we have seen every kind of weather imaginable, snow, heatwaves, wind and this year was the turn for persistent rain.
Center Parcs in the rain – Forest walks
The first thing we had to do was EMBRACE THE RAIN. Much as I would have loved the heatwave of 2018 to return, the weather app was telling me a different story. We pretty much had rain from the minute we arrived on the Monday, to when we left on Wednesday afternoon. So the only thing for it was to zip up the rain coats, pull on the boots, and get out and embrace the forest in the rain.
Center Parcs is still beautiful, no matter what the weather, and the forest has that gorgeous pine smell when it rains. We certainly enjoyed our rainy walks, and as you can see Katie was well prepared with her bag of chocolate and earphones… The teen essentials.

Center Parcs swimming pool and cabanas
Of course you can choose the other option of getting wet, by heading to the swimming complex. We always have a first night tradition where we go swimming, and in no time at all we were whizzing down the rapids. The rapids are definitely the place where we have the most fun, and I still can't manage to go down them without shrieking and laughing at the top of my head.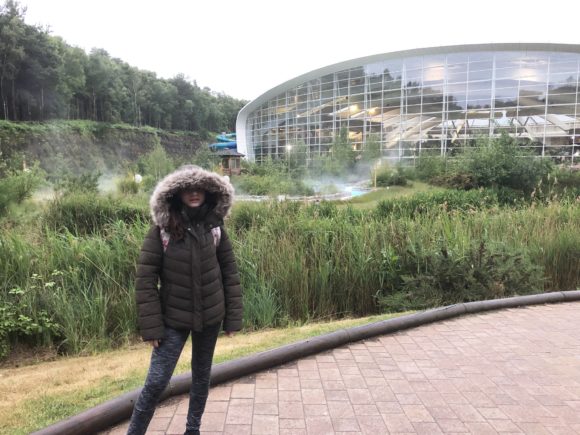 Woburn is a fairly small pool complex compared to Whinfell, but it still has a good selection of rides, a lazy river, and two areas for younger children. And another thing we always do when we are at Center Parcs is book a cabana. We love having a base for the 3 hours you hire them for, and we paid £55 from 11am till 2pm on the day we checked out. This was for a 4 person cabana complete with towels, soft drinks, magazines, TV, and comfy chairs to sit on. If you are thinking of booking a cabana at Center Parcs, I have written a seperate blog post here.
The restaurants at Center Parcs Woburn
One way to definitely escape the rain is to head to the many restaurants at Woburn. During our 3 day break we ate at the Sports Cafe, and also the Pancake House. As you would expect, Center Parcs is not cheap to eat out, but the food we had was excellent and the service was always good. Look out for any special offers, as we were given a card that gave us 20% off the restaurants at Woburn.
The Aqua Sana at Woburn
I have wanted to visit the Aqua Sana at Woburn ever since it opened, and 5 years later I finally got the chance. And WOW it was certainly worth waiting for. We booked a twilight session for £39 per person, which gave us access to the World of Spa from 6pm till 9pm. The World of Spa at Woburn has over 25 different experiences, and we visited every single one. Hands down this is the best spa I have ever been to, even beating the spa at The Grand Moon Palace in Mexico. The twilight session is such good value, though I would love to return and book a full day spa session.
Indoor activities at Woburn
There are plenty of indoor activities to keep you busy at Center Parcs, though we didn't book any on this trip. I think as we booked last minute, we were happy to just go with the flow, though in the past we have done pottery painting at Woburn which is always good fun. The Sports Plaza always has plenty going on from badminton to squash, rope climbing to table tennis. Plenty to keep you busy when the rain comes.
Relaxing in our lodge at Woburn
Whilst we were only there for 3 days, we still managed some chill out time in our lodge. In the evenings we watched a DVD and lit the fire (don't forget to bring your fire logs from B&M which cost around 99p). I didn't take any pictures of the inside of our lodge (what a bad blogger I am), but we had a 3 bedroom lodge which was located in the inner area. The squirrels were certainly nice and friendly, as this one was trying to get into our lodge one day, though I think he was just trying to escape the rain.
Despite the rain, we still managed a brilliant break away at Center Parcs, and it's definitely our happy place to go to in the UK when we want to escape. Yes of course Center Parcs can be expensive, but this is the second year we have booked one of these 'special breaks' and it's definitely something to keep an eye out for next June.
More blog posts about Center Parcs
You can read about our first trip to Woburn in 2014, when we visited with my best friend just before it opened to the public.
If you want to book a cabana when you are at Center Parcs, this post has all the information you need.
If you fancy celebrating your birthday at Center Parcs, I have written about our birthday visit to Whinfell.
Karen from Mini Travellers has written a post asking which is the best month to visit Center Parcs.