During February half term 2019, we were invited to spend 4 nights at Sandybrook Park. The luxury lodge park is located just outside the small market town of Ashbourne in Derbyshire, and took us just 90 minutes to drive from our home in Cheshire. We checked in at 4pm, and we're handed an information folder, our keys to our lodge, and also a complimentary pint of milk. What a lovely touch from Sandybrook.
Sandybrook Park – 3 bedroom Lodge with Hot tub
We quickly found our lodge (number 26), and we were soon inside exploring our home for the next 4 nights. As with the majority of lodges we have stayed in, ours had a lovely open plan living space, combining the kitchen, dining room and living area. It was bright during the day, with the large windows letting in the beautiful February sun we were blessed with. And in the evening it was warm and cosy, even having a remote controlled fire in the living area.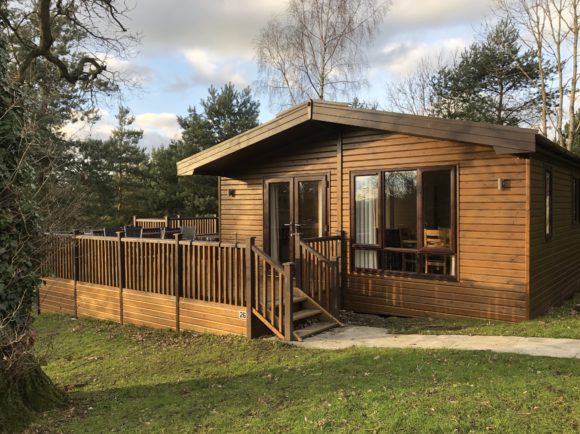 The kitchen had every utensil you could possibly need on holiday, a large fridge/freezer, microwave, dishwasher and washing machine. This is why we love staying in lodges, they really are a home from home. Plus you never know you need a washing machine until you actually do, and this is the first time I have used one on holiday. Thankfully the  reception on the park sold individual washing tablets for 40p.
The rest of the lodge was comfortable and cosy, and our bed was one of the comfiest I have ever slept in. The master bedroom had the luxury of an en-suite, plus USB power points next to the bed. I was pleasantly surprised to see toiletries supplied in both the en-suite and the main bathroom.
Of course, the most exciting part of our lodge was on the decking, and we used the hot tub every single day. There is no better feeling than sinking into the bubbles after a day of exploring.
The facilities at Sandybrook Park
Sandybrook is a fairly small park having around 60 lodges on site, but it still has great facilties on offer. I was really impressed with the swimming pool, and when Katie and I used it on the Thursday, we virtually had it to ourselves. Though it's worth mentioning that whilst we were on half term, the rest of the UK were still in school, so it might be busier when the park is at full capacity.
There is also mini golf, an outdoor play area that looked new, an indoor toddler area, woodland walk, a games room, table tennis, plus various activities such as archery and body zorbing.
The Coach House Restaurant and Bar
We love eating out on holiday, and whilst we had a perfectly good kitchen in our lodge, we dined at the on-site restaurant twice. I ordered curry on both occasions, and it was the nicest one I have had in a long time. Main meals at the Coach House were priced around the £10.95 mark, which I thought was really reasonable. There is also a bar area where dogs were more than welcome, plus they had a gin board which of course gets my vote. The Cherry Bakewell gin was amazing.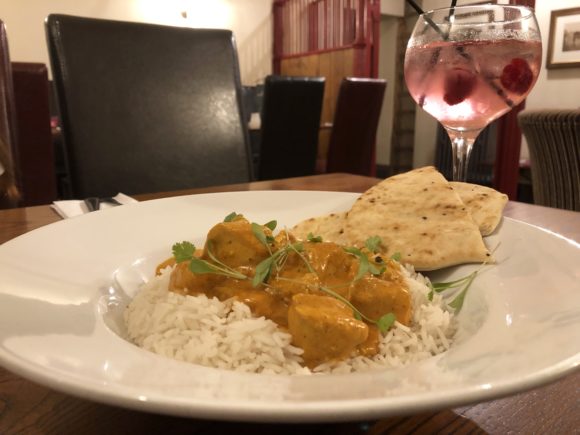 What to do around Sandybrook Park
The park is really well located to explore many of the Peak District towns, villages, beauty spots, and also the nearby theme parks of Gullivers and Alton Towers.
Ashbourne
Ashbourne is the nearest town, and is only a 5 minute drive away from Sandybrook Park. We parked in the large car park which was at the back of Waitrose and Coop, and it was a short stroll to the town. One thing about Ashbourne was the quality of the charity shops, and I was certainly pleased with the amount of books I picked up. We had a lovely wander around, and of course stopped for refreshments. We can all agree that calories don't count on holiday.
Derby
Having a teenager, there is one thing they will always want to do on holiday….. SHOP. I think I need to write a post about the Primarks I have visited around the UK !!! Anyway, Derby is around half an hour from Sandybrook, and we decided to explore the city on our first full day. The city centre has Intu Derby, which is like a mini Trafford centre, and thankfully was full of the shops Katie liked, though we had to venture into the city to find Primark. We had a lovely meal in Pizza Express, which was very much needed after a day of shopping with a teen.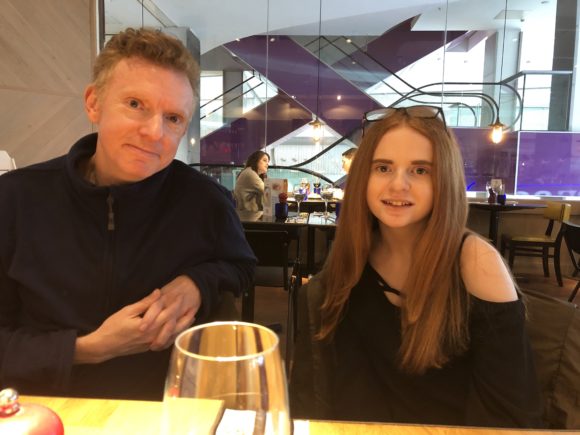 The rest of the time we spent relaxing in our lodge, walking around the site in the unbelievably warm weather for February, and of course enjoying the hot tub.
What else is there to do in Derbyshire and the Peak District
For more ideas on what to do if you are staying at Sandybrook Park, or Darwin Forest which is their sister site close by, have a read of the following….
Donna from What the Redhead Said wrote all about her trip to Bakewell – The home of the Bakewell tart
Karen from Mini Travellers has published a fantastic post about Things to do in the Peak District with kids
Nisbah from Five Adventurers featured the Heights of Abraham in her Darwin Forest Review
And Sam from North East Family Fun wrote all about her plans when she stayed at Darwin Forest
You can find out more about Sandybrook Park, and book a break on their website.
If you would like to know more about the places we have visited, you can find them on our Travel – UK page and Travel – Abroad. 
Thank you to Sandybrook Park who provided us with a complimentary midweek break in a 3 bedroom lodge with hot tub. All words and opinions are my own