On Friday the 6th June 2014 Center Parcs will officially open its 5th holiday park in Woburn in Bedfordshire. I was one of the VERY LUCKY people who got the chance to visit Woburn on a trial break 2 weeks ago. I have to credit my best friend here, as she was the one who was offered a trial break, and invited me and my daughter to go with her. From the minute I got the text I was beyond excited.
I LOVE Center Parcs and all it stands for, and have visited Whinfell over 10 times. But here I was getting the chance to go to Woburn before it opened. I have decided to review it as I am assuming there will not be many customer reviews online yet.
Woburn was really easy to find off the M1 (coming from the North) and its about 10 minutes away from the motorway. Check in was straight forward, and my daughter was given a bag of chocolate coins which I thought was a nice touch. I was given directions to our lodge, but as I had studied the map online for the past 2 weeks I knew exactly where our lodge would be. I could not believe we were actually at Woburn, and for the next 2 days I had to keep pinching myself.
The Lodges at Woburn Forest
Our accommodation was in an excellent location and we stayed in a 3 bedroom executive lodge, which was amazing. I loved the full wall picture of the forest in the living room. Each bedroom had an en suite, and the master bedroom also had a Jacuzzi bath. Outside there was a sauna, along with table and chairs for 6, and also a large BBQ. Also included in the executive lodges is maid service and also free wifi. We also had a blu ray player, and televisions in all bedrooms. The lodge was very well equipped and comfortable, though I felt they were a little smaller than the ones at Whinfell. There is a mixture of accommodation at Woburn. There are some fantastic 4 bedroom lodges dotted around the park, with some having balconies. As well as the lodges, you also have the hotel and also the Spa Suites.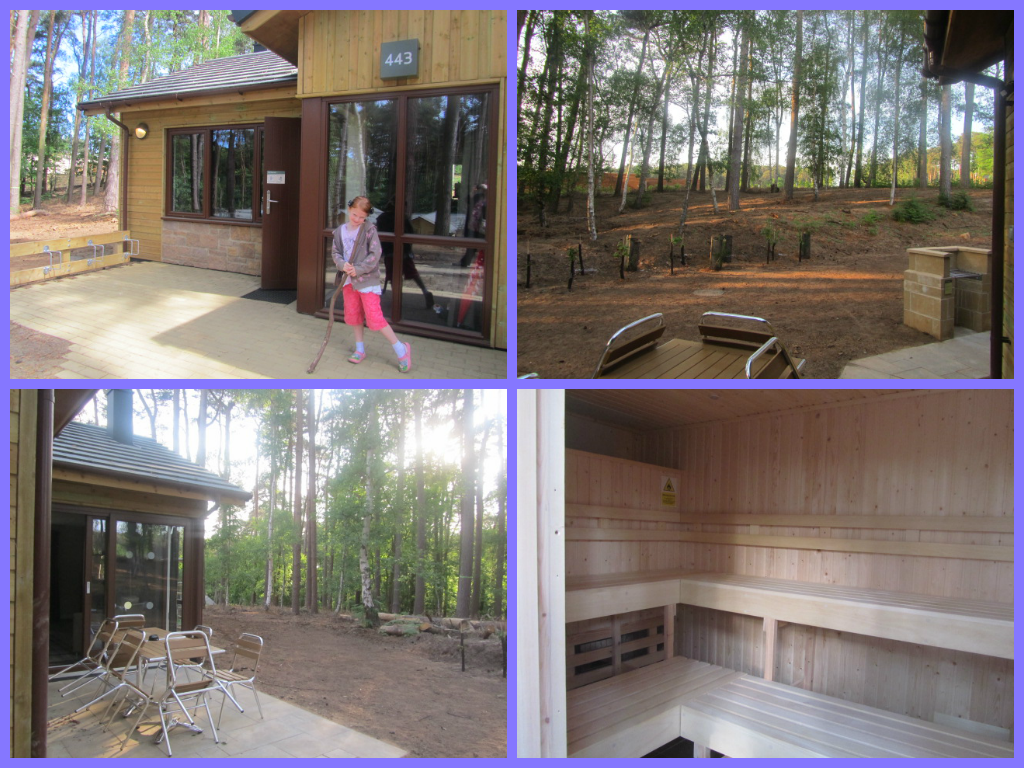 The Plaza at Woburn Plaza
This is where you will find most of the sports activities, the children's club, pottery and craft rooms. There are also shops and eating places such as the Sports Bar, and outside you have a great play area. You will also find the Parc Market here. I loved The Plaza, especially sitting outside in the sunshine whilst the children played on the park. Further round from The Plaza is the hotel and also the Aqua Sana. We were given a tour round the spa and all I can say is WOW !!! The spa is over 2 floors, with an outside pool and sun loungers, and you can really tell Center Parcs has spent a lot of money creating a truly outstanding spa experience. I WILL have to return one day as it really did take your breath away.
The Swimming Pool at Woburn
I was really looking forward to the swimming pool, and we spent a good few hours in there one evening. The changing rooms are very similar to Whinfell, and its good to have your accommodation wrist bands which act as your lodge key and also your locker key. You can also charge items to your wrist band when in the swimming pool. The pool has 2 areas for children. 1 for younger children and babies, and another section for older children. You also have the rapids which I loved. Whinfell do not have the rapids like the other parks do, so it was nice to hurtle down them. You also have several slides including the raft water slide which is similar to the one at Elvedon. Now I usually HATE water slides, but I went on and despite screaming the whole time, I LOVED it. Well if my 8 year old was going on, I suppose Mummy better had ! My friend had also hired a Cabana which are fantastic. I knew what to expect as we had hired one at Whinfell in January. There were around 6 cabanas at Woburn all in one area close to the changing rooms. We really enjoyed our time here, but felt it was missing an outside pool.
Eating places at Woburn
There are many eating places at Woburn, and many of the restaurants you will find at other parks. We ate at The Pancake House which is overlooking the lake and beach area. We also dined at Hucks and also Dexters Kitchen when we were there. All the restaurants were fantastic with great service, and only wish we could have tried them all.
Activities at Woburn
As with all Center Parcs there is a huge range of activities to book, and Woburn is no exception. Whilst we were there we did the pottery painting, which is in its own pottery studio in the Plaza. This was a great activity and the staff were very helpful. My daughter also had her hair braided, and the lady was fantastic and made my daughter feel very special. I also could not escape the Build a Bear type activity, and we came home with a purple unicorn !
 The pictures below are from walking around Woburn Forest
I truly had a wonderful time away and felt very lucky to have experienced Woburn on one of the trial breaks they were offering. I am a massive Center Parcs fan, and it was nice to visit another park other than Whinfell. I loved that Woburn has the village square, and there are more opportunities to sit out and have a meal in the sunshine. The spa looks amazing and I WILL be back to try it out. All the staff we came into contact with were very friendly and professional, and I wish them all the best of luck when Woburn opens up to the paying public. Thank you to Center Parcs for this wonderful opportunity, but more importantly a MASSIVE thank you to my best friend for inviting me. Woburn I will be back, and I am sure everyone who has booked will not be disappointed with this fantastic park.
If you would like any further information about our trip, please comment on this post or feel free to email me.