*Collaborative post*
Proposing to your partner is one of the most important and special moments of your life. You know that this is the person you want to spend the rest of your life with, and you want your dream proposal to be as wonderful as they are. If you are looking to propose in stunning Cornwall, you have made a great choice.
Cornwall is a beautiful place to visit as a couple, full of enchanting landscapes and spectacular views. Here, we are going to discover three of the most beautiful places in Cornwall where you can propose to your significant other – and begin making a lifetime of magical memories.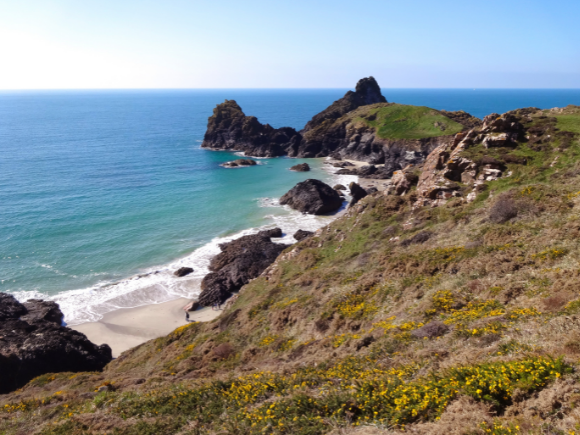 Kynance Cove
If you want to journey to west Cornwall, Kynance Cove is a beloved beauty spot that is the perfect place to propose to your special person. When the sun is shining brightly, the waters are so clear and blue that you could be on the Italian Riviera – without ever leaving Cornwall.
Not only that, but Kynance Cove is a lovely place to go exploring if the two of you have adventurous spirits. There are unique and beautiful rock formations that make for some stunning pictures and even some caves. Choosing this lovely spot is sure to make an impression on your partner, as it truly has a unique sense of Cornish charm.
Minack Theatre
If a beautiful beach feels a little too run-of-the-mill, then why not opt for somewhere entirely bespoke. Whether you love the theatre or you just want a unique proposal location, the Minack Theatre could be the perfect proposal spot for you. This outdoor theatre has been created from granite, and it is set in gorgeous gardens with a lovely view across the bay.
With the glittering waves crashing and the feeling that this theatre could have stood for thousands of years (it was in fact built in the 1930s), you will feel swept away by the spirit of romance – and it might inspire a more poetic proposal speech than expected.
St. Michael's Mount
One of the most incredible places you will see in Cornwall is St. Michael's Mount. This gorgeous landmark is cut off from the Cornish mainland and you can only access it on foot at low tide. When the tide is low, you will see a walkway appear – just like magic. You and your partner can go for a unique trip to see this lovely piece of history.
It is peaceful and serene, making it the perfect place to calm your nerves and go down on one knee. The unusual location is sure to be a memorable spot that you may want to revisit again and again in years to come, remembering your special moment.
Have you found your ideal proposal spot ? Wherever you choose in charming Cornwall, make sure that you have the perfect ring to complete this fairytale moment.