Many of you will know that we had an amazing family holiday to Mexico in the summer holidays. A holiday that saw us returning with healthy glows, cases of holiday washing, and hundreds of photos stored on my iPhone. I am sure we are all guilty of sharing those carefully selected holiday shots on social media, but how can we keep our holiday memories alive ?
Thankfully Tesco Photo came along at just the right time, and they gave us the opportunity to try out their photo printing and personalised gifts service. I must admit I didn't even know that Tesco offered this service, and I was impressed with the range of products they offer. From traditional photo printing to beautiful canvas prints, personal cushions to the ever popular photo books, Tesco Photo have it covered.
The ordering process was really easy, and I accessed the Tesco Photo website from my phone. As my photos were stored on my iPhone, I figured this would be the easiest way of uploading them to the website. Once your photos have been uploaded, you have the option of using the auto fill option, which randomly organises your pictures for you. I ordered two photo books, one using the auto fill option, and one arranging the pictures myself. I must admit the auto fill option was far easier, and you can still move your pictures around before ordering.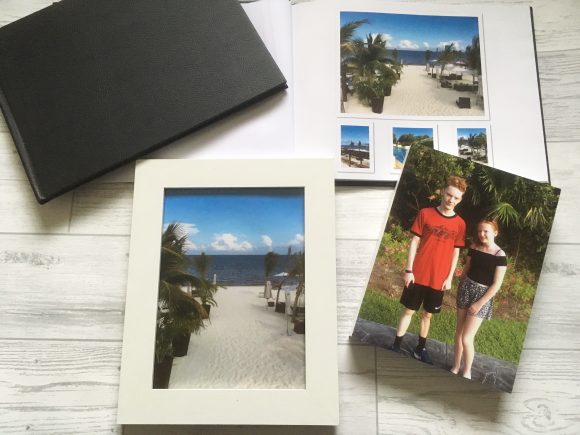 As well as ordering two photo books, I ordered a further two items that will definitely keep our holiday memories alive. Having a 16 and a 12 year old, pictures of them together have been getting less and less over the years. I love this picture which has been printed on a wooden photo block. They come in 3 sizes and I went for the 8″ x 6″ which was a brilliant price at only £9.
And this picture certainly takes me right back there. Sitting on the beach, cocktail in hand, and the sun on my face. The picture complete with frame was only £7, and considering you can pay more than that for just a frame, this again is really good value.
Tesco Photo have a brilliant range of different photo books, and I went for the faux leather ones which are currently priced at £30. You can choose different themes, but I wanted to keep it simple with a white background. I am so pleased with the photo books, and from now on I will definitely be making it my mission to have our holiday memories made into a book.
Not only did I create a holiday memory book of Mexico, but I also made one of our family memories. I think the last time I made a photo book  was when my husband turned 40, SEVEN years ago !!! It was lovely to capture the teen's prom, and the many other memories we have made over the year.
I was really impressed with the service from Tesco Photo, and I will certainly be using them again to keep our holiday memories alive, when we go to Greece next year.
*I was gifted 4 products from Tesco Photo for the purpose of this review. All words and opinions are my own*