Having a teen and tween I know how important it is for them to start looking after their skin from an early age. Katie was 11 in January, and for the past few months she has been getting outbreaks of tiny spots on her forehead. Now I am not going to lie, I was a little taken aback when I saw them. Of course I know that most children will suffer with spots, but it was more the realisation that my baby girl was growing up.
So when we received a lovely package from Green People, it came at the perfect time for us. Their teen and tween range is called Oy! (Organic Young), and as you would expect from the name the products are all organic. Their range works in harmony with younger skin, and contains no harsh chemicals. As a mum it was important that Katie would be starting her skincare routine with natural products. In the package we received the following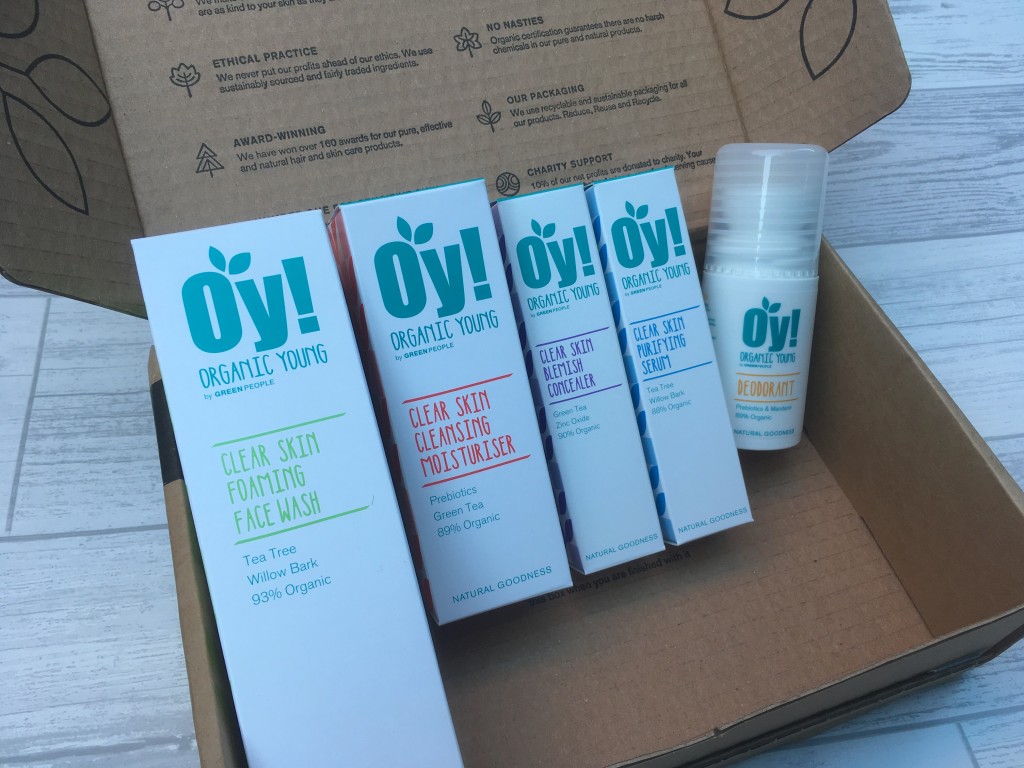 Clear skin foaming face wash which contains willow bark and Tea tree extracts. Katie has been using this when she showers and she loves the foaming sensation on her face.
Clear skin cleansing moisturiser which is PH balanced. Katie has been getting into a great routine of putting a little bit on before she goes to school and before bed. We recently went away and I used the moisturiser after we went swimming one day. Even a few hours later my skin still felt really soft and moisturised.
Clear skin purifying serum. This is more lightweight than the moisturiser, and is perfect for combatting spots. Katie has only used it twice so it's still early days of using the product.
Clear skin blemish concealer is perfect if you feel the need to squeeze spots (looking at the 15 year old here). The concealer treats acne prone skin by reducing the inflammation and redness of the spots, whilst the Tea Tree soothes and calms the skin down. Reducing the need to squeeze them.
Deodorant which is 89% organic and disappeared into her school bag ready to use after PE.
I am really pleased that Katie seems to have adopted a good skincare routine already, and she is enjoying using the products. And the lovely people from Oy! have also supplied a box of skincare products to giveaway to celebrate my blogs 4th birthday. All you need to do is complete the Rafflecopter below and best of luck.
Terms and Conditions
Only open to UK residents aged 18 and over
The winner will be emailed within 48 hours of the competition ending
The winner must provide their UK address for the prize to be sent out
The winner is chosen at random by Rafflecopter
The prize is non-transferrable
The prize cannot be exchanged and no cash alternative will be offered