On Sunday we made our very first visit to The Crocky Trail, which is in Waverton in Chester. Over the years I have heard many good things about it, and we were really looking forward to trying it out for ourselves. As I knew there would be mud involved, I packed a change of clothes and some towels, along with a bin bag to put the muddy clothes in.
We parked easily and the children couldn't wait to get out of the car and head to the activities on offer. Now with having a nearly teen boy and a 9 year old girl, I really struggle to find days out that they both enjoy. But this certainly ticked all the boxes. They both wanted to try out the slides first, and this kept them both amused for about 30 minutes. In fact they spent a good few hours on all of the activities and challenges before we even got to the trail. The Titanic is hilarious. Its basically a slide which goes higher and higher until you admit defeat and slide to the bottom. Hubby was rubbish at this and blamed his 'slippy' jeans !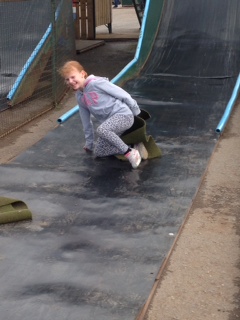 There is also The Dungeon which hubby and the tween went in. This is not for the faint hearted, and hubby said it was better than a scary attraction he had paid to go in at Alton Towers. Us girls waited outside and we could hear lots of screams. Daughter had a go at the skipping challenge, as well as the seesaw and various spinning rides.
It was then time to head to the trail which is around a mile long. You walk along by a stream and there are lots of activities that you can have a go at, such as rope swings, bridges and logs. Yes there was mud involved but kids are kids and it was great to see them having so much fun. At the side of the stream there is also a path which avoids the obstacles, and would be great if you have a buggy.
The whole Crocky Trail pushes your boundaries, and its a great place to have fun as a family. I heard so much laughter from other like minded people, and equally muddy kids. It has a rustic and simplistic charm about the place. Its definitely all about getting into the outdoors and enjoying back to basics fun. What's not to love about that in this media world we live in.
Among other things that impressed me were the amount of picnic benches, the friendly staff and the place was clean and tidy. If you don't bring a picnic though there is Crocky Bites for a well deserved cold/hot drink and snack.
I am a Blogging Ambassador for The Crocky Trail and I have been supplied with an annual pass for a year. Annual passes are now available on their website and are great value. The Williams family can't wait to return. Thank you Crocky Trail for the laughter, mud and memories.