I can finally say that the exams are over, and as a celebration we were invited to Hickory's in Chester to try out their new family feast. Hickory's Smokehouse has one of the best locations in Chester, as it sits right on the banks of the River Dee. With it's lively and welcoming atmosphere, it is perfect for a celebration.
You start off the Hickory's experience with complimentary popcorn, freshly popped on site. We were here to try out their family feast, but of course I couldn't resist a look through their vast menu. From wood fired chicken skewers to classic hot dogs, cobb salads to the Smokehouse Platter, Hickory's has it covered with their tastes of the deep south.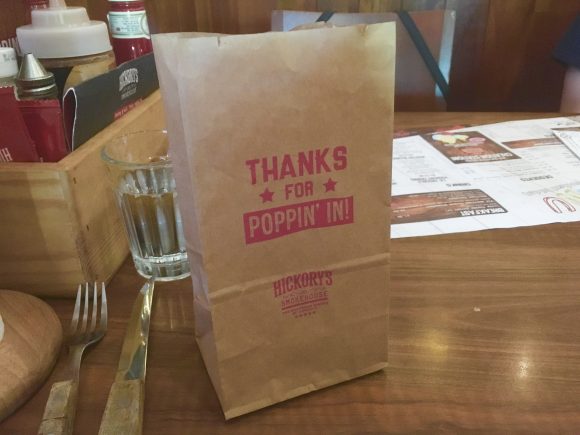 For us though, it was all about the chicken. Well apart from Katie who is vegetarian, who ordered halloumi skewers that were 'amazing'. Our epic family feast consisted of a whole chicken, southern fried chicken, popcorn chicken bites, BBQ beans, BBQ chicken wings, corn on the cob, vegetable sticks, fries and white gravy. I have no idea what white gravy is, but it was delicious.
With 2 adults and a very hungry teen, we soon devoured everything on the family feast, apart from the chicken bones of course. The chicken was succulent, tasty, and even the fries were the best my husband had tasted. Priced at £30, I thought the feast was really good value.
One thing that strikes me about Hickory's, apart from the amazing food and atmosphere, is the knowledge of the staff. They seem to really know the menu, and were happy to give us guidance on which 'hot sauces' to go for. From the mild sauce, to the 'burning your mouth off' we tried them all.
As well as the restaurant, Hickory's also has a vibrant sports bar, where of course you can sit back with a drink and watch the World Cup. And they go all out each year for the Superbowl, where they stay open throughout the night. You can catch all the latest events on their website.
Hickory's was perfect for celebrating the teen finishing his GCSEs. We had a lovely family evening, knowing that we never have to speak about GCSEs again. Well apart from results day in August.
We were invited to Hickory's to try out their new family feast for the purpose of this review.