Chez Jules is a gorgeous French restaurant in the city of Chester, which opened in 1997. When I read that they had recently started doing 'cinema nights' I was intrigued. They have seen a gap in the market as Chester is without a cinema, and created there own unique evening, which happens once a month. The films all have a French connection, and when I saw that Leon would be the film of choice for April, I knew we had to book.
This was our first visit to Chez Jules. Friends of ours had been and said both the food and service were amazing. The restaurant is so beautiful from the outside, and the building used to house Chester's Fire Station from 1911 to 1971. There was a lively and bustling atmosphere downstairs, and as we were booked in for the cinema evening we headed upstairs. We were seated at our front row table, but to be honest all seats were set out so everyone would have a good view of the screen.
For £20.00 each we got a glass of wine, a main course and a dessert plate or cheese board to share. Plus there was the showing of the film and popcorn was served during the screening. I chose the pan roast chicken breast and hubby the beef bourguignon. We opted for the cheese board for afters, but looking around and seeing the dessert plate we wish we would have gone for that.  Bread was also served when we were seated.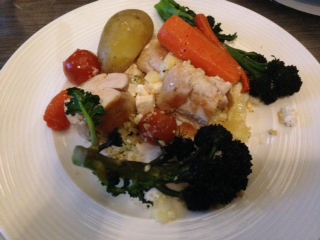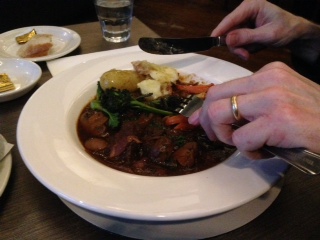 It is not our normal choice to eat at a French restaurant, but my word the food was amazing. It was all fresh and you could tell the highest quality ingredients had been used. Chez Jules pride themselves on having no freezers or fryers, just fresh food. We could not fault the service either. Our waitress was extremely attentive and friendly.
When the desserts had been cleared away it was time to start the film. Leon came out in 1994, and I remember watching it at the cinema. Its one of my all time favourite films, and it was great to be watching it again in a gorgeous restaurant after an incredible meal. During the film we were served popcorn, and if you wanted a drink you just had to raise a hand and a waiter would be over.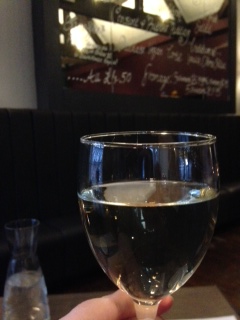 Our bill came to just under £50.00. We loved the whole evening and it is something we will definitely do again. The next screening is Amelie on the 14th May, however it is all booked up as the evenings are proving to be very popular.
Thank you to the manager at Chez Jules and all the hard working staff. We will definitely return to your gorgeous restaurant.
We paid for our meal and all thoughts and views are my own. Even though a little part of me wants to keep this place a secret, I feel its only fair to share our wonderful evening.