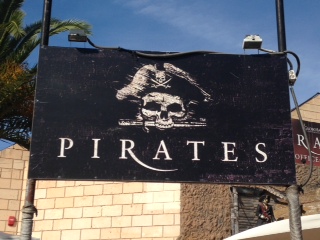 On our recent holiday to Majorca, we spent the evening at The Pirates Show in Magaluf. The show is now in its 29th year which is just incredible, and promises an evening of acrobatics, comedy and dance. My Dad who has lived in Majorca for over 20 years, raved about how amazing the show was, so I knew we were in for a good evening.
We got to the indoor theatre before the doors opened, and there were pirates outside interacting with guests. There was the chance to have your photo taken with a large bright parrot, and on the way into the indoor theatre we were handed a small bottle of cava each. Kids got some treasure in the shape of chocolate coins. We were then shown to our table by one of the stars of the show. I thought this was a great idea, and certainly reinforced what a great interactive show Pirates is.
We were seated on the Quarter Deck, and had a great view of the stage. To be honest I think every table would have a good view. We had a jug of Sangria on the table, together with a large bottle of coke. We were quickly served our meal which was chicken and chips, coleslaw, bread roll and a sausage. For afters there was ice cream. There were plenty of staff serving extra drinks to your table, and we ordered some more bottles of small cava which were 5 euros. Whilst we were waiting for everyone to finish their meal, there was plenty of interaction between the children and pirates. This certainly helps with the 'when is it going to start mum'
Soon it was time for the show to start. I won't say too much about it as I really don't want to spoil it for you. But WOW what a truly amazing show. We were all mesmerized from start to finish, even the tween (and we all know how hard it is to get a nearly 13 year old mesmerized). The acrobatics were dynamic, the host of the show hilarious and the music fantastic. Afterwards there is the chance to meet the stars of the show and have pictures with them.
My dad got us complimentary tickets, and I have to say a huge thank you to The Pirates Show for providing them. It truly is an amazing show, and I would not hesitate to return when we are next in Majorca. Thank you to all the acrobats, pirates, staff and all the stars of the show for providing us with a fun filled evening on our holiday.