Review – We were invited to the Cookhouse and Pub to enjoy a complimentary three course meal with drinks
At the weekend we were invited back to our local Cookhouse and Pub, to have a look at their new menu. We last visited the pub in Northwich, Cheshire just over a year ago, after it had gone through a refurbishment programme and changed from a Brewers Fayre to a Cookhouse and Pub. We were looking forward to returning, and seeing what new dishes were on the menu.
We arrived just as the pub was opening for lunchtime, and it was great to see that the restaurant was looking just as inviting as I remembered. The menu still offers the popular grazers that we enjoyed last time, as well as your traditional starters such as soup of the day, prawn cocktail and mushroom and stilton bake. The main menu offers a variety of dishes from burgers and steaks, to the new fake and ale pie (Vegan) and the beef and doom bar pie which sounds intriguing.
For starters I went for the oven-baked camembert with bread twists, which was delicious. It's not often you see camembert on a pub menu, so it's a definite thumbs up from me. Husband went for the honey and mustard chicken skewers, which were fresh and tasty.
For mains we both went quite traditional as I chose scampi and chips, and husband went for the mixed grill. Funnily enough he ordered the same main last time we visited. As it was a Sunday there were plenty of traditional Sunday lunches coming out of the kitchen, and I noticed they have a great offer of £25 for four adult Sunday lunches, or £20 for two adults and two children.
Of course we just about managed to squeeze in a dessert, and husband went for the most chocolatey thing he could find on the menu. The pudding that caught my eye was the cream tea dessert. A fruit scone served with butter, cream and of course jam, complete with a pot of tea or a coffee.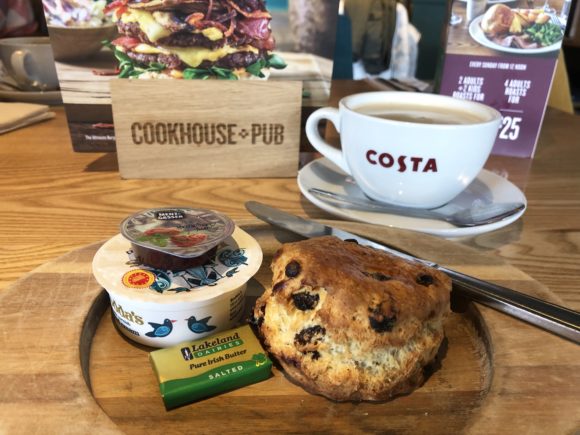 All of the food served was delicious, and the service was attentive and friendly. Whilst the pub was pretty quiet when we were first seated, it soon filled up, and it's apparent that this is a great community pub as the staff knew many of the customers. Thank you for inviting us.