As a family we love to eat out which was one of the reasons I started this blog. One restaurant we have never been to as a family is TGI Fridays. So last night we drove to our nearest one at Cheshire Oaks, which is 20 minutes from where we live. The restaurant is located just outside the Cheshire Oaks shopping complex, and has plenty of car park spaces which are shared with KFC.
Having booked online a few days before, we were quickly shown to our table. I am so glad we booked, as the restaurant was really busy for a Tuesday night. The kids were handed the obligatory activity pack, and the 9 year old quickly put the pencil to good use and started colouring in. TGI Fridays has a very American style menu, which totally suited my husband and the tween who are addicted to burgers. They have a special offer menu from Monday to Thursday where you can get 2 courses for £10.99 (the Downtown menu). Or you can choose from the Uptown menu, which is slightly more expensive at £15.99.
I decided to order from the 'Uptown' section and chose Jack Daniels Sesame Chicken Strips to start, followed by the Fridays Double Glazed Jack Daniels Burger. Jack Daniels is one of my favourite drinks (closely followed by Gin and Prosecco), and its featured heavily on the menu. I had never 'eaten' Jack Daniels, and oh my word the glaze that was on both the chicken and the burger were heaven. I really enjoyed my starter, and thought the portion was really generous. Husband and the kids shared some cheesy garlic bread which they enjoyed too.
The boys had opted for the Monster Burger, which had 2 burgers with all the trimmings. They both enjoyed the burgers, though the tween was defeated towards the end. My burger was really tasty. It was served in a glazed brioche bun, and I have to say it was the nicest burger bun I have had in a restaurant. Daughter opted for the chicken wraps which were on the £4.99 Major League menu. There is also a Little League section priced at £3.49. All kids meals come with 'Fridays Fingers' which are apple, cucumber, carrot and pepper. We all had soft drinks, and it was nice to see the Pepsi was refilled for free.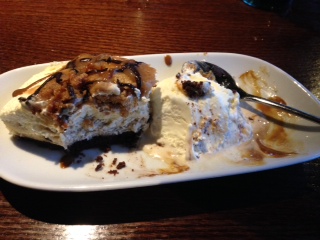 Daughter had a fab dessert which was Cookies and Milk for only £1.29. I chose the Cookie Dough Cheesecake which was amazing, and I even let hubby and son have a little try.  After that we literally had to be rolled out of the restaurant.
TGI Fridays has a great atmosphere, and its a little more grown up than other restaurants we have visited. With the kids being 9 and 12 though this totally suits us a family. They have music playing, but not loud enough so that you can't hold a conversation. The 9 year old even enjoyed a little dance in her seat when The Vamps came on. They have a huge cocktail menu, and would be nice to return one evening with just the hubby. The overall atmosphere reminded me of Applebees, which is one of our favourite restaurants when we go to Florida.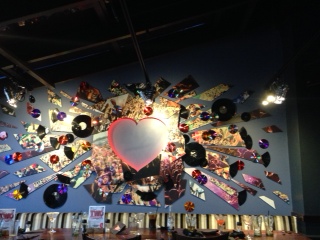 We were provided with vouchers from TGI Fridays for the purpose of this review. However all opinions are my own. Thank you to our server Becky who offered great service. TGI Fridays we WILL return.
I am linking up with the lovely ladies @Lollinski and @FamilyFever for Tried and Tested Tuesday