The Smugglers Cove restaurant in Albert Dock, Liverpool was on my bucket list to visit. So when daughter and I were heading to the Echo Arena, it was the perfect choice to visit for a pre concert meal. As the name suggests, the restaurant is decorated in a pirate theme. It certainly has a wow factor when you walk in, and Katie had a look of wonder and excitement on her face.  Even the menus resembled ancient treasure maps.
Katie ordered sausage and mash from the kids menu and I had steak and chips. The food at the Smugglers Cove is certainly served in a quirky way. I saw burgers being brought out in barrels and other food being served in treasure chests. I was slightly disappointed that my steak was served on a plate, however Katie's was served as below which she loved. My steak was quite possibly the largest one I have ever seen.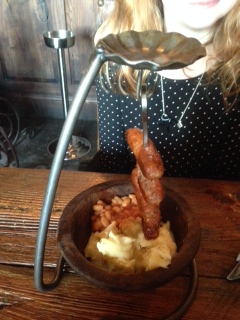 Katie's pudding was definitely the highlight of the meal for us.  We LOVED the presentation of it, and the fact that you could even eat the sand (which I think was crushed biscuits). She spent ages playing around with it, who says you shouldn't play around with food !
The restaurant is very atmospheric, and at every twist and turn there is something relating to pirates. The atmosphere does however come at a cost. For the 2 of us it was £37.00. We would usually pay this when the 4 of us are dining out. However it was a special occasion, and we did have a great time at The Smugglers Cove. Its definitely suited to kids of all ages, but children do need to be out of the restaurant by 6.30pm. I would love to return with the boys.  They are huge burger fans, and I know they would be in awe with how they are served at Smugglers Cove. Thank you to our server and all the staff for a lovely pre concert meal before we headed off to see The Vamps.