A few weeks ago we decided to spruce up our bathroom. We fitted our bathroom about 10 years ago, and to be honest it was just starting to look a little tired. Husband spent the best part of a day, scraping off the mould on the ceiling and repainting it. Whilst he was working hard, I got the fun job of looking around for new bathroom accessories, and of course making him cups of tea.
I started dreaming of a completely new bathroom. We have a beige bathroom suite, but I would love a shiny new white bathroom which seem to be all the rage at the moment. Complete with gorgeous new shiny white tiles. I found myself on the bathrooms.com website and was amazed at the different suites you can now get. Bathrooms have certainly improved since we last purchased one.
I love the shape and design of the bath in this collection. And how gorgeous are those tiles.
And freestanding baths just scream out luxury to me. We probably don't have the room in our bathroom for a freestanding bath, but a girl can always dream.
If we ever went for a complete remodel of our bathroom, I would seriously consider getting rid of our bath. I must have about 2 baths a year, as I love a shower in the morning. The kids are getting older and are having less baths now, both preferring to shower. I would love a corner shower unit.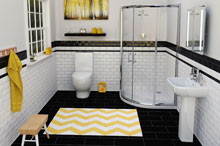 And then whilst I was dreaming of a shiny new bathroom, my thoughts turned to our downstairs toilet. A fairly boring but functional space. And my mind went into overdrive as to how our boring space could be turned into something so shiny and inviting.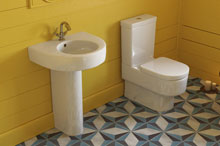 I think in a few years it will be time to invest in a new bathroom suite. I love the vast range bathrooms.com have, and I will be certain to revisit them when the time is right. But in the meantime, I am really pleased with our shiny bathroom after the husbands hard work.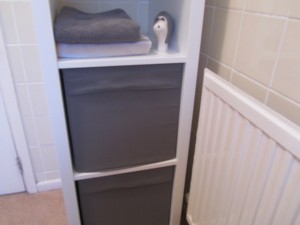 This post is in collaboration with bathrooms.com