I am a creature of habit, and when it comes to fashion I tend to stick to what I know, and what I feel comfortable in. My staple Autumn outfit will usually be a pair of jeans, comfy jumper, and my trusty boots from Hotter. But after returning from Mexico just under a week ago, I am not quite ready to start living in jeans again. Plus have you ever tried to put your trusty jeans back on, after a week of indulgent eating and drinking in an all-inclusive hotel.
So this Autumn I am going to throw caution to the wind, step outside my comfort zone, and order a few dresses that I can wear as the nights get darker and the days get cooler. The lovely Emma from Brummy Mummy of Two always looks fantastic in her Autumn dresses, tights, and cute ankle boots, and this is definitely the look I want to achieve. I just hope I can pull it off, as being plus size I don't tend to try out new looks very often.
Fashion World have a great selection of plus size dresses, and here are a few I have my eye on.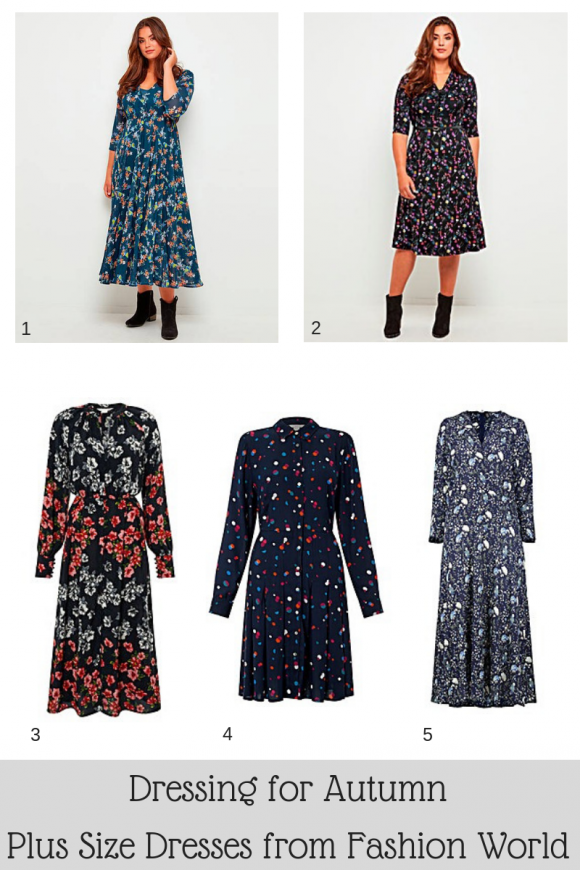 1  Joe Browns Royal Dress £49
2  Joe Browns Tea for Two Dress £45
3  Monsoon Felix Print Midi Dress £70
4  Monsoon Spot Print Dress £60
5  Izabel London Curve Floral Dress £35
Autumn used to be my least favourite season, but over the past few years I have really embraced the darker nights. That feeling of closing the blinds, lighting the candles, and enveloping yourself in a fluffy throw at the end of the day. And who needs an excuse to drink endless cups of hot chocolate, and pumpkin spiced lattes at the weekends. And this year I will be doing it in some cute Autumn dresses, instead of my usual jeans and jumpers.
Is your wardrobe Autumn ready ?