How has it been 3 weeks since I last joined in with Little Loves. Time seems to run away with me in the week, and it always takes me a few weeks to settle back into the routine of school. Getting used to packed lunches, school admin and ironing uniforms again. But thankfully no more school runs for me, as both children walk to high school. Here is a little look back at the past 3 weeks.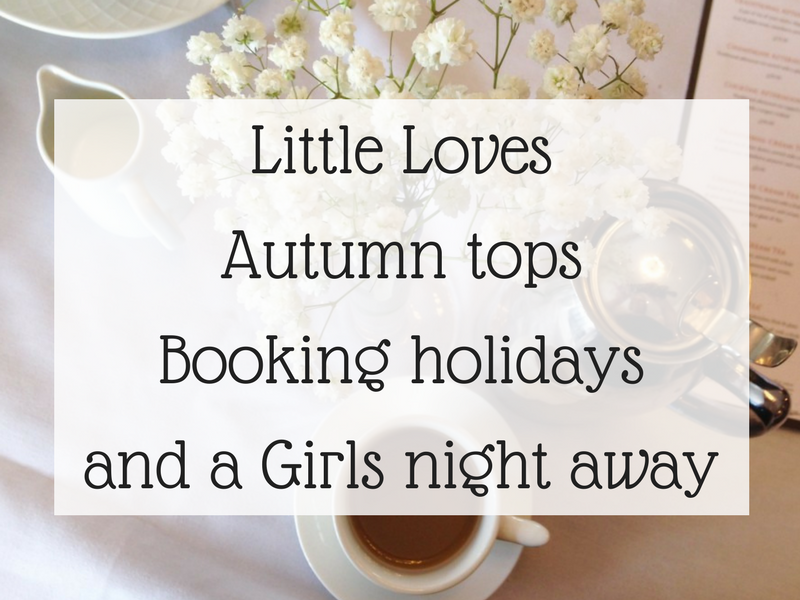 Read
Reading lots of Trip Advisor reviews ahead of booking our summer holiday. Don't get me wrong as I know some reviews you need to take with a pinch of salt, but I honestly think I could sit on Trip Advisor all day. Thankfully we have made our decision for our summer holiday, and we are off to Mexico. We have never booked so far in advance before (not even when we have been to Florida), but I saw a great deal and decided to go for it. I just need this countdown to hurry up.
Watched
I always seem to be really behind with our television watching, and I think that's down to not having the television to ourselves until after 10pm (damn you older kids and your later bedtimes). I need to catch up with Cold Feet, start watching Liar, plus we are halfway through season 6 of Suits. I had forgotten how good Suits was, and of course Harvey is just as dreamy.
Heard
Laughter and lots of chatter when I went on a girls weekend to Birmingham last week. I went with 3 close friends and it was great to catch up over delicious food, cocktails and of course gin. I love that we get the chance to escape the routine of family life and do this from time to time. And we couldn't resist a selfie with a young Marco Pierre White after we dined in his restaurant.
Made
Absolutely nothing of interest.
Wore
I bought a few new tops for Autumn which I will no doubt wear with jeans and boots. They were only £10 and £14 from Asda and Sainsburys.
And Lastly
I was kindly sent some amazing body scrub from Malee which I have been using for the past few days. I knew the product was going to be luxurious from the packaging it arrived in, and as soon as I opened the box the amazing smell of mint, patchouli and citrus hit me. I have been using it in the shower and can already notice a difference in the softness of my skin. Plus as it has 100% natural ingredients, you know it's going to be kind to your skin.  As it's a luxurious product it would make a lovely Christmas present for somebody….. sorry I mentioned Christmas when we are still in September, but I know some of you like to be organised with buying presents.