Phew what a week that was. When you have 2 birthdays to celebrate in one week, it is always going to be filled with lots of fun. What I didn't factor in was the husband getting the flu. Not even man flu, but the real deal which has seen him signed off work for over a week. It has been a real mixture of a week, but plenty of positives and birthday celebrations.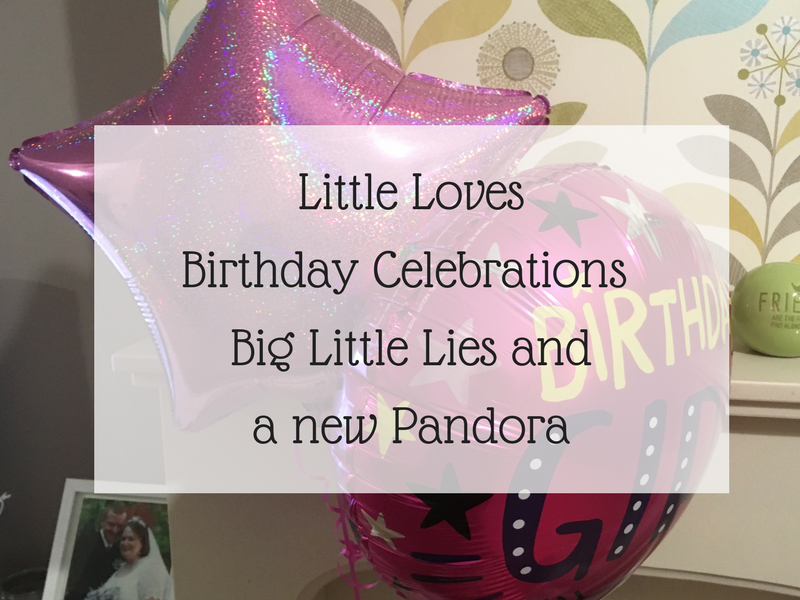 Read
I got this book for my birthday and can't wait to start reading it. This year I have set myself a challenge to push my boundaries and read books that I wouldn't normally pick up. I usually go for chick lit books, nothing too heavy as I tend to read last thing at night. So if you have any recommendations that are a step up from chick lit, please let me know.
Watched
After going out 4 nights this week I have not watched anything on TV, simply falling into bed at the end of the day. However I got these 2 beauties for my birthday (thanks husband). I have seen Bad Moms in the cinema and loved it, and Big Little Lies I read the book a few months ago.
Heard
Cough Cough Cough….. the joy of a poorly husband.
Made
I am definitely the planner in our house, and I love making both my birthday and Katie's birthday extra special. Well January always needs a sprinkling of cake, balloons and the chance to go out and celebrate with friends and family. Katie had a lovely 12th birthday being pampered at the hairdressers, followed by a meal with family. Then the following day she enjoyed a sleepover with her best friend. Birthdays are definitely for making memories in our house.
Wore
My beautiful new Pandora which I got from the Trafford Centre on my birthday. I LOVE it.
And lastly
The birthday celebrations are done and dusted, and I must admit I am looking forward to a quieter week. Don't get me wrong I absolutely love mine and Katie's birthdays being so close together, but I am officially all celebrated out. A night away, 3 birthday meals out with family, 1 meal out with friends, and a sleepover, I think I may hibernate for the next week. Have a good one x