We have been to Ikos Olivia in Greece 3 times now, and if you are wondering whether you should book this 5* luxury hotel, then here are 10 reasons why you need to visit.
The Transfer to the hotel
We have all been there haven't we. The long flight with kids, the cases being last off the plane, trying to locate your coach with tired kids and a grumpy husband. And why is your hotel ALWAYS the last drop off. But with Ikos, this is where the infinite lifestyle begins. You are greeted at the airport and taken to the hotel in your luxury car. This is a complimentary service if booking direct with the hotel for 5 days or more.
The welcome you receive at Ikos Olivia
The welcome starts from the minute you step foot in the hotel. We were greeted by the most welcoming members of staff who offered us champagne and soft drinks. Now THIS was my type of check in. Sat in a comfy chair, sipping bubbles and being checked in by the most wonderful Christina. You don't even have to worry about your luggage as this is all taken care of.
The dining at Ikos Olivia
Are AMAZING. You can choose from Asian, Italian, Greek and French restaurants on site. Or opt for their dining out service, where you still benefit from all inclusive but at a local restaurant. And if you are still stuck for choice, there is the main buffet restaurant which caters for all tastes. Where else would you find an all inclusive hotel which offers dishes created by Michelin starred chefs.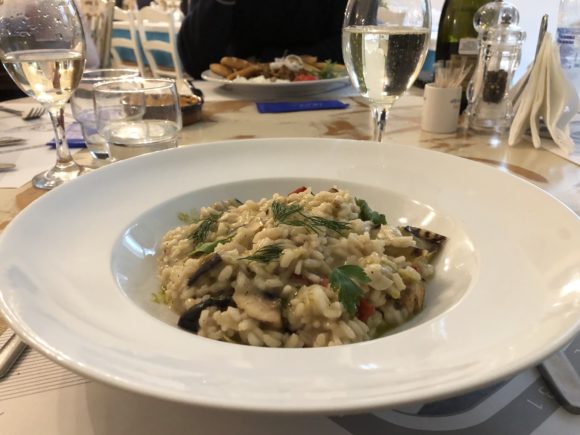 Luxury accommodation at Ikos Olivia
We were incredibly lucky to have stayed in a bungalow suite with a private pool in 2016, and without a doubt this is the best accommodation we have ever stayed in. The rooms and suites at Ikos Olivia are decorated in similar tastes, offering a calm and tranquil place to relax. We always book a one bedroom bungalow suite, which is spacious enough when travelling with our teen and tween.
24 hour room service at Ikos Olivia
Not only do you get an epic mini bar in your room that is replenished daily, there is also 24 hour room service.  And yes the males in my family might have put this service to the test, when they ordered club sandwiches at midnight. We also had breakfast delivered to our room one morning…. AMAZING. And we opted for lunch around our private pool another day. One thing is for sure, you will never go hungry or thirsty here.
The activities on offer at Ikos Olivia
Last year I found out a few things about the activities that are offered. One, is that I am useless at table tennis, and two, taking a pedalo out is bloody hard work but lots of fun. Non motorised water sports are included in your stay, plus you can try your hand at tennis, football, volleyball, aqua aerobics, mountain biking to name a few.
Complimentary kids clubs at Ikos
This is the first time Katie had gone to a kids club on holiday and she loved it. The club operates daily and runs 3 sessions. 10am – 1pm, a lunch session from 1pm – 3pm, and then a final session from 3pm – 6pm. You can book in for all of the sessions if you wish, and it's advisable to book early (you can even book online before your holiday). There is also a teen club but sadly this is only open in high season.
*Please check the session times as this was back in 2016 and they might have changed now*
Time in the Spa
And with Katie going in the kids club most afternoons, it meant the husband and I got some much needed time in the spa. The spa is complimentary and is well worth going for some rest and relaxation. You can also book in for paid treatments, and I treated myself to a manicure whilst I was there.
The choice of pools at Ikos Olivia
There are two main pools to choose from, plus a deluxe pool and the spa pool. We spent the majority of the time at the deluxe pool, which as you can see was virtually empty. The other two pools were livelier but there was never a shortage of sun loungers. And no need to bring your towels for the pool or beach, as there are plenty of huts around to get fresh towels each day. And if you ever want a change from the pools, the amazing beach is just a few short steps away from the pool.
The amazing staff at Ikos
There is no denying that Ikos Olivia is luxurious, and is certainly redefining all inclusive in Europe. But what makes this hotel special is the staff. I have never been anywhere where the staff work so hard in looking after their customers. From the very first second you are greeted at the airport, you are made to feel special. Nothing is too much trouble, and you are always greeted with a smile and a friendly hello. I have to mention the lovely Christina who looked after us so well last year, and the barman who remembered each evening that my order was a Pina Colada.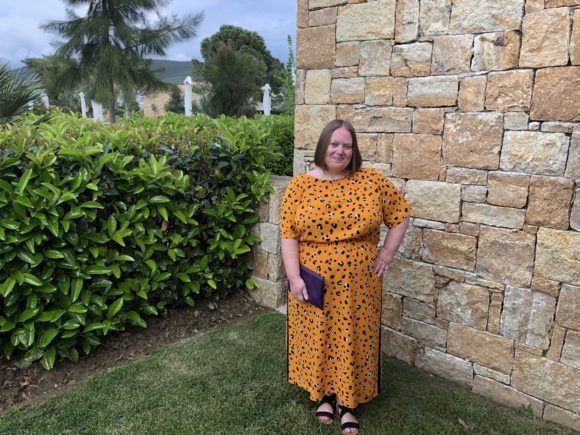 This post was originally published in March 2017
You can find more of my blog posts about Ikos Olivia below