When I booked our annual holiday abroad back in September 2015, I knew Ikos Olivia was going to be amazing. I had read every Trip Advisor report and countless blog posts, and had fallen in love with the hotel even before we got there. I wrote a blog post here about what we were looking forward to at Ikos Olivia.
Fast forward to the 4th April 2016, just 4 days after the hotel reopened for its second season, and we were on our easyJet plane heading to Greece. From the minute you arrive at Thessaloniki airport, you are treated to the most amazing service that went above and beyond our expectations.
We were taken in two (yes TWO) luxury Mercedes taxis straight to the hotel, which is around 40 minutes away. We were greeted by Christina who took us straight through to the comfy Deluxe area, offered us a glass of sparkling wine and juice for the kids. After checking us in Christina accompanied us to our suite, whilst telling us about the hotel. We passed some beautiful Olive trees, some of which are over 500 years old and the reason Olivia has its name.
I always have a feeling of anticipation before opening the door to our holiday accommodation. Will it be comfortable? Will it be spacious enough for a family of 4? And probably the most important, what will the view be like? When the door to our bungalow suite was opened it certainly had the WOW factor. We were incredibly lucky to have been upgraded to a bungalow suite with a private pool, and I think I spent the rest of the holiday pinching myself.
After unpacking I was sat on our terrace, a huge smile on my face as I watched the kids splashing around in our private pool. Our holidays are so important to us as a family. I strive for perfection, and yes I know holidays with kids can never be 100% perfect. But do you know what, I think I pretty much found perfection at Ikos Olivia. It really does deliver in being a five star luxury all inclusive resort. And here is why.
The quality of the food is faultless, and most of the menus have been created by Michelin starred chefs. It was nice to see the kids having something other than burger and chips when we dined out.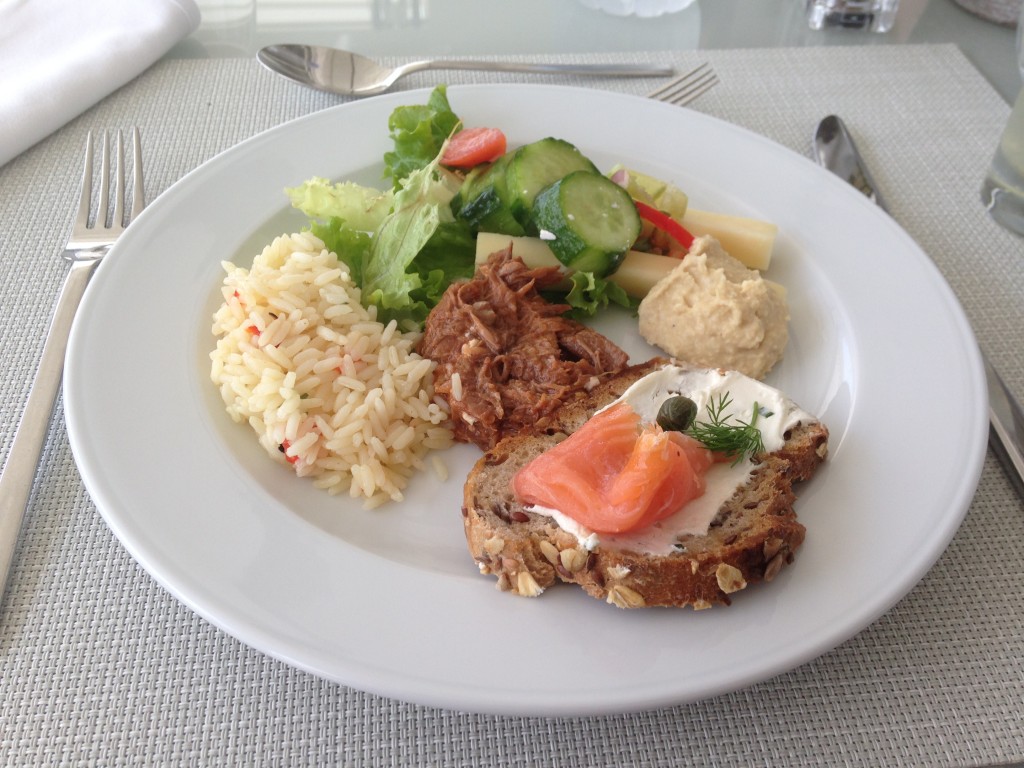 Non motorised watersports are included as part of your all inclusive package. We took a pedalo out 3 times which was lots of fun. We could have also done paddle boarding, canoeing, and even had an introductory diving lesson in the pool. We also paid to go on the crazy UFO which cost 60 euros for the 4 of us. I have never laughed and screamed in fear SO much, which the kids thought was hilarious.
Hiring mountain bikes are also included in the price of your holiday. The boys went out on a few occasions and explored the stunning coast around Ikos Olivia. The bikes are really popular and we were advised to get there at 9am when they open.
Adults have access to the Spa, and we were lucky to spend a few hours in there when Katie was at kids club. What a calming and relaxing Spa with attentive members of staff. I returned on the Sunday evening for a file and polish which was 15 euros.
The grounds are immaculate. There is nothing out of place at Ikos Olivia, and everything looks perfect. There are cute wooden huts where the beach towels live, staff are constantly clearing tables and the sunbeds are all in perfect lines. This is all down to the extremely hard working staff at the resort.
And the service the staff offer is certainly 5 star. Waiters would remember our drinks order (yes another Pina Colada for the lady), staff would be topping up your drink in the restaurants, and you didn't even have to leave your lounger to go for a drink. This is a luxury resort, and it certainly shows in the service they provide.
Katie had access to the kids club which is free for her age. She went to a few of the afternoon sessions, and also went to the mini disco and the pyjama party one evening. She loved the kids club, and she is still talking about the friends she made and the staff that looked after her. This gave us time to spend with the teen, where we enjoyed table tennis battles. They also operate a teen club but this is only open during high season.
When the teen was happy to just chill out with the FREE and FAST wifi in our suite, the husband and I escaped for some 'us time'. That's the thing with family holidays. You don't all have to spend every single minute with each other. We all enjoyed going off and doing our own thing from time to time. Husband and I went to the Deluxe beach one day and it was empty. There really is no better feeling than being on a deserted beach, cocktail in hand listening to the sound of the waves.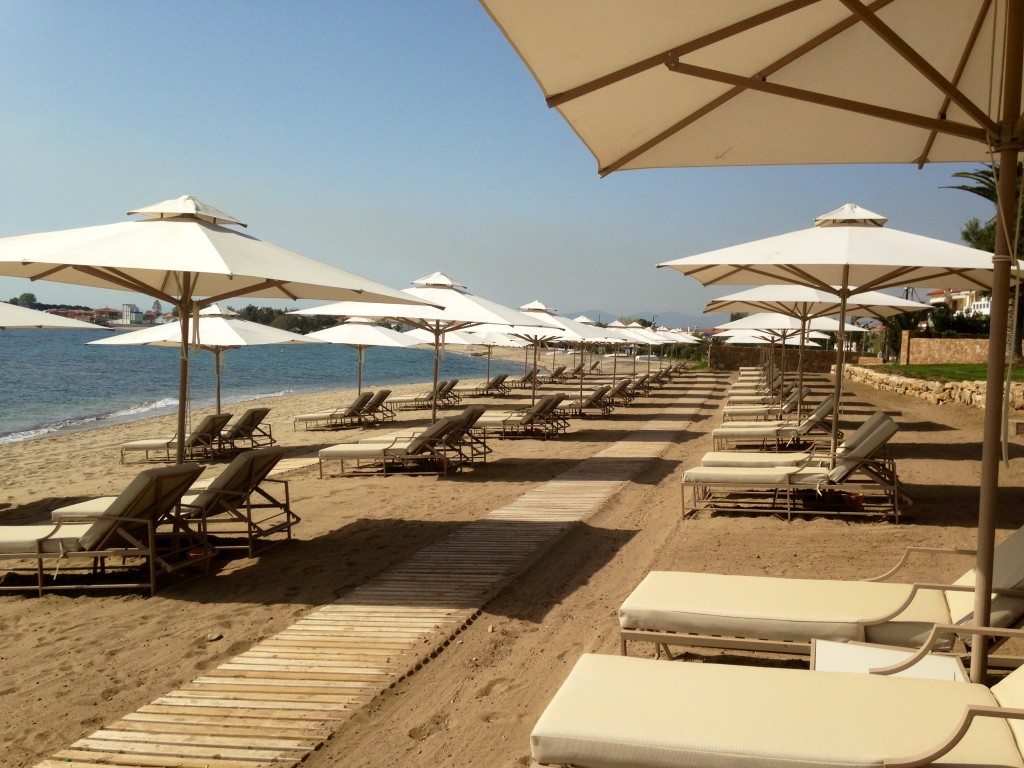 Also on site there is a doctors, mini market and a shopping area where you will find my favourite shop ever. Of course it would have been rude not to pass by and purchase a charm (or two) as a memory of our holiday.
Everything about Ikos Olivia oozes luxury, however it is done in a very understated way. The furnishings are luxurious from the hotel lobby to the sun loungers on the beach. This is undoubtedly the most luxurious hotel we have ever stayed in, with the service to match. We all lead busy lives throughout the week with work, school runs and driving kids to various clubs, and we certainly needed a relaxing break.
Our holidays have always been important to us, and they seem even more poignant now having a nearly 14 year old. In a few years he may well be opting to holiday with his friends in Magaluf (eek). But for now we have certainly found the perfect family holiday at Ikos Olivia. We are already making plans to return as soon as we can to this amazing resort.
Thank you to all the staff at Ikos Olivia who work so incredibly hard, especially Christina who looked after us during our stay. The staff really are a credit to this wonderful hotel.
You can find more of my blog posts about Ikos Olivia below
10 reasons to stay at Ikos Olivia