This pretty sums up the last 2 weeks for me. The good, the bad and the downright bloody expensive. The past fortnight has been stressful, with a catalogue of things going wrong. But in between the stress there has been some really great times.
First bad thing was the broken heating. Why does the heating break the minute you turn it back on after its summer break ? Thankfully it was fixed quickly by my close friends husband. Cost of £9 for a part on EBay, and the price of a meal to say thank you. So not actually as bad as we first thought.
Then we were hit by the dreaded back to school lurgy. One day of rest on the settee for daughter, and she was back to school the following day. One thing that made her smile was winning a Forest Holidays competition to name their owl.  She came up with the name Oakley, and here she is with her winning owls and certificate.
The following day the post came and I was hit with a £60 parking fine. I had overstayed my welcome in a local car park by 50 minutes, and obviously this equates to £60 !!! Really makes me mad how they can justify these charges. So my coffee that morning turned out to be a VERY expensive one.
Then we were hit with car problems. The clutch went on my car, and I am now £400 poorer. I hated being without my car, relying on my poor mum to do the school runs and take me to work. Thankfully I have it back now, and I am sat in Starbucks blogging away.
But why am I not sat at home blogging away ? NO BROADBAND, for 4 days now. Sky had a huge outage across the North West on Monday night, and whilst most people are enjoying their broadband again, we are not. Thankfully the kids have taken it quite well. As for me, well I rely on broadband SO MUCH. Having a really low data bundle on my phone hasn't helped either. It's costing me a fortune in coffee, sat in my 'blogging office'.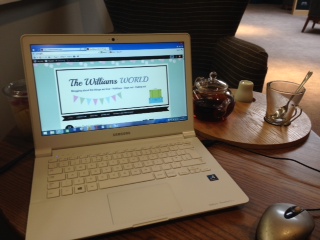 But amongst all the bad things that have happened, there has also been some great moments. Seeing Chris Ramsey on the first night of his tour, and him saying hello to me when he came on stage. Highlight of the year lol. Going out last Saturday night wearing my wedding dress. Totally surreal but fantastic night out, and all for a good cause too.
So it's not all been bad, and I know my problems are nothing compared to what some people go through. But I am hoping the next fortnight is less stressful, less expensive and filled with working broadband. Not much to ask is it.