Back in March I was between jobs, and we decided to book a little getaway for some much needed sun. After hours of searching on the internet, we decided 3 nights in Portugal seemed ideal. Neither myself or Hywel had ever been to Portugal, and we were excited to visit somewhere new.
Our first experience with Jet2
This was our first time booking with Jet2 Holidays and I was really impressed with the whole experience. I usually book our holidays seperately, so booking a package holiday was a novelty for us. I booked our holiday 3 weeks before we went, and we paid £650 for 3 nights in the Algarve on a half board basis. I thought this was a great price, as we stayed in a fantastic 4 star hotel.
I booked our holiday using the Jet2 app (you can also book on their website or with a local travel agent), and this was great as it meant all our documents were in one place. When I checked in online for free, we were given seats next to each other. You can of course choose your seats and pay for them, which started from £12 per seat on our flight.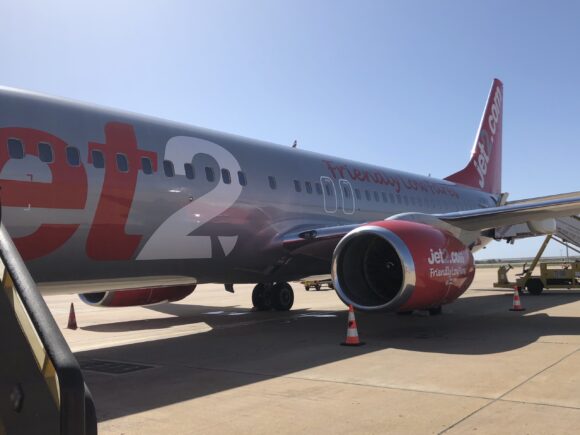 What I loved about Jet2 is the amount of staff they had at Manchester Airport, assisting you. They made the check in seamless, and even at 4.30am they all had smiles on their faces. We were soon checked in, through security and having that all important airport breakfast at San Carlo in Terminal 2.
Falesia Hotel – The Algarve
As we were holidaying without the kids, we decided to stay in an adults only hotel, and we chose the Falesia Hotel in The Algarve. As we only had 3 nights in Portugal, we wanted a hotel with good food, drink and a relaxing atmosphere, and the Falesia certainly delivered.
The Jet2 transfer from Faro airport to the hotel was around 50 minutes, as there were a few hotel stops before us. Once we got to the hotel we were quickly checked into our Junior Suite, which was located on the top floor overlooking the stunning hotel gardens. Our view from the balcony gave us the most incredible sunets of an evening.
The Falesia Hotel has a fantastic outdoor pool, though it was still a little on the cold side in March. There were plenty of sunbeds around the pool, and in the shade of the lush gardens. Definitely no getting up at 6am to reserve your sun bed. There was also a great indoor pool and spa area which we used a few times, with treatments available to book.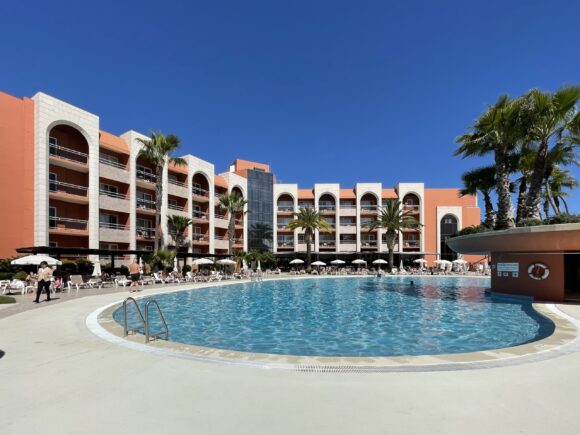 If you prefer to relax on the beach, there is a daily bus service, which is run by the hotel a few times a day. This takes you to the nearest beach, which is a few minutes drive away. You can also walk through the nearby Pine Cliffs Resort, and take the lift down to the beach.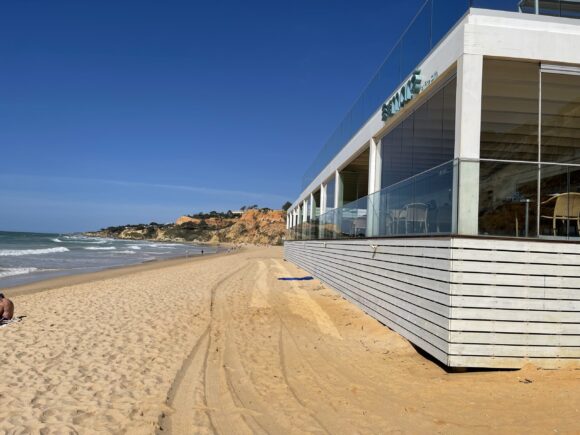 Food and Drink in The Algarve
We booked on a half board package, and the food at the Falesia Hotel was fantastic. There was one buffet style restaurant in the hotel which served breakfast and dinner, and I was really impressed with the food choice. There were plenty of hot and cold options at dinner, and one night they even had an 'Asian' theme.
What I loved about the restaurant is that you didn't need to make a booking. We tend to stay at the Sani Resort in Greece, and we always book our restaurants before we go. Not having to make reservations was much more relaxed, and we could just wander down for dinner when we were ready.
Breakfast was plentiful too, with the usual cooked breakfast, cold meats and cheese, cereals, plenty of fruit, yoghurt and even a few bottles of bubbles incase you wanted to make a Bucks Fizz. My husband went for the straight fizz option.. well we were on holiday.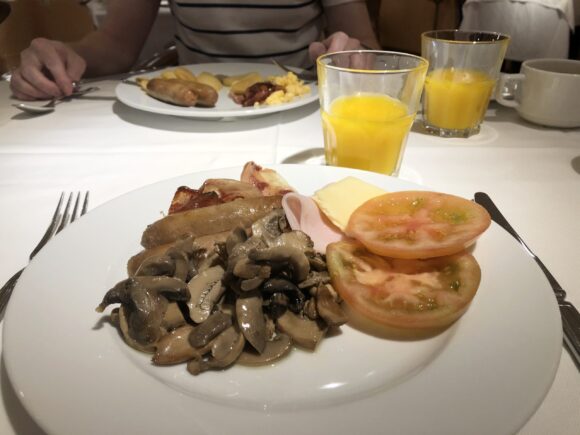 If you love a cocktail on holiday, then the Falesia certainly hits the spot with its large cocktail menu. Cocktails were priced around 6.50 – 7.50 euros and they were amazing. Credit to all the bar staff who kept the cocktails flowing from day to evening.
For lunch we ate in Albuferia one day, and I was actually really impressed with the cost of our meal. Two mains and a fair few cocktails were just over 40 euros, with a view overlooking the beach.
Staying closer to the hotel, there is a small 'strip' of shops and restaurants less than 5 minutes walk away. We wandered down there at lunchtime one day, and my husband was very impressed with his 2 euro beer.

What did we do in The Algarve
As we were there for only 3 nights, our main objective was just to chill out in the glorious 24 degree sunshine. However, the hotel does organise trips, and on our second day we took the trip to Alburferia, on the hotel's minibus. The journey was 18 euros return per person, and was well worth doing.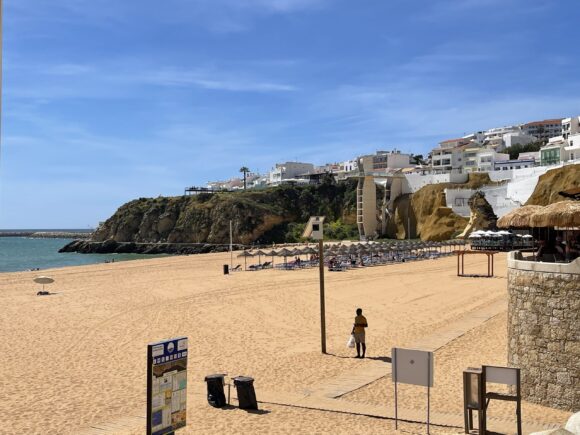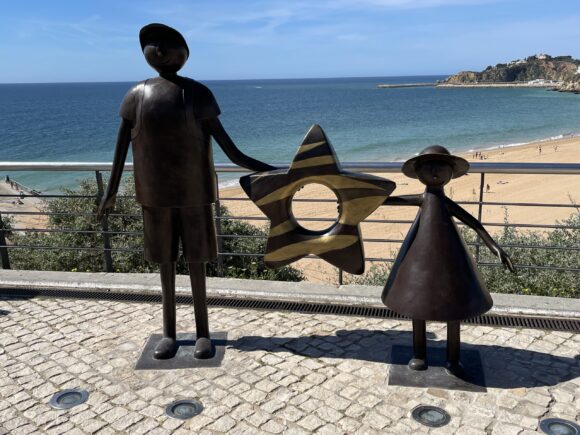 The hotel also had trips to nearby Villamoura, a local market and shopping mall. Well worth doing if you are staying longer.
The Falesia is a fantastic hotel, and if you are looking for an adults only hotel in Portugal, I would highly recommend.  The staff were amazing and certainly made our 3 nights in Portugal memorable, and we will definitely be back to explore more of Portugal.
And with the news just released that Jet2 will be flying out of Liverpool from March 2024, that's even more reason to book a holiday with them.