We have recently returned from our 4th holiday to Sani in Greece, and I often get asked which are the best restaurants at the Sani Resort.
Sani has an incredible 27 restaurants to choose from, which are located around the marina, or within the 5 hotels at the resort. Whether you choose to stay half board or full board, the restaurants are all included in Sani's Dine Around Programme. Some restaurants offer a set menu, where you can dine without an additional cost, or you can choose to order from the a la carte menu and use your dining allowance (ours was 25 euros per person as we were staying at Sani Dunes).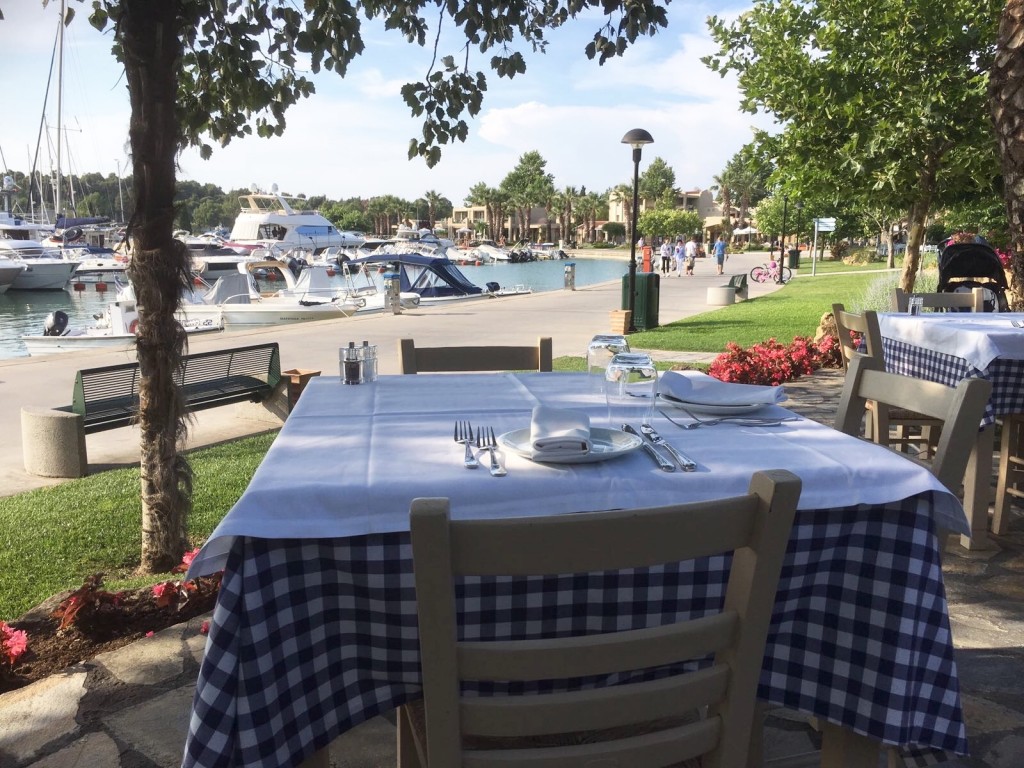 Having a choice of 27 restaurants and being at Sani for 5 nights, it's always going to be a hard decision which restaurants to choose. In the end I went with a mixture of our favourites that we return to every visit, and a few ones that were new to us. I honestly think that this visit we ate at some of the best restaurants at Sani.
The Market – Sani Dunes
WOW… we dined here on our second night, and we were blown away by both the quality of the food and the service. Located at Sani Dunes, you will find The Market restaurant overlooking the impressive pool. There is no set menu at the restaurant, unless you are staying at Dunes. This meant that we could order a starter, main and dessert from the a la carte menu (some small exclusions apply) at no extra cost.
The food was incredible, and even now I'm still thinking about the Tuna Carpaccio and the Beef Sirloin Steak I had. They even had a great offer of 22 euros for a bottle of house wine which was delicious. We had such a great evening I tried to book in again, but they were sadly fully booked. The Market is definitely in my best restaurants at Sani in Greece, and is great value if you are staying at Sani Dunes.
Macaroni – Sani Marina
The traditional Italian restaurant of Macaroni is always our 'last night meal', due to it's lively atmosphere and delicious food. We always dine from the set menu, as there is a great choice on there,. The husband tends to go for the Pizza, and this year I chose the Chicken and Risotto. And of course I went for an Aperol Spritz, which reminded me of our Venice trip in the summer.
Ammos – Sani Beach
Whilst we have enjoyed daytime drinks over at Ammos at Sani Beach, we've never dined there in the evening, and if you want a romantic location at Sani, Ammos is prefect.
Set overlooking the Aegean Sea, we had a table for two, with the sounds of the waves as our backdrop for the evening. We both chose from the set menu, and added on the wine pairing which was 21 euros per person. I couldn't fault the amazing service we had at Ammos, the location was stunning and so pretty in the evening, and it's definitely been added to my 'favourites list'.

Asian – Sani Marina
And talking of the 'favourites list', the Asian restaurant around the marina has been firmly on this list since 2019. There is no set menu here, instead you need to use your dining allowance. Last year my favourite meal of the whole holiday had been the Vegetable Thai Yellow Curry, so of course I was ordering this again. Just as delicous as I remembered, and no doubt I'll be ordering it again next year.. yes I am a creature of habit.
The Asian restaurant is probably the smallest restaurant we dined at, but it still has a great atmosphere and the manager is really engaging. Definitely a must if you love Asian food.
Psaroyannis – Sani Marina
You can't go to Greece without dining in a Greek restaurant, and for the second year on the run we chose Psaroyannis, mainly because they offer the wine pairing with the set menu (priced at 24 euros per person). As part of the set menu you get a selection of starters, which is always great when you can never make a decision what to have.
We booked Psaroyannis for our first night meal, and as I sat sipping my wine overlooking the marina, I felt content that I was back in my happy place of Sani.
We have also dined at the following restaurants on previous trips to Sani.
El Puerto – Porto Sani
Pines – Sani Club
You can also read all about our dining experiences from our first trip to Sani in 2017. 
I still have a long list of restaurants that I want to try, which includes the Greek Night at Ouzerie at Sani Club, Cabana also at Sani Club, and The Beach House and Fresco at Dunes. And I would love to try the tasting menus that Katsu and Over Water offer one day, though I might need to save them for a VERY special occasion.
I hope this has given you some insight into the best restaurants at the Sani Resort. Which is your favourite restaurant and which one will you be booking on your next trip ?