Please note that this post has been written before the Coronavirus Pandemic. The resort has an Only at Sani Protocol in place to keep customers and staff safe.
During our 4 night stay at Sani Dunes we wanted to experience as much of the Sani resort as we could. At Sani you can choose to be on the go from early morning through to late evening, or simply relax around Greece's largest pool. Thankfully we struck a happy medium where we had plenty of pool relaxation, whilst still experiencing the amazing dining and activities on offer at Sani Dunes.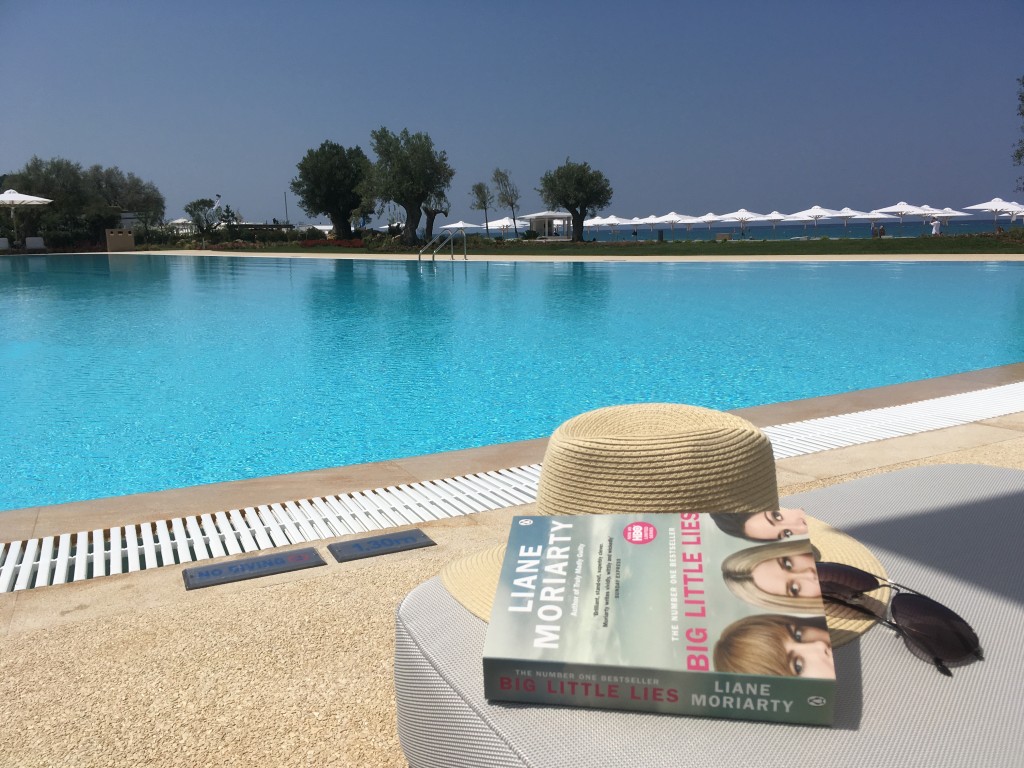 The Volvo Experience at Sani
Now this is an activity not to be missed, a 2 hour tour around the Kassandra Peninsula in a chauffer driven Volvo. Our driver stopped at 3 different locations, each unique with breathtaking views and picture opportunities. The highlight of the tour was driving through the pretty village of Afytos, a place we had visited back in April when we stayed at Ikos Olivia. This time the weather was warmer, and we were treated to bubbles and fruit overlooking the sparkling Aegean sea. This experience is complimentary and is exclusively for Sani Dunes guests.
Sunset Cruises
We were lucky to experience some amazing sunsets whilst we were there, but unfortunately we had to miss the sunset cruise due to a dinner reservation. Luckily my friend Sarah from Extraordinary Chaos had been on the cruise the week before, which departs from Sani Marina.
The Teen House Ozone
If you are travelling with teens a visit to Ozone is a must. Located behind Sani Dunes this is the perfect place for tweens and teens to chill out.  You can drop in for a game of scrabble, play the latest computer games, or just chill out on the wooden swing. They also have a fantastic timetable of events from morning through to evening.
Other activities on offer at Sani
You can try your hand at archery, or how about doing yoga on a paddle board. Or at an extra cost you can book a scuba diving lesson, or hire a mountain bike and explore the beautiful forest around Sani.
There is also a new Go Ape style course which opened in 2019, and is complimentary for guests staying at the Sani resort. It's well worth booking on, as the kids and my husband had a great time high up in the trees.
Dining at the Sani Resort
And then there is the food. Eating out is always a huge part of our holiday, a chance to sit back and relax and chat about our day. That's the thing with holidaying with older kids, they often go off by themselves during the day. Giving them the space and freedom as they grow up, but ensuring that once the evening comes we are back together sharing our stories. And with 23 restaurants to choose from, it was a tough decision where to spend our evenings.
Vosporos Grill House – Traditional Greek
We dined at Vosporos on our first evening after Karen from Minitravellers had recommended it to me. Located at Sani Marina, it was a breathtaking location to spend our first evening. We opted for the 4 course set menu which meant it was included in our half board package. The food and service were exceptional, and it was the perfect start to our holiday.
Tomata Restaurant – Sani Gourmet Experience
On our second evening we had the most amazing dining experience I think we have ever had. We were lucky to be staying at Dunes whilst the Sani Gourmet festival was on. A 5 day celebration of up and coming chefs who have recently won prestigious awards, and gained that coveted first Michelin star.
We were invited to Tomata Restaurant to sample the culinary delights of chef Panayiotas Yiakalis. Over 3 and a half hours we were treated to an amazing 7 courses, including strawberry gazpacho, sea urchin mouse and sea urchin eggs (an interesting taste if you were wondering) and lobster with carrot and coconut panna cotta.  Each course paired with delicious wine, apart from the cod which was paired with a refreshing glass of beer. The whole experience was truly 5 star, and credit to Katie who sat there for over 3 hours and tried every dish that was put infront of her. Thank you Sani for a wonderful evening.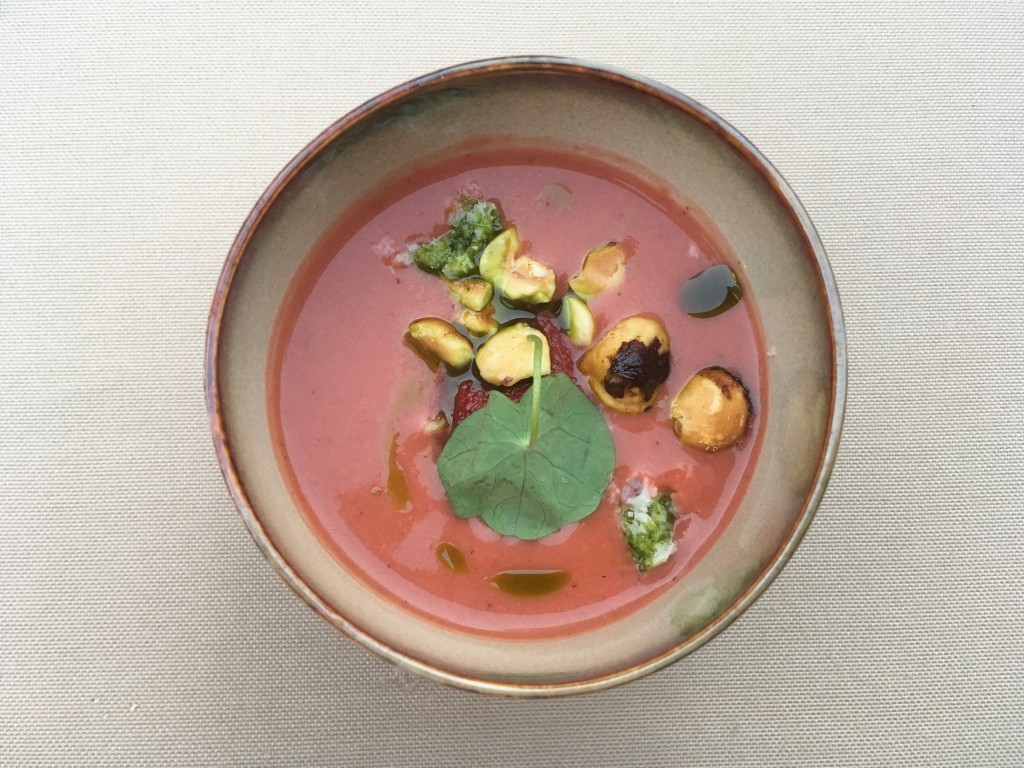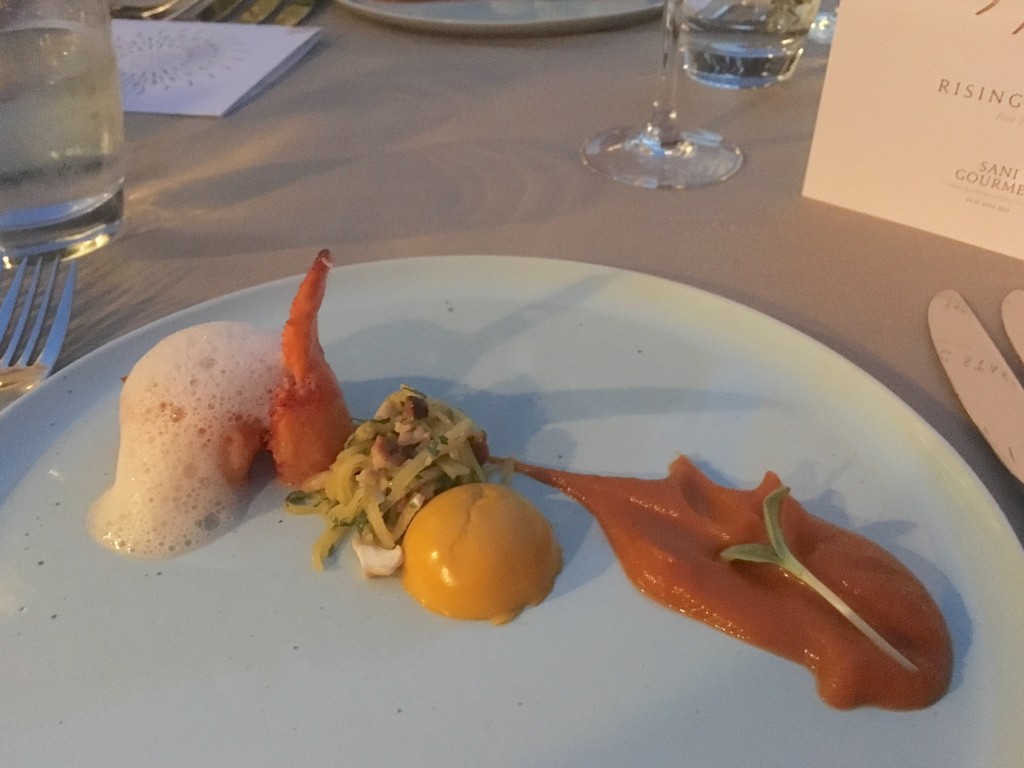 Dunes Restaurant – International Mediterranean
On the Wednesday evening we dined at Dunes restaurant overlooking the pool at Sani Dunes. The restaurant had a laid back atmosphere, and it was nice to watch the sun go down as we ate our meal on the terrace.
Macaroni Italian Trattoria – Italian
Our final evening was spent at Macaroni (another recommendation from Karen), and yet again another beautiful location on the marina. A traditional Italian restaurant with a lively and bustling atmosphere, serving delicious food.  The set menu had a fantastic choice of dishes with Hywel and Katie opting for the pizza, whilst I had the risotto.
We used to start our day with breakfast at the Beach House, which was conveniently located about 20 steps from our beachfront suite. I have never had such a relaxing start to the day, and I just wish my cereal and toast came with an amazing sea view every morning.
Sani Resort really does cater for every taste, and having only experienced 4 out of the 23 restaurants I would say that's a pretty good reason to return one day. *We did return in 2019 and we stayed at Sani Asterias for 5 nights with our two teenagers*
We were invited to Sani Dunes to experience the soft opening of the hotel before it's official opening on 28th June 2017