We have visited Disneyworld 3 times, and twice we have taken advantage of the Disney dining plan. Both times we have benefitted from the 'FREE Disney dining' that is offered at certain times of the year, and for us the dining plan has always worked out really well.
The key to a successful dining plan is being prepared. If you are staying at a property in Disneyworld, your reservations can be made 180 days before. Start by booking the most popular restaurants first, such as Be Our Guest located at the Magic Kingdom. On our last visit Be Our Guest had just opened, and we were extremely lucky to have got a reservation.
For us as a family, eating out has always been a key part of any holiday. On our last 2 visits to Disneyworld we stayed at Old Key West. Classed as a deluxe hotel, it meant we were entitled to 1 waiter service meal per day, which included the many character meals that Disney offer. Character meals are a huge win win for us. You get to meet your favourite characters without standing in a long queue, which obviously keeps the kids happy. You escape the Florida heat into an air conditioned restaurant, plus you get the chance to sit down, relax and no doubt be treated to some amazing food and dining experiences.
You fancy eating lunch whilst sat in a car watching old movies, then the Sci Fi Diner is perfect in Hollywood Studios. Or how about dining in the actual castle. Cinderella's Royal Table was an amazing experience for us back in 2011, and all included as part of our dining plan. Dining within the parks is a great way of escaping the midday sun, and for us it was a chance to relax for a few hours before hitting the rides again.
And don't discount the fantastic restaurants that you can find in the hotels within Disneyworld. With some careful planning you can really make these reservations work for you as part of your day. Our 'last night at Disney' tradition was to book Ohana which is located at the Polynesian Resort, opposite the Magic Kingdom.  After enjoying the amazing buffet dinner we would wander down to the hotel's beach area, just in time for the fireworks to start at the Magic Kingdom. It was always the perfect end to our holiday.
And Disney's most luxurious hotel, the Grand Floridian has 1 restaurant, as well as 2 character dining experiences you can book.  If you can't afford to stay it's certainly the next best thing. The kids are happy whilst you get to wander around this breathtaking hotel, and if you are lucky catch the pianist playing in the impressive lobby.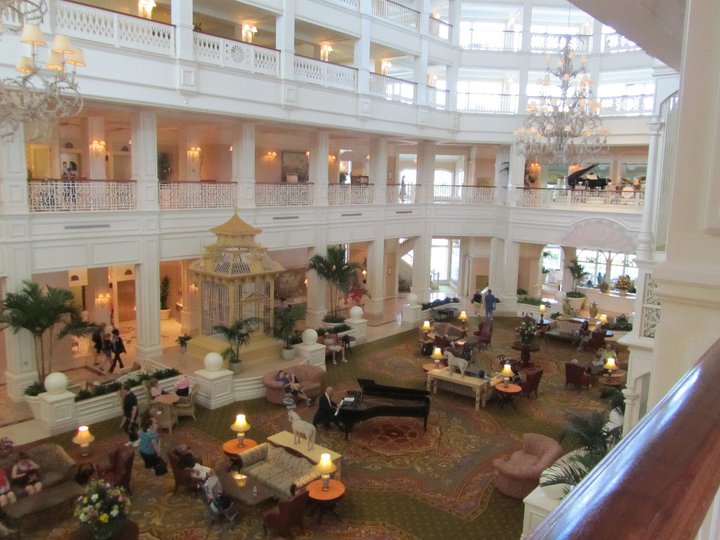 And how about a picture of your family infront of the famous castle with NO crowds around you. Again with some careful planning, book a breakfast reservation at the Crystal Palace in the Magic Kingdom for BEFORE the park opens. You get the chance to wander up Main Street with very few people around, enjoy your breakfast with Pooh and Eeyore, and then if the timing is right you enter the park just as it opens.
Of course the Disney dining plan is not for everybody, but for us as a family it worked. You don't have to be staying within the resort to take advantage of the many dining experiences that are available. Travel Planners are a fantastic website that have a huge choice of Orlando holidays. From staying at Highlands Reserve which is a fantastic community where we have stayed twice, to booking one of the many hotels in Orlando, they have your holiday covered.
Have you dined at Disneyworld ?
Written in collaboration with Travel Planners.