If there was ever a holiday I was counting down to, it was our very much needed break to Sani Asterias in Greece. Having been suffering with my health for the past 4 months, we were all very much in need of some rest and relaxation in the sunshine, and Greece did not disappoint with the amazing temperatures we were blessed with.
The Sani Resort in Greece
It had been over 2 years since we had been at the Sani Resort, as I was extremely lucky to have been invited to the soft opening of their Dunes hotel back in 2017. Sani Resort is also the sister company of Ikos Resorts, and if you are a regular reader you will know that we went to Ikos Olivia back in April. This time we would be heading back to Halkidiki with both children, after the eldest teen decided he wanted to come with us.
Booking the Sani Resort
I am definitely a planner when it comes to holidays, and I like to book as far in advance as I can. Flights were booked with easyJet back in November 2018 on release day, and shortly afterwards the accommodation was booked direct with Sani. We've never been away in October before, and I must admit Sani had some great prices for this time of year. This was one of the many reasons we chose to stay at Sani Asterias, which is the most luxurious property at Sani.
If booking direct you get complimentary private transfers from Thessaloniki airport, and there is nothing better than being greeted after your flight, handed a chilled bottle of water, and taken straight to your hotel.
Staying at Sani Asterias in a Marina Suite
There is no denying that the whole of the Sani Resort is pure luxury, but Sani Asterias is on another level. Welcomed with a cooling towel and a drink at the bar, it was then time to head to our room where the check in process is carried out, and your luggage is magically waiting for you. I had booked a one bedroom suite overlooking the marina, and what a view we had. A few steps to the pool, a few more to the restaurant where breakfast was served each day. And then at the back of our suite was the path to the private beach.
I was really impressed with the suite, and there was plenty of room for us and the two teenagers. The best bit was our private garden which was a good size, and just gave us that extra space to chill out in.
Dining at the Sani Resort
It takes a little getting used to how the dining works at Sani, and as we were staying on a half board basis our breakfast and lunch or evening meal was included. You do have the choice of dining at 23 restaurants which are in the hotels or around the marina, and many of them offer the Dine Around option. This means that as part of your half board you get a three course meal at no extra cost, though water and drinks are extra.
If you are wondering which are the best restaurants in Sani, I wrote this blog post after we returned from our fourth trip in 2022 – click here to read.
You also have the option of dining from the A La Carte menu in the restaurants, and each hotel offers a different set amount. As we were staying in Sani Asterias we had 40 euros per person towards our meal, and in most cases this was enough for a starter and main course. One evening the teenager splashed out on a 39 euro rib eye steak, which I guess was the most amazing thing he has ever eaten.
Many of the restaurants don't offer tap water which is annoying, and I am still reeling from being charged 9.20 euros for a litre of water in the Asian restaurant. And yes we had TWO bottles…. you do the maths how much 2 litres of water cost me.
Holidaying with teenagers meant they couldn't possibly not eat lunch, and luckily we found a lovely place around the marina where burgers and club sandwiches were around 13 euros each. A lot cheaper than the room service prices at 31 euros for a burger. Plus it meant we got to have lunch with the 'Sani cat', I am definitely coming back as this cat as he was living his best life in the glorious sunshine.
And I can't not mention the amazing breakfast at Sani Asterias, sitting outside in the sunshine overlooking the marina was the best way to start the day in Greece. Plus there was even complimentary sparkling wine on offer, something which I couldn't possibly refuse.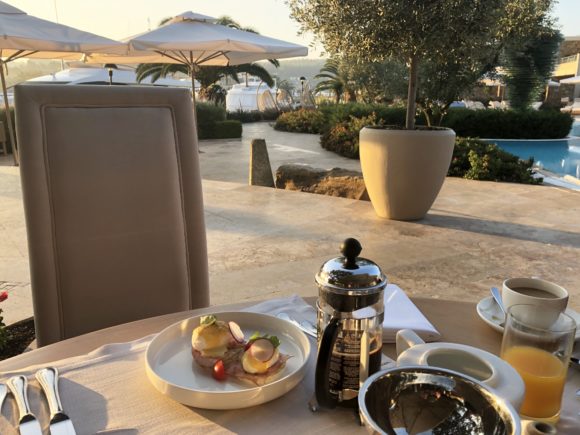 Complimentary activities at Sani
Whilst there is no denying that some aspects of Sani are not cheap, I was really impressed with the amount of complementary activities on offer. I might have kept my feet on the ground, but the new Sani Adventure Park looked brilliant, and had a huge thumbs up from the kids and Hywel. They enjoyed it so much they booked to go on it a second time.
The kids and Hywel also took advantage of the sunset cruise (I don't do boats), where they were treated to the most amazing sunset which the teen captured here perfectly. They also do a two hour daytime cruise which I would imagine is just as good.
There is also the teen zone where the eldest escaped for an hour when he was missing his beloved PS4, and he also enjoyed going to the gym each day at nearby Porto Sani hotel.
What we loved about Sani Asterias
In a nutshell EVERYTHING. Did I mention the weather…. 25 degrees every day, which was just amazing. Just the pure luxury of staying at Sani Asterias, from the amazing service at breakfast each day, to somebody coming around to clean your sunglasses. From the complimentary ice creams served each afternoon, to Sani Asterias presenting my husband with a gorgeous cake on his birthday.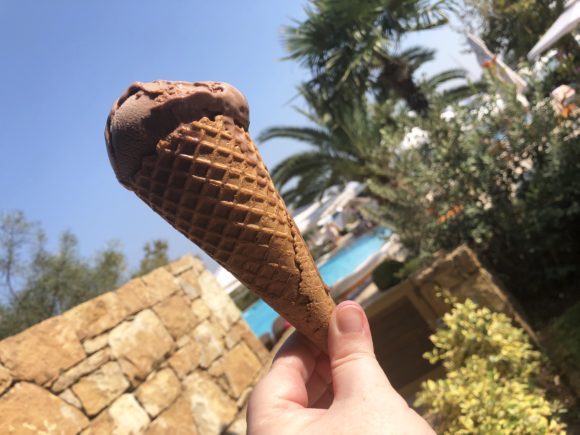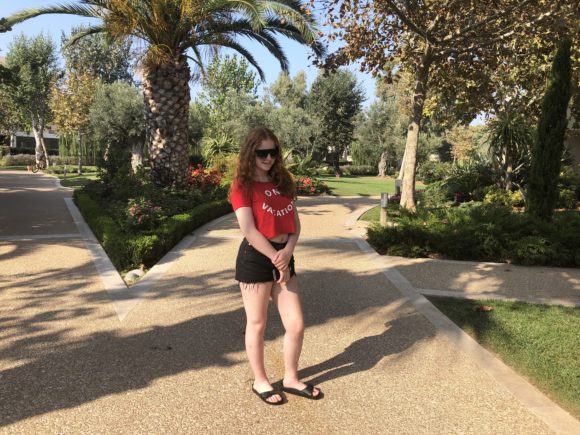 We relaxed, we dined on great food, the kids were an absolute joy to be around (they bickered ONCE over 6 days), we occasionally went off and did our own thing, but above all we had the most fantastic family holiday. And of course I am already thinking about returning to Sani Asterias next October.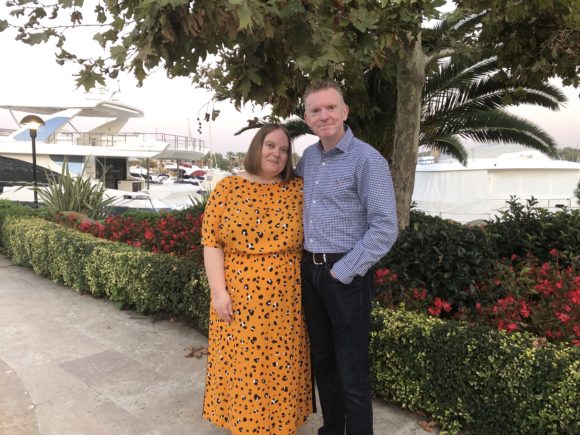 How much is it to stay at Sani Asterias
I never know whether to include the price of our holiday in my reviews, so I asked my instagram followers and 97% of you said you wanted me to include the price we paid…. so here goes.
Our holiday was for 3 adults and 1 child for 5 nights staying at Sani Asterias in Greece in October 2019.
Flights with easyJet – £530
Accommodation in a one bedroom Marina Suite (half board) – £1280
Private transfers – £0 (these are complimentary if you book direct with Sani)
Extras which included our drinks, lunches, pedalo hire, room service – £402
Entrance to the Sani VIP lounge at the airport – £0 (this is complimentary if you are staying in a suite at Sani Asterias)
Total – £2212