You can read my most up to date review of Forest Holidays here
As soon as the children broke up for the summer, we headed to Forest Holidays in Sherwood, Nottinghamshire for the week. I did a little 'live blogging' when we there, and you can read it here if you wish. Believe me, blogging on the dining room table is not the same as having this gorgeous view when writing.
So what did we think of our first visit to Forest Holidays ? Did it live up to all the wonderful reviews I had read before we went ? Well in a word YES, and this is why we had one of the most relaxing holidays we have ever been on.
The Surroundings
Forest Holidays occupy a small corner of the Sherwood Pines Forest. There are 82 lodges on site, ranging from a 1 bedroom hideaway to the treehouses for up to 10 people. The majority of the lodges seemed well spaced out and private, and we were very lucky with our Golden Oak cabin. We were literally nestled into the forest, and I loved how we could just see an abundance of trees from every window. The surroundings offer so much nature, and whilst we were there we saw birds, squirrels, rabbits, butterflies and even a lizard. The great news is you have even more forest on your doorstep, with Sherwood Pines being a 5 minute walk away. See my post for 10 things to do at Sherwood Pines.
The accommodation
We stayed in a 2 bedroom Golden Oak lodge. I love the anticipation of going into a holiday home for the first time, and as soon as I stepped inside I was blown away. The lodge was spacious, and I loved the little touches such as the 'Welcome' on the scrabble board. Our bedroom was at the back of the lodge, complete with en-suite. The kids shared a twin room and there was a further large bathroom. Does anyone else get excited when they realise you have miniature toiletries included ? And the fluffy towels and robe were perfect for wrapping yourself in after a dip in the hot tub.
The main living area was open plan and roomy. The kitchen had a dishwasher and an under the counter fridge with small freezer compartment. Luckily I knew beforehand the fridge was small, so I just packed food for a few days. There is a great co-op in Edwinstowe which is less than 5 minutes drive away. I had paid for the entertainment package before we went, which meant WIFI and a selection of films. We really made use of the package (which was £65) watching around 10 films during our stay. The tween had the occasional moan that the WIFI was not super fast, but hey we were in the forest, what does he expect.
But to be honest who needs WIFI when you have this on the decking. This is where Forest Holiday sets itself apart from other similar holiday companies.  We have been lucky to have stayed in some amazing lodges, but this one will take some beating.
Forest Holiday Activities
During our week my daughter did the pottery painting twice. This was held in the Forest Retreat and could be done anytime it was open. This was great as it meant you didn't have to plan the activity. The pottery was good value and the ladybird below cost £8.50.  As we were in Sherwood the boys booked in for the archery. It was £20 per adult and £10 per child, for around 1 hour 20 minutes. They both enjoyed the lesson but I don't think they will be giving Robin Hood a run for his money.
The Forest Retreat also held a quiz on the Saturday and Thursday at 4.30pm priced £1 per person. This was great fun and the best bit……. coming 1st on the Thursday. And boy did I enjoy our winning wine that night. Other activities include Young Explorers, Family Den Building and Hawk Experience. Opposite the Forest Retreat is where you will find the play area, picnic benches, and a great open space which was perfect for games of football.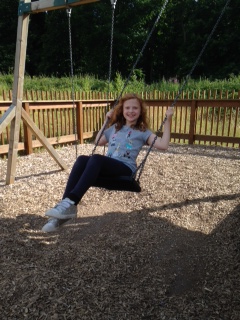 What else do they offer ?
Fancy a night off from cooking, then you can hire a chef to come to your lodge and cook your meal. If you can't stretch to the £150 (plus meal costs), then how about ordering a pizza or curry from the comfort of your lodge and having it delivered. We didn't do this but its great to have the option. Food and drink is also served in the Forest Retreat, and I can highly recommend the milkshakes at £1.70. There is also a small shop selling gifts and food items such as bread and milk.
They also offer in lodge pamper sessions, celebration packages and even doggy deli delights.
 Would we return ?
YES, without a doubt. There was nothing negative about our week long stay, and as I am a 'holiday perfectionist' I can sometimes be hard to please. The hot tub was cleaned every morning, the accommodation was one of the best lodges we have stayed in, and the forest was just divine. Having a nearly 13 year old our holidays are changing, and I wondered whether he would be bored. But there were plenty of activities to keep him busy, though I would say the WIFI package is a must. To be honest my 2 were just as happy sitting in the hot tub. We went the first week of the summer holidays, and even though the site was full it never felt crowded or noisy. You have to quieten down after 10pm, and the majority of guests adhered to this. Most nights all you could hear was the bubbling sounds of the hot tub.
Thank you Forest Holidays for a truly relaxing and peaceful week. I received a discount off our week long break and all comments and views are my own.