So after taking a break in June, I am looking back at what we did this month.  July saw us have a mini heatwave. However I am currently sat here debating whether to put the heating on, whilst its chucking it down outside. Ah the great British weather eh.
1) Hubby and I went to our first outdoor concert at our local forest. We were so lucky with the weather, and enjoyed watching Tom Odell whilst sipping wine on camping chairs. Perfect night out.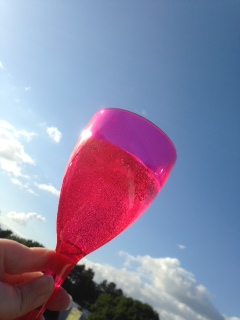 2) The kids and I went and cheered on hubby and our friends as they did a local downhill run. This is the second time husband has signed up, and he was thrilled to have come 12th out of around 250 runners.
3) Before the madness of the summer holidays started, I caught up with as many friends as I could. From drinking coffee in Starbucks to lunch at a local farm shop. It was very much needed before the long 6 weeks started.
4) I enjoyed some much needed 'mum and son' time. We headed to Nandos first and then watched Ant Man at the cinema. Whilst Marvel films are usually not my cup of tea, I really enjoyed this film. Son is definitely pushing my boundaries, making me watch different genres of films.
5) Whilst on holiday we enjoyed a day in Nottingham. We shopped and then spent a few hours in the National Video Game Arcade, which the boys loved.
6) We spent 2 hours at the tweens parents evening seeing all of his teachers. It was nice to have it confirmed that he is an intelligent and capable lad, and he seems well liked at school.
7) I spent a lovely day with my mum. We had been through a tough time with losing my nan, and it was nice to spend the day shopping, lunching and chatting.
8) Having lots of family time exploring the forest whilst we were on holiday. We did bike rides, walks and watching the kids play together.
9) Daughter had an awesome time going to Blackpool Pleasure Beach with her friend. It was her friends 9th birthday, and she invited Katie for a sleepover and then Blackpool the following day. She was VERY tired when I picked her up.
10) Spending time in the hot tub on holiday. Whether it was playing charades with the kids, or enjoying the peace and quiet by myself.