During the May half term break, we spent 3 nights at the luxurious Slaley Hall resort in Northumberland.  We were invited by Q Lodges to stay in a 3 bedroom lodge, and experience what Slaley Hall has to offer.  I first heard about Q Lodges when Sarah, from Extraordinary Chaos stayed at Slaley Hall back in October. Sarah was the Q Hotels Ambassador, and she did an amazing job of highlighting the facilities that Q offers for families.
Readers will know that as a family we LOVE lodge holidays, and it is our first choice of accommodation when staying in the UK. With Q Lodges you really do get the best of both worlds. The lodge offers you your own space, whilst the fantastic hotel facilities are just a short golf buggy ride away. Of course you can have a leisurely stroll up to the main hotel, but it's much more fun to go by golf buggy. Just remember to bring your driving licence if you hire one. Whilst we were at Slaley Hall, I posted about our first impressions of Q Lodges here.
We stayed in lodge 13, which had plenty of parking and space around the lodge. Upon entering you immediately get the feeling of how spacious the lodge is going to be. On the ground floor there was a stunning kitchen with dining room table, and double doors leading out to a patio area. The kitchen was the best equipped I have ever stayed in. There was everything from a coffee machine (though you do need to bring your own pods), to lots of baking utensils should you feel like whipping up a cake.
Also on this floor was the 2 twin bedrooms where the children would be sleeping. I think Katie got the better deal as her bedroom had an ensuite and a television.  The main bathroom, complete with Jacuzzi and sauna were also on the ground floor.
You then went up a 'mini staircase' as the children described it, and found yourself in the main living area. I only wish the weather had been kinder to us, as the balcony was the perfect place for a gin and tonic.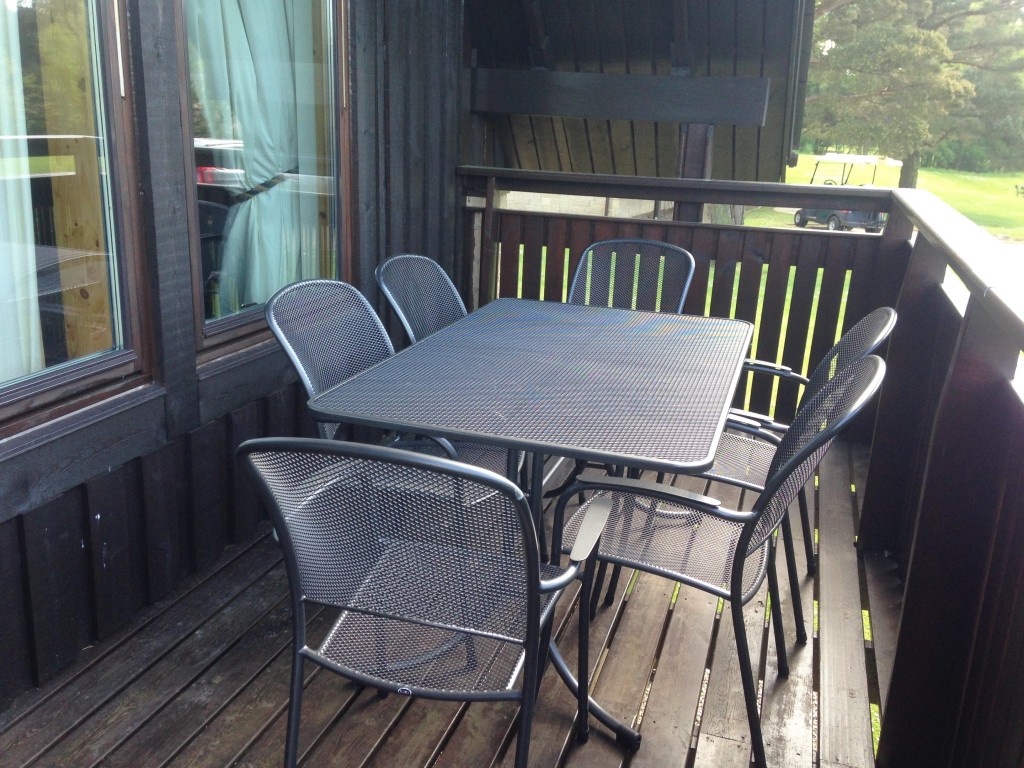 Another 'mini staircase' led to what I can only describe as the most spacious double bedroom I have ever stayed in, complete with yet another bathroom. Thank you Q Lodges for giving us 3 bathrooms, what a luxury when you go on holiday. That meant I could get ready in peace and quiet, without a queue forming outside the door.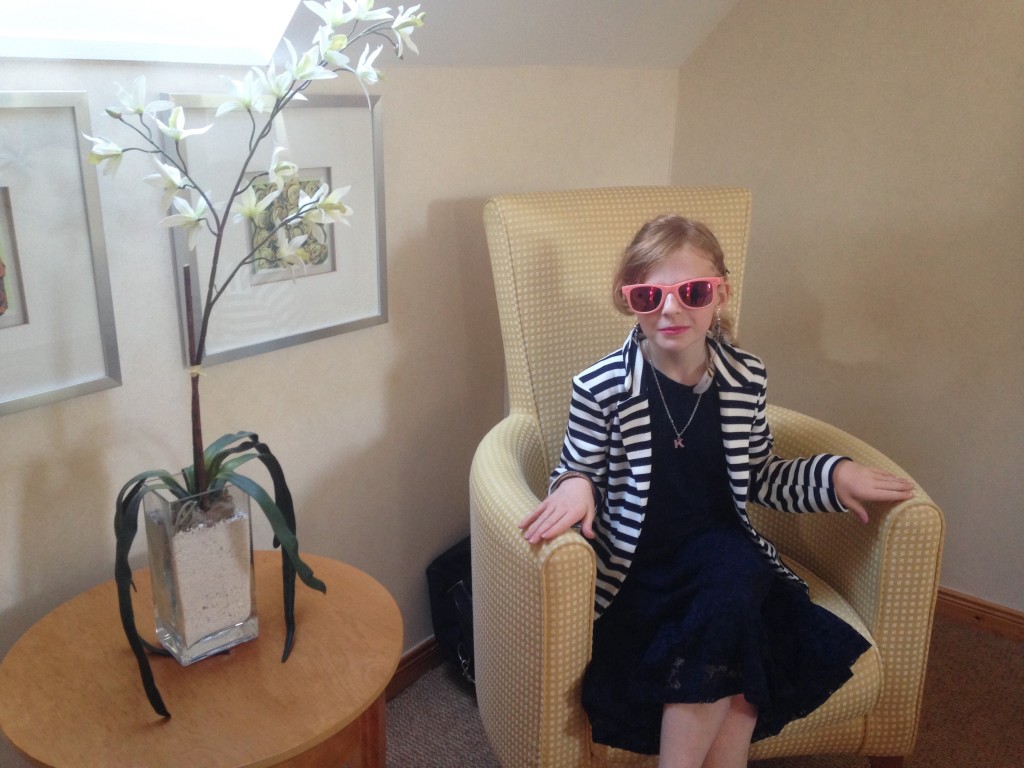 And just outside our bedroom was this, a gorgeous desk overlooking the main living area. This meant I could catch up on emails, but I could still join in conversations with the rest of the family.
I think we would have been happy enough to not even leave the lodge for the 3 days we were there. Who needs to when you have free wifi (happy teenager), more space than you have back home, and even a delivery service from Slaley Hall if you don't feel like cooking.
But the resort has so much to offer, both for families and couples. During our 3 days we dined in the hotel, enjoyed afternoon tea, had spa treatments, swam, quad biked and played golf on the driving range. Though the less said about my efforts at golf the better. I have posted about the activities and dining at Slaley Hall, and the fact we didn't even leave the resort until it was time to go home.
Q Lodges really did tick all the boxes we look for in a family break.  Due to the size of the lodges you can easily share your stay, and the cost, with friends or other family members. It is worth bearing in mind that you get charged for electricity upon checking out, and you will find details about the costs in your welcome pack.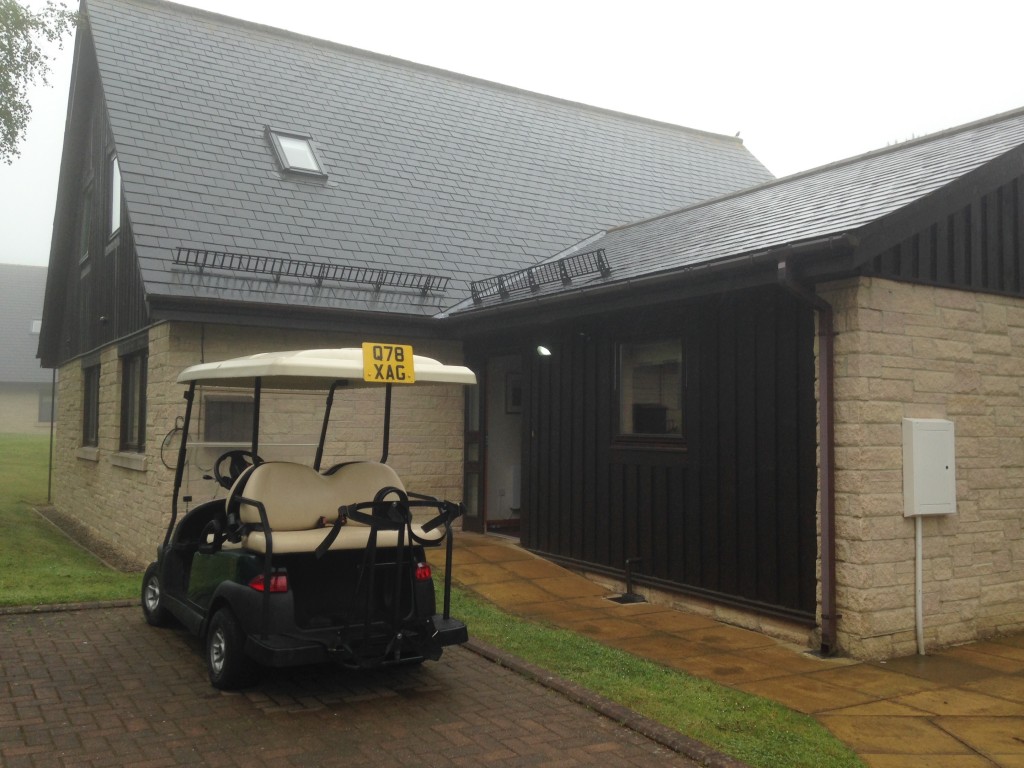 Thank you to Q Lodges for our fantastic break away in the beautiful countryside of Northumberland. We loved our stay so much we returned in September 2017, and again stayed in a lodge at Slaley Hall.
We were invited to Q Lodges for a 3 night break in a 3 bedroom lodge. All words and opinions are my own.