If you follow me on social media you will know that we were visiting Bath at Christmas time. As soon as I realised the kids were breaking up on the 15th December, I knew it would be the ideal time to get away for a little festive break. A chance to escape the chaos of the Christmas build up, and reconnect as a family.
Bath was top of our list, having enjoyed our trip to the city back in February. We returned to Bath Mill Lodge retreat, which is the perfect place to come and unwind. The kids had had such a busy run up to Christmas with mock exams and rehearsals, they were longing to kick back and relax. And of course I was happy to escape the madness of Christmas, knowing that everything back home was all organised for the big day.
Bath Mill Lodge is perfect for exploring Bath if you want to be near to the city, yet feel like you are in the middle of the country. Being only 5 minutes away from the nearest Park and Ride, we found this the best option for getting into Bath. Plus at £6 return for 2 adults and 2 children it really is good value. Less than 15 minutes later you are in the middle of Bath, ready to explore.
Having been to the Roman Baths back in February, we all agreed that we wanted to return. You can pick up a free audio guide when you enter, which tells you all about the history of the baths. As we had done this last time, we decided to wander around and take in the atmosphere. I always find the Roman Baths really calming, and I think part of me is transported back in time. Since our last visit they have added lots more interactive areas which is a great addition to the attraction.
We also decided to hop on the city sightseeing bus. We opted for the skyline tour, which takes you out of Bath and around the surrounding countryside. And yes we did brave the top of the bus where of course we were open to the elements in the middle of December. A hot chocolate was very much needed after the 45 minute tour. They also operate a second tour which takes you around the city. This is a great tour if you are new to the area and want to get a feel for Bath. Plus you get the chance to see the world famous Crescent.
With it being close to Christmas we were all looking forward to visiting the festive markets. But unfortunately the markets had stopped on the 10th December, though I understand they have plans to extend the date for this year. We still managed to do some shopping, and thankfully the shops were not too crowded, considering it was a week until Christmas. And visiting Bath at Christmas would not be complete without a ride on the carousel.
We also returned to the city on our last evening for our traditional 'last night meal'. Bath has a huge variety of restaurants which are both high street favourites and small independent ones. In the end we opted for Giraffe which had a lovely atmosphere, delicious food and great service.
We had planned to visit nearby Bristol on the Wednesday, but at the last minute we decided to visit Wells. I am so glad we did as the cathedral is the most stunning building I have ever seen. The size and beauty of it is breathtaking, and I even think the teen was impressed. I am so glad we decided on visiting Wells as it also had a great mix of shops which we all enjoyed. Yes it's all about finding the right shops when you have a teen and tween.
We loved our days exploring, but it was so nice to return to our luxurious lodge. We had booked the exact same lodge as in February, and we touched lucky as there was no one around us. There is nothing like waking up in the morning and hearing the birds tweeting away.
We also took advantage of the restaurant's steak deal on the Wednesday evening, and our friends came over from Bristol to join us. We had a lovely evening catching up, and the steak deal is amazing value. Two steak meals plus a glass of wine or beer for only £20. I would highly recommend booking if you stay at Bath Mill.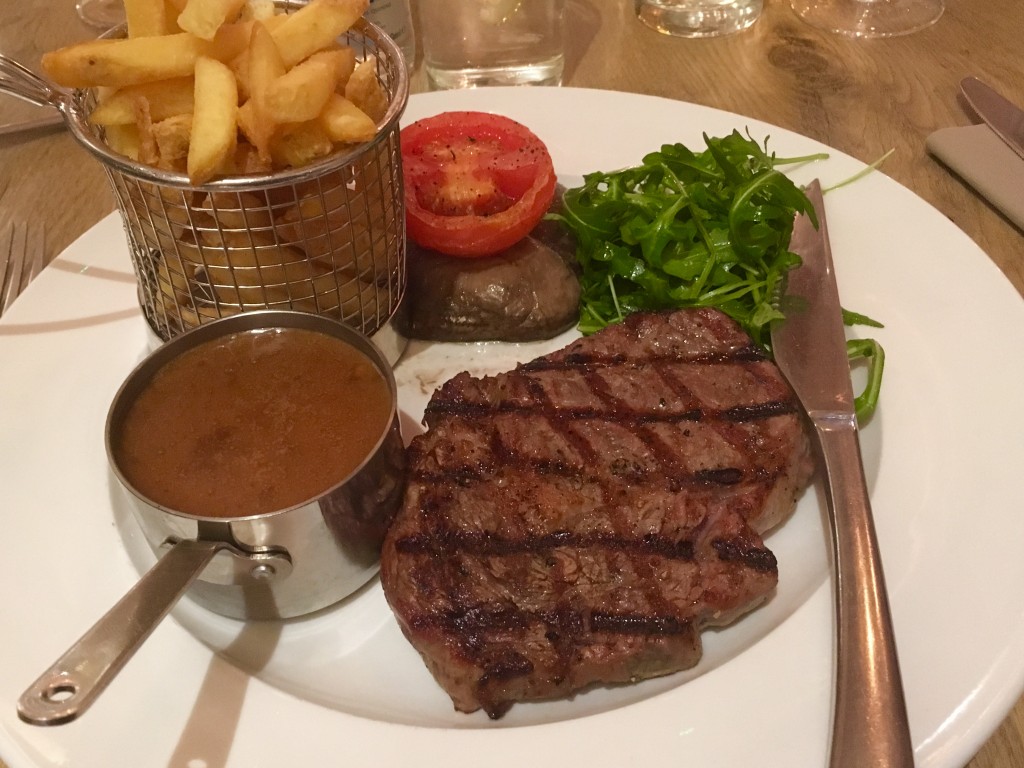 All too soon our festive break was over, and visiting Bath at Christmas had been everything we had hoped it would be. On our way back home we stopped at Gloucester services, and I caught up with blogging friends, t
he lovely Sarah from Mum of Three World, Nikki from Stressy Mummy and Emma from Crazy with Twins.
Thank you to Bath Tourism who provided us with a Press Pass to visit the Roman Baths and the Bus Tour.