If you are still struggling what to get friends and family this Christmas, then Personally Presented could be the answer. Their website has over 5000 personalised gifts, and I am pretty sure that they could even cater for the 'really hard to buy for great aunt'. I was recently given the opportunity to try out some of the Personally Presented gifts, and below are the 3 items I chose.
Initial Tea Box – £25.00
This beautiful wooden tea box comes complete with a selection of Pukka tea which you can choose from 5 different options. I went for the traditional selection, and it was nice to see that you get a good variety of teabags in the box. You can personalise your box by choosing your initial, and also your name on the front. Plus you can also personalise the inside of the lid with a message. I went with 'A cup of tea makes everything better'. I was really impressed with the quality of the box, and is perfect for a tea lover this Christmas. They also do tea boxes for 'Teacher's Tea Break' and also a very cute 'Festive Woodland Christmas Tea Box'.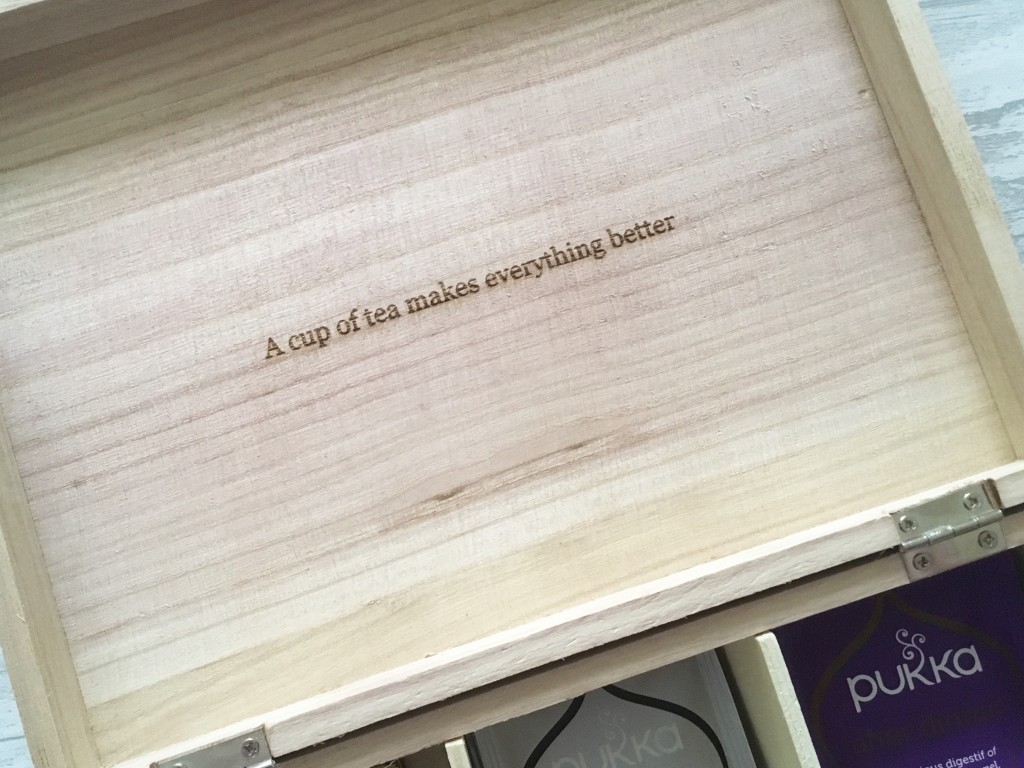 Personalised Letter Vase – £8.00
These cute little letter vase's can be used to spell out a name, message, or just one letter. I went for 'M' for Mum, but as my daughter pointed out it could have been for Milk, as the vase reminded her of a milk bottle. They are perfect for displaying one or two flowers in, and I love the simple design.
Personalised Make Up Brush Holder – £14.99
As soon as I saw this product I knew it would be perfect for my best friend's daughter. Having the name 'Laurena' means she can't usually go out and pick up personalised products. And as she really loves make up I thought it would be perfect for her. Made of ceramic this is a really good quality product, and I am sure it will be filled to the brim with various brushes, tweezers and make up sponges.
Overall I was really impressed with Personally Presented. The website is really easy to use, as is the ordering process. The goods were delivered to my home a week after ordering them, so leave plenty of time if ordering before Christmas. What I especially liked was the option to keep in contact with their customer service by using Facebook Messenger, and this is great should you have any questions. Thank you Personally Presented.
Personally Presented is also offering my readers a 10% off code when ordered before the end of November. Please quote williamsworld10 when ordering.
I was gifted the above items for the purpose of this review. All words and opinions are my own.