If you are a lover of gin like myself, then no doubt you are looking forward to the upcoming festive season, as gin seems to be everywhere. Walk into your local bar or restaurant, and and no doubt you will be faced with a large selection of gins. The supermarkets are filled with gin gifts, and there seems to be different offers on gins every day. But how about a Gin Fizz and Prosecco bar, which is the perfect present for gin lovers.
Microbarbox is a bar in a box, and I absolutely love the idea of bringing the bar into your home. Find Me A Gift kindly sent me their Gin Fizz and Prosecco bar, and being the gin lover that I am, how could I refuse. The box is currently priced at £40, and you will receive
Sipsmith Gin
Bombay Sapphire Gin
Anno Kent Dry Gin
Edinburgh Raspberry Gin Liqueur
Le Contesse Treviso Extra Dry Prosecco
Bottlegreen Elderflower Cordial
Bottlegreen Rhubarb & Ginger Cordial
Folkington's Indian Tonic Water
Folkington's Soda Water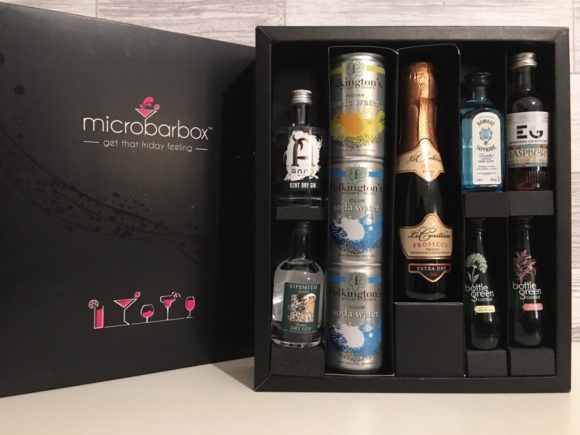 This gift is all about bringing the bar to you, and you also get a handy cocktail menu card, which shows you how to make 4 delicious cocktails. The Rhubarb Gin-Ginger sounds delicious, and really easy to make. Just combine your bottle of Bombay Sapphire, a splash of the Bottlegreen Rhubarb and Ginger and the can of soda water. All you need is a glass, plus ice and a slice.
This would be the perfect present for gin lovers, and I am looking forward to making a few cocktails over the Christmas period.
Find Me A Gift also have a huge selection of gin gifts on their website, from gin crackers to glasses, gin clocks to baubles filled with your favourite gin.
I was kindly sent the Microbarbox from Find Me A Gift for the purpose of this review