I must admit I was really sad to say goodbye to January. Now I know most people dislike the first month of the year. Long dark miserable days, an eternity to pay day, and yearning for a large glass of wine if partaking in dry January. Having 50% of The Williams birthdays happening in January, it's never going to be dull. I thought it would be nice to do a post at the end of each month, to look back at what we did. So here are my 10 reasons why January was awesome.
1) At the stroke of midnight on January 1st I was in an ACTUAL pub, dressed up for New Years Eve, complete with friends and gin. Yes it had taken me 13 years to get the parents to babysit on this elusive night. First time we had been out on NYE since having the kids and we had a ball. Have booked the parents in for another 13 years !
2) We went to Centerparcs for the weekend and loved every minute of it. This was our 12th (I think) trip and have already booked again for next year. Yes I am a massive Centerparcs fan.
3) Daughter celebrated her 9th birthday at Centerparcs and it SNOWED. Truly magical day for her.
4) I turned 41. As I had such an amazing time turning 40, I thought this year might be a little deflated. But how wrong I was. The day involved shopping with husband, followed by 2 fantastic meals at Las Iguanas and Pesto for lunch and dinner. I got lots of  brilliant presents, including these which were made by my amazing and creative friends.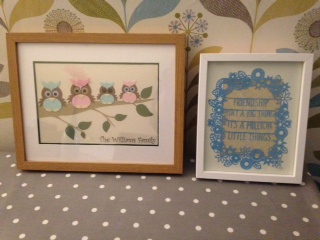 5) Hubby treated me to a night away as part of my birthday present. We went on Friday to the Doubletree hotel in Chester, and had a great night.
6) Daughter finally learnt how to ride a bike after getting one from Father Christmas.
7) Enjoyed a night at the local theatre with daughter and 3 of her friends watching a Katy Perry and 1D tribute band. My god my ears were perforated by the end, but it was lovely to see them all having fun.
8) Had my traditional birthday meal at Frankie and Bennys with 2 of my awesome friends. Love our nights there, as gives us a good chance to gossip over good food and drink.
9) Lost 3 and a half pounds during January at Slimming World. This seems pretty crap, but believe me I have partied hard this month, so I am glad it was an overall loss and not a gain.
10) Finally got rid of my horrendous tooth ache, which at times was on a par with child birth.
So yep, January was pretty awesome for The Williams. Onwards and upwards to February.