*Collaborative post*
It seems that most people have been doing some kind of DIY or garden project during lockdown, and whilst we have been doing minor jobs around the house, it got me thinking what our next project could be.
We have lived in our home for nearly 20 years, and over that time we have tackled every room in the house, some rooms being redecorated two or three times. During lockdown I have been amazed at how many people have transformed rooms, gardens, kitchens and bathrooms, sometimes on a relatively low budget, and it got me thinking. What could we do to brighten up our kitchen and give it a new lease of life.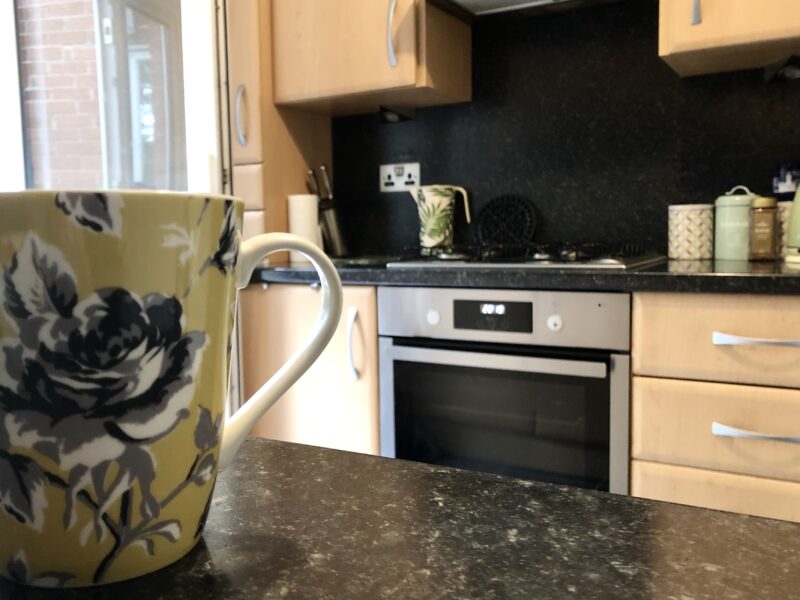 I would say that our kitchen is quite a small space, and one day I would love to knock through to the playroom which is next to it. Gone are the days when it was full of toys, and for the past few months it has been my husband's office, gym, general dumping ground, and a space where I can have a quiet 5 minutes of peace with a cuppa. But I know knocking through and completely redesigning the kitchen would be at a huge cost, so for now I am thinking of ways I can brighten up the kitchen space without spending too much money.
Paint the walls
A fairly quick and easy way to give any room a fresh new look is to paint the walls. A few years ago we re-painted our kitchen in Dulux Chic Shadow Grey, which gave it a fresh new look. Whilst I love the colour, I do think it's time for another change in the kitchen, but not sure what to go for. What colour do you have in your kitchen ?
Paint or vinyl wrap the units
This seemed to be a popular way of brightening up kitchens during lockdown, and some of the transformations have really had the wow factor. Our kitchen units were put in around 14 years ago, and we went for beech units with a black splash back which was all the rage back then. Looking back it probably wasn't the best decision, and it makes our kitchen appear smaller and darker. Painting or vinyl wrapping the units in a lighter colour, would make a huge difference to our kitchen.
Change the flooring
As well as having black splash backs we also have black flooring, and whilst I love the quality of the tiles I think brighter vinyl flooring would really freshen up the kitchen. I would love to go for something different like this from Flooring Superstore.
Buy a new kettle and toaster
Kettles and toasters come in all different colours and prints nowadays, and buying these two staple kitchen gadgets can really brighten up your space. They don't have to be expensive either, as the likes of Argos and Asda have some lovely kettles and toasters reasonably priced.
Change your lighting
For years after we moved in we made do with just a light bulb in our kitchen. It wasn't even a bright light bulb, just a sad, dull looking bulb in the middle of the ceiling. When we refurbished our kitchen we opted for lights underneath the wall cupboards, and this has made a huge difference to the brightness in the room. Nowadays there seems to be a huge variety of lights for your kitchen, from ceiling lights to fancy centre pieces.
Have you got any more ideas for brightening up your kitchen ?