At the weekend we decided to go to Chester Zoo. We live only 20 minutes away, but hadn't been for around 5 years. I booked the Chester Zoo tickets online, and for myself, husband and daughter we paid £45.00. Our tickets gave us the option to fast track at the entrance, and they were also valid until April. This is a great idea for eventualities such as sick children, or the great British weather letting us down.
What to do at Chester Zoo
Chester Zoo is signposted from the M56, and is only 5 minutes from the motorway. Parking was well organised, and we were quickly through the gate, thanks to our fast track tickets. The whole entrance has changed from the last time we had visited, and is more welcoming. We were given a map and the 9 year old decided we should head for the monkeys first.
Inside the Monkey House there were little games you could play, and the usual facts and figures about the animals. After the monkeys we headed to the bat cave. Now I have to admit I am not a fan of things flying around my head. I tend to just look down in the cave and quickly shuffle towards the exit, whilst husband and daughter take in the bats.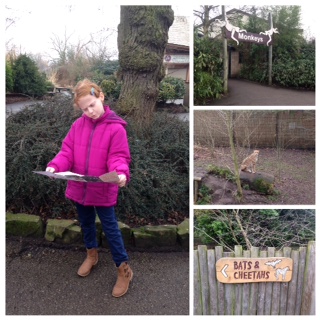 We then followed the map and took in the other animals, stopping for lunch in the main restaurant. There was a good choice of food and we easily got a table. However we did get in there before 12pm and 30 minutes later it got very busy. If you choose to take your own picnic, there is plenty of tables dotted around the zoo.
The butterfly house at Chester Zoo
One of the highlights of the visit was the butterfly house. My daughter loves the colours of butterflies, and she was really excited to get inside. I was thinking 'oh great more flying things around my head'. And what happened next was the highlight of the day…. for daughter not me. A butterfly landed on my head and decided to stay there for a good 5 minutes. 5 minutes of me wanting to run around flapping my arms in the air, whilst in reality I stood still with a strange grimace on my face.
No day out is complete without a trip to the gift shop. And we got away with only spending £1.99. Still not too sure how that happened. However, we made up for it when we purchased the photo book at the exit. Very clever marketing ploy, as the books are all complete with that lovely family photo, which was taken at the very start of your day.  The book was priced at £12.00, and includes 3 photos and also lots of facts about the animals at the zoo. You also get an online code, which allows you to share your photo on social media. Considering you pay around £8.00 for a photo at a Merlin attraction, I thought £12.00 was a good price.
We spent 5 hours at the zoo and had a great day. The zoo was clean and tidy, and there were lots of staff on hand to ask questions. It's great to see them reinvesting money, and this Spring will see the Islands of Chester Zoo open. You will be able to explore 6 South East Asian islands which will add 1-2 hours to your day out. This sounds a great addition, and looks like we will be visiting again in the summer. Chester Zoo is great for all ages, and 2 and under are free.
We also reviewed the Madagascar Play area at Chester Zoo which is another great addition to the zoo.