Paris, or the "city of love", is one of the most exotic and desirable cities in the entire world. This is somewhere that everyone should experience at some point in their life, whether this is with your partner, with your family, with a group of friends or travelling solo. It has plenty to see and do, and a unique atmosphere which can be lovely to soak up while strolling the streets.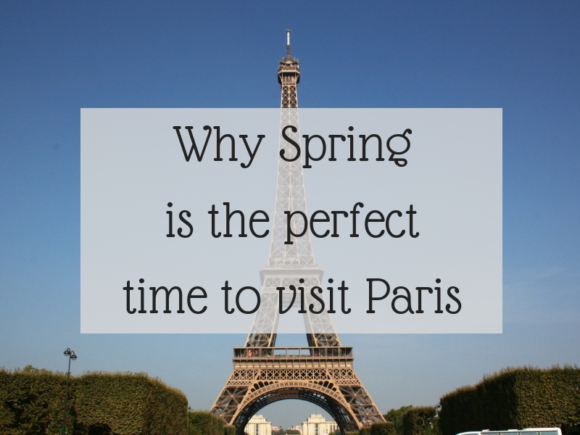 A quieter time to visit
Paris is great to visit at any time of the year, but the best season is arguably spring. One of the main reasons that spring is best, is because you can avoid the influx of tourists that arrive in the summer during the school holidays. Whilst Paris is nice in the summer, the sheer number of tourists can make it harder to make the most out of your trip, as it is much more special when it is quieter, and the streets are filled with locals. Additionally, the fact that you are not visiting during peak tourist season means that places are more affordable too.
Warm weather
The weather in spring is also perfect for exploring a city. It should be warm enough to enjoy being outside, but it is not so hot that it is uncomfortable to walk around (this is particularly important when travelling with kids). The city comes to life in spring as there are lots of beautiful trees and gardens, which are bursting with colour once spring arrives.
Art galleries
Another reason why spring is the best time to visit the French capital is that the art galleries open their doors during this season. These galleries are a key part of the cultural identity in Paris, so you will certainly want to visit a few during your stay, and spring is the best time to do this as the doors are open, but it is quieter than the summer months.
Accommodation
There are plenty of good options for accommodation when visiting Paris. During spring, one of the best options for families is to opt for camping holidays in France. These campsites can be great fun, it is an affordable option and they are not overcrowded during spring. Additionally, the campsites near Paris are just a stone's throw away so it will be easy to reach the capital each day and explore.
Paris is a beautiful city with a huge amount to offer any visitor. As such a romantic, cultural and charming city, it is no surprise that it is extremely busy during the summer months. This is one of the reasons why spring is the best time of year to visit as it is quieter, but you can still enjoy warm weather and a relaxed atmosphere. This is a city that everyone should visit at one point in their life, with spring being the optimum time to come.
*Colloborative Post*