Last Thursday we started off the glorious Bank Holiday weekend by dining at The Stretton Fox in Warrington. We had been invited by Vintage Inns to take a look at the newly refurbished pub, and to enjoy a complimentary meal.
As The Stretton Fox is only 10 minutes from where we live, we tend to visit once every few months, and we were both looking forward to seeing the newly decorated pub. Having had a lovely country feel to it, I was hoping that this had still been retained after the refurbishment.
The Stretton Fox is just off junction 10 of the M56, and has a large car park with a lovely outside area infront of the pub. Upon entering, I was pleased to see that the pub still offered the same relaxed and welcoming atmosphere it had always had. The pub and restaurant are fairly large, but as it's split into rooms, you always feel that you are dining somewhere intimate and cosy.
The Stretton Fox is where you will find good, honest, home cooked food, and I was looking forward to an evening of dining with my husband. We both opted for starters, and I had the salt and pepper calamari with chipotle-chilli mayonnaise, and Hywel had the oven-baked mushrooms with rustic bread. Both starters tasted delicious, and were the perfect size before our main courses.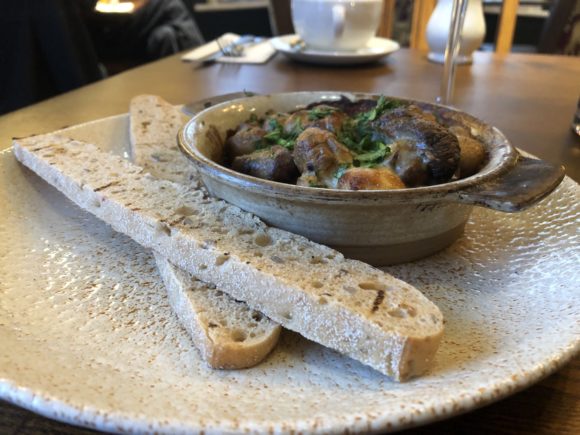 For our mains I had the beef coconut curry with rice, and Hywel had the meat feast stone baked pizza, which was probably the biggest pizza he has ever had in a restaurant. Being the pizza enthusiast that he is, he soon polished it off, and said it was one of the nicest pizzas he has ever tasted. My curry was also extremely tasty, with plenty of flavour, and the beef was nice and succulent.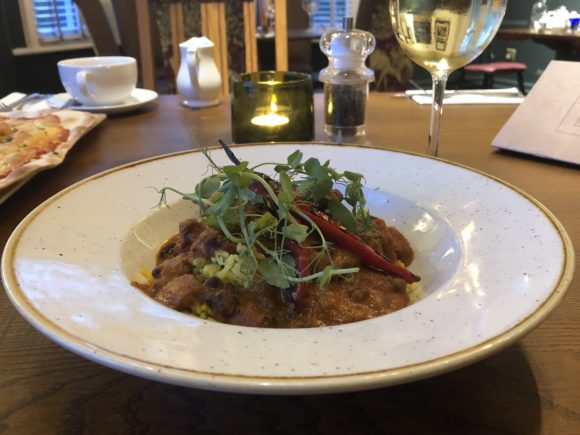 We almost didn't have room for dessert, but then the pudding sharing platter caught our eye. And having just returned from an All-Inclusive holiday to Greece, we weren't quite ready to start our post holiday healthy eating.
My favourite on the platter was the gin infused creme brulee (a pudding with gin in will always get my vote), and the Belgian chocolate brownie with ice-cream was Hywel's favourite.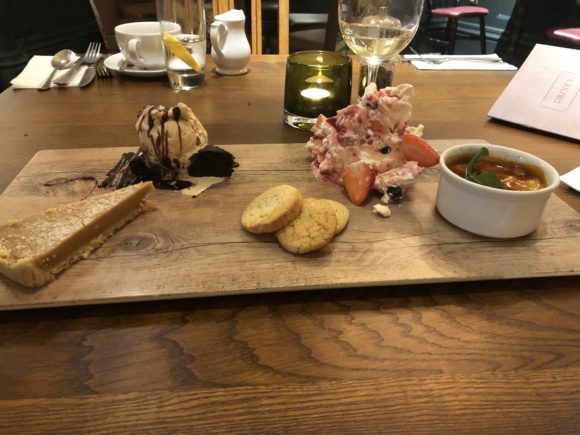 After our wonderful three course meal, we spent the time chatting and relaxing over a glass of wine, and the evening was the perfect start to the long Easter weekend that lay ahead of us. The Stretton Fox is one of our favourite places to go for a meal, whether as a couple, with the kids, or even for a night out with girlfriends. And I have to mention our server, as it's always a pleasure to be served by Katie. She is friendly, attentive, professional, and just a credit to The Stretton Fox and Vintage Inns brand.
I highly recommend a visit to The Stretton Fox if you are based in Cheshire, or it's a great stop off point if you are travelling along the M56. I have the app on my phone which allows you to book tables, view menus and check out any special offers that are on.
We were invited to The Stretton Fox for a complimentary meal and all views and opinions are my own.