I love to celebrate my birthday, and on Sunday we visited Chester to indulge in some shopping, eating and of course a birthday cocktail or two.  Chester has an abundance of eating places in the city, and Hickorys was top of my list for a celebration. Husband and I had previously visited Hickorys back in February, and since then we had been desperate to take the kids. And we were not only celebrating my birthday, but it was Katies in a few days time.
Hickorys has a fantastic spot by the river, and as soon as you enter you get caught up in the lively atmosphere. We were warmly welcomed and shown to our fantastic booth, with of course birthday balloons. Now it might have been a dark, miserable and wet January day, but the view from our table was still pretty amazing. We definitely need to visit again in the summer, and sit outside on the terrace and watch the boats sail past.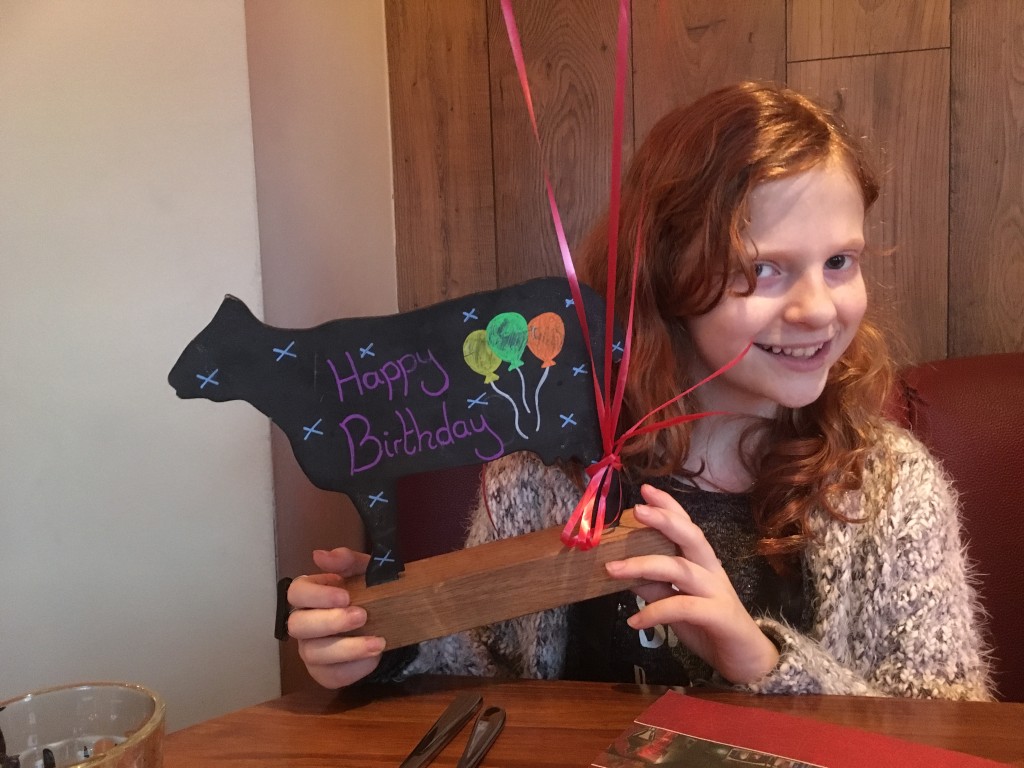 As soon as I opened Hickorys menu my mouth was watering. This is a menu for meat lovers, and I am sure the teen's eyes were lighting up when he saw the burgers on offer.  All of the meat is smoked on site using 'Ole Hickory Pit Smokers' which have been transported all the way from Missouri. The teen didn't let us down by ordering a triple….. YES A TRIPLE burger. And incase you were wondering, he devoured the lot.
Husband and I ordered the steak with chips and peppercorn sauce, with an added chilli for good measure. We both agreed that the steaks were the best we have ever tasted. Succulent, tasty and full of flavour.
Katie chose from the Very Important Kids menu, and had mini ribs with cucumber sticks. I was impressed with the variety on the menu, as well as the usual chicken nuggets it was nice to see healthier choices too.
Before our mains we ordered 2 starters between the 4 of us (Burnt end popcorn bites and popcorn shrimp) which went down a treat.
Not only we were treated to amazing food, the service was exceptional too. Our server Ellie was attentive, friendly and made both Katie and I feel really special being the birthday girls. Infact she arranged for us to go behind the bar and make our own cocktails. We learnt how to make a raspberry mojito each, mine with rum and Katie's with apple juice, both with plenty of fresh mint and raspberries.
One of the things that had us talking about for the rest of the evening was our dessert. Where else can you dine and have a mini campfire brought to your table, together with marshmallows on sticks and chocolate dipping sauce. Though after indulging in 3 cocktails I was pretty useless at toasting marshmallows, but pretty good at setting them on fire.
I am so glad we chose Hickorys for our birthday celebration. The atmosphere was fun, the food is exciting and interactive, and the service fantastic. Perfect for celebrating kid's birthdays and mums that are 40 something (cough). And if you are a fan of NFL, they are holding a Superbowl Party on Sunday 5th February 2017 from 10pm. Tickets are only £7.50. If only I didn't have to do the school run the following day.
Thank you to Hickorys who arranged for our food to be complimentary. All words and opinions are my own.