On Saturday evening we visited TGI Fridays to try out their brand new menu which was launched on the 8th March. We have dined at the Cheshire Oaks restaurant before, but we decided to visit the TGI Fridays which is located at the Trafford Centre. It is worth noting that you are unable to book a table on a Saturday, so if you visit at peak times you may have to wait. However there is a large bar area where you can enjoy a drink whilst taking in the TGI Fridays atmosphere.
We were taken to a booth seat (is it just me who LOVES a booth seat) towards the back of the restaurant. Whilst walking through the restaurant you get a feel for how large this TGI Fridays is. There is also more seating upstairs where you will also find the toilets. We were seated in a fairly quiet area, but we still got a feel for the vibrant and buzzing atmosphere all around us. It reminds me of Applebees which is our favourite restaurant when we visit America. And speaking of America there are lots of USA props around the restaurant. And don't forgot to check out the motorbike at the front.
Our server went through the new menu which features a huge 30oz Tomahawk Steak, a Pulled Pork Sundae appetiser and The Chief Burger. Fans of the Jack Daniel's glaze will not be disappointed as you will find Jack Daniel's Mushroom Strips and Jack Daniel's Crispy Duck on the new menu.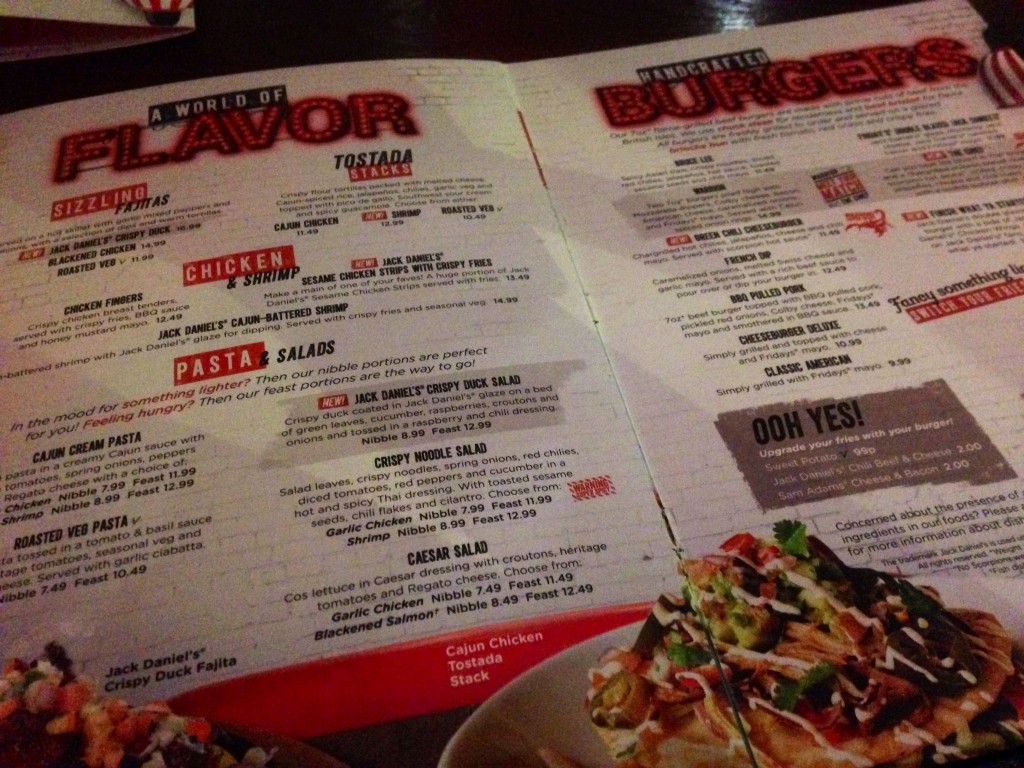 For starters I had the new Cola Wings which were served in a metal bucket. The wings were coated in a delicious cola glaze and also came with an additional pot for dipping. They were extremely tasty and very sticky, but nothing a few wipes would sort out. Husband went for the Jack Daniel's Mushroom Strips, and again they were delicious. Sadly no picture of the husband's starter as it was literally devoured before I got the chance to take a picture.
For our main courses the husband took on The Chief. A huge burger that not only had a beef burger, but had a chicken breast, bacon, chillies, Jalapenos, cheese and Scorpion Hot Sauce, phew. After our last visit where he took on The Warrior burger and won, he can now say he took on The Chief burger successfully. I had the Jack Daniel's Crispy Duck which was served on a sizzling skillet with peppers and onions. It was accompanied with cucumber, spring onion and 6 flour tortillas which was plenty. The duck was beautiful and cooked to perfection, though it was a huge portion. I can imagine it would be a great sharing dish if you wanted a lighter meal.
Katie chose from the children's menu and opted for the Ribs which were served with chips and beans. She said the ribs were very yummy and there was a clean plate at the end. I liked that the children's menu had 2 sections to order from, The Little League and The Big League. Katie ordered from The Big League, but the Little League is perfect for younger children. There was a good selection of dishes to order from which is always a plus point. After our starters and main courses there was literally no room for a pudding. We did however opt for a pot of tea to finish off the meal.
The Trafford Centre restaurant is a hive of activity, and has a lively atmosphere which we really enjoyed. Our server Rebecca was friendly and professional, and she really took the time to talk to us all including Katie. The service throughout the night was exceptional, and staff all around the restaurant were working hard, whether they were serving customers or clearing tables. We will definitely be back next time we visit the Trafford Centre.
We were invited to TGI Fridays to try out their new menu. All words and opinions are my own.