Having a teenager who is burger and film mad, Planet Hollywood was top of our list for visiting during our recent trip to London. We wanted somewhere that not only served delicious food, but a restaurant that offered something unique and quirky, and Planet Hollywood looked as if it would tick all the boxes.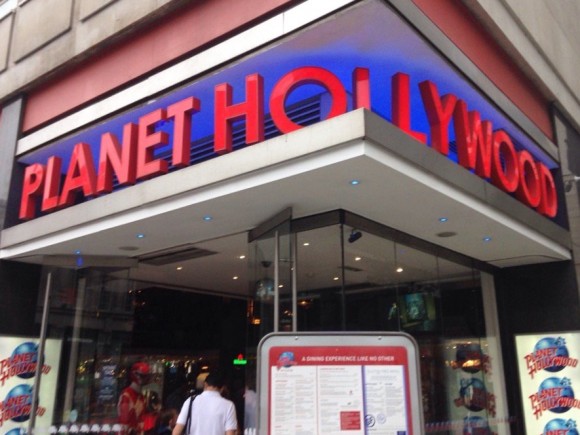 We decided to book a table for 5pm on the Sunday, which would give us plenty of time to enjoy our meal before our night time bus tour at 8.30pm. We arrived at the restaurant after a pleasant stroll from Piccadilly Circus tube station, and despite being 30 minutes early we were shown to our table.
And what a table. Where else can you sit and eat a meal with Chewbacca's actual crossbow staring down at you. Whilst I have no interest in Star Wars, I must admit even I was pretty amazed. Of course the Star Wars males of our family were beside themselves, not only with the crossbow, but also with the Hans Solo Carbonite and the Stormtrooper helmet on show in the restaurant.
But of course it's not just memorabilia from Star Wars. Where else can you go for a meal and see a pair of red pants from The Full Monty, a Gremlin, and a T Bird jacket worn by John Travolta in Grease.
Planet Hollywood is not just about the memorabilia, it's about the food too. So when our excitement had abated a little, we took a look at the menu. Well I say menu, it could actually be described as a book. A book filled with amazing sounding meals such as Hollywood Bowl, The Huge Pole Hot Dog and Chuck Eye Steak.
Thankfully I had looked at the menu online, otherwise I think I would still be there choosing now. For starters I had the Texas Tostados (mini tortillas with BBQ chicken), and the boys had the World Famous Chicken Crunch. As we hadn't eaten since our train journey into London, the boys had finished their starters before I had chance to take a picture. Total blogging fail.
For mains the husband and teen predictably had a burger, and I went for the Crispy Chilli Beef which was delicious. Daughter really wanted a pizza, but unfortunately they didn't have them on the kid's menu. However she ordered an adults BBQ Pulled Pork Pizza, and daddy helped her out by eating a few slices. The pizzas and burgers went down a treat, and there were clean plates all round.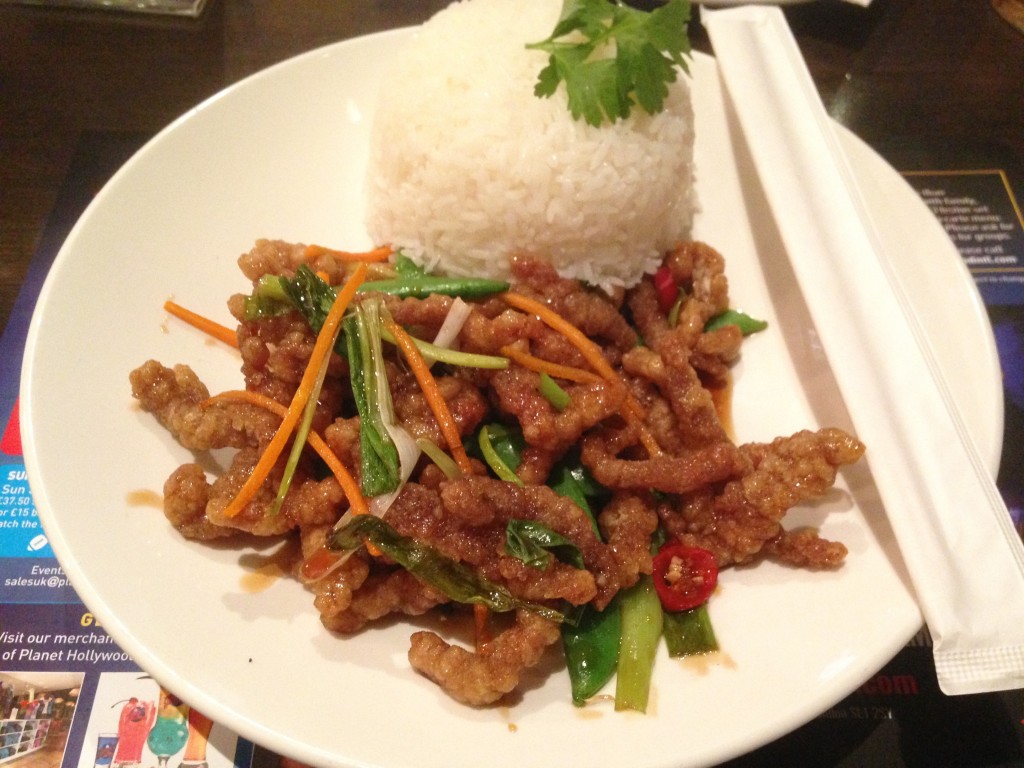 I literally had no room for pudding, but husband managed the Toblerone Cheesecake (looked amazing), and daughter went for a Hand-Dipped Milkshake, which was a pudding disguised as a milkshake. Even after his huge burger the teen still managed to get through this delicious looking brownie pudding.
Planet Hollywood has a lively atmosphere, and has recently been voted most child friendly restaurant in London, by Bookatable. Kids will love the camera that pans around the restaurant, focusing in on people and showing them on the large TVs around the restaurant. Even the teen managed a smile when it zoomed in on him. The TVs also show film trailers, music videos and also messages which you can text in. Thank you to Planet Hollywood for putting up this message.
A special thank you has to go to our server, Kuba, who was friendly, attentive and interacted really well with the kids. All of the staff worked really hard, and it was nice to see the greeting staff helping customers with their suitcases. Of course this is the centre of London and the restaurant is busy, but it has a fantastic atmosphere and we never felt rushed. It certainly ticked all the boxes for us as a family, and I would highly recommend Planet Hollywood if you are in the capital.
We were kindly invited to Planet Hollywood for the purpose of this review, and all words and opinions are my own. However I would happily pay, as I thought the meals were similar prices to TGI Fridays back home. Thank you Planet Hollywood for an amazing meal, and I am sure we will be back next time we visit London.
PIN THIS POST