So if you follow me on twitter, or know me, I am sure you are aware I turn the big 40 tomorrow. Saturday night was the start of my birthday celebrations. I left my husband in control of organising things, and on Saturday morning I opened an envelope from him. It told me to be ready for 7pm on the dot for a 'wonderful meal' with my husband. I had an inkling that it would not just be us two, and I thought friends and family would be involved.
I started getting ready at 5.30pm, and chose to wear a full length black dress. As the clock ticked towards 7pm I felt so nervous and even downing 2 gins did nothing for me. At 7pm my hubby told me our transport was here. He opened the door and WOW that was some transport. Slightly different to husbands 11 year old fiesta.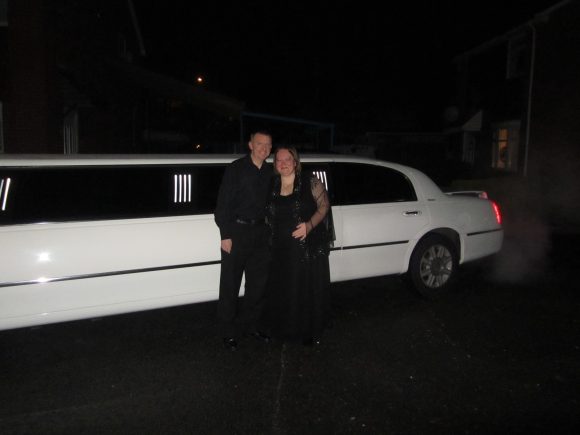 My parents were also at our house as they were 'babysitting', and husband was all dressed up too. We went outside and took some photos first outside the limo. At this time I still HAD NO IDEA who was sitting in the limo. The driver opened the door and there were my friends inside singing Happy Birthday to me ! The limo was filled with balloons, banners and lots of champers.
My husband then blew me away and said this was my birthday girlie night and he was staying behind. My initial thought was I have not got a key and more importantly NO money ! He said this had all be arranged and our girlie night started.
I have never been in a limo and WOW I loved it. It was great to be cruising along in blacked out windows, with people probably driving past going 'oooo a limo' just like I do. Plenty of alcohol was consumed on the way, oh and I still did not know where I was heading at this point. After about 20 minutes we pulled up outside Las Iguanas. My hubby knows I love Las Iguanas, and he had  put some money behind the bar for cocktails for us and to pay for my meal. The girls had rang ahead, and ordered cocktails, and they were ready and waiting for us at the bar.
For the rest of the night there was much laughter, cocktails, cake, food and lovely presents. The night seemed to fly by and all too soon it was time to go home. But how can you be sad when it was back in the limo for more fun and champers. My best friend was the 'official' photographer, and she took some great photos I will treasure for ever. The final photo was outside our house with my hubby laying across a bunch of giggling girls in the limo. I just cannot thank everyone enough especially my hubby and best friend for organising everything. My hubby totally surprised me, and he gave me a night to remember.  AND I can finally say I have been in a limo !