Mowgli Indian Restaurant opened its doors in June 2021 at Cheshire Oaks, and since opening I have visited the restaurant twice to experience the amazing Indian street food. Nisha Katona is the founder and owner of the Mowgli empire, and her first restaurant was opened back in 2014 in Liverpool. In just seven years she has grown the Mowgli brand to twelve restaurants, with another four set to open over the next two years.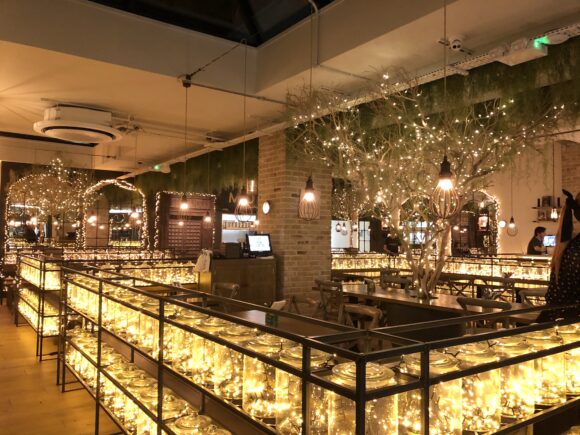 Where is Mowgli Cheshire Oaks located
Mowgli can be found where Giraffe used to be, opposite the brand new children's play area, and just along from Pizza Express and Wagamama. You can't miss it, as the first thing you'll notice are the swing seats that occupy the windows at Mowgli. They do look like lots of fun, but sadly being in my late forties, my back wouldn't thank me.
The food at Mowgli
Mowgli serves Indian street food in the most beautiful setting, and as the dishes are served in smaller portions (think along the lines of Indian Tapas dishes), it gives you the opportunity to try out three or four dishes rather than just one main meal.
On both my visits I have chosen the Office Worker's Tiffin Box, which is a Mowgli food roulette. For £16 you get three dishes, chosen by the chef, which will be a mixture of meat and vegetable dishes, plus rice. I think this is great value for the amount of food you get, plus if you are new to Mowgli, it's a chance to try out the dishes when you're not familiar with them. They also do a Vegetarian Tiffin Box for £14.
As well as Tiffin Boxes you'll find delights such as Ruby Wrap, the Mowgli Chip Butty, the Angry Bird and Treacle Tamarind Fries on the Mowgli street food menu, all of which have been recommended to me by friends.
And a review of Mowgli wouldn't be complete without mentioning the Chat Bombs. I was told I HAD to order these, and wow they are definitely a taste sensation in your mouth. Crispy puffs filled with chickpeas, yoghurt and spices, and to get the best taste experience from them, pop one in your mouth whole and crunch away…. amazing.
Is there a Vegan menu at Mowgli
Yes there is a separate Vegan menu at Mowgli. On my second visit to the restaurant, I went with two friends who are Vegan and Vegetarian. They both felt that the Mowgli street food menu catered really well for them.
Do I need to book Mowgli at Cheshire Oaks
We booked our previous two visits as this is recommended if you are going in the evening. However, I noticed that you can no longer book Mowgli Cheshire Oaks (November 2021), and they are just accepting walk ins.
After writing up this review we actually visited the Mowgli at Water Street, Liverpool. As always the food and service were great, and even though the restaurant seems smaller than Cheshire Oaks, it had a great atmosphere. Have you visited Mowgli ?
You can find more of my restaurant reviews at Cheshire Oaks below