Last weekend we were invited to the 'soft opening' of the new Wagamama restaurant at the Trafford Centre. It fitted in well with our plans as the boys were heading to Play Expo at Event City. Daughter and I had a lovely few hours shopping, and we all met up again at 3pm. Wagamama is located on the upper floor of The Orient, where you will find a vast array of eating places.
Husband and I had visited Wagamama a few times at Cheshire Oaks, but it was the first visit with the kids. I had pre warned the teen that there wouldn't be any burgers on the menu. This is ALL he orders when we go out, so I was intrigued to see what he would go for.
We were quickly shown to our table, or should I say bench. We shared a long bench with a young couple to one side, and on our other side was a family. The restaurant also had booth seating, which was more private, and also tables for 2. I guess that if you don't feel comfortable sharing your eating space with strangers, you could request different seating. The restaurant is large with additional seating upstairs.
Wagamama actually means 'naughty child' or 'one who is wilful and determined'….. hmm who does that remind me of.  They opened their first branch in 1992 in Bloomsbury, London. Their ethos has always been about cooking fresh and lively food, and their newest restaurant certainly delivers on this.
As part of their soft opening we received a main course and 2 drinks each, plus 2 sides and 2 desserts between us. Katie ordered from the childrens menu, where she had a main, drink and a pudding. For sides we decided on Mushroom Onigiri and Tori Kara Age which was a chicken dish.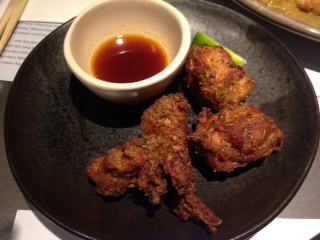 For our mains we had Chicken Katsu, Chicken Ramen and Noodles and Chicken Raisurkaree. Daughter chose the Chicken with Noodles from the kids menu. I didn't realise we had ordered so many chicken dishes, and next time I will definitely opt for a different meat or fish dish.
Our server warned us that the teens dish would take some time to come out. At Wagamama they bring your dishes out as soon as they are cooked. So they are really that fresh when they land on your table. Funnily enough though, sons dish was on the table in about 5 minutes, as was mine. It does feel a little strange at first, tucking in whilst other people are still waiting for their dishes. Husbands meal came in about 15 minutes, but daughters meal took a whopping 40 minutes to arrive. We had virtually finished all of our meals before she got hers.
We also had to wait an eye watering 55 minutes for our drinks. Despite asking for them on 3 occasions, our drinks arrived when we had all finished eating. I appreciate it was their 'soft opening', and this enables the staff to iron out any problems before they open to the paying public. But when you have children eating spicy food, you really need your drinks to be delivered before your meal. I also felt the child's dish should be delivered first to the table. After speaking with the manager about our concerns, these were taken on board ahead of their opening on Monday.
I can't fault the food, and the teen leaving a clean bowl should be the highest praise. All of the food was delicious, the right temperature and fresh tasting. I think Wagamama is a great addition to The Orient, and I am sure it will be very popular. Our server Lenny was enthusiastic, and the whole restaurant has a vibrant atmosphere.
Thank you to Wagamama for inviting us to their soft opening and for supplying us with a meal.